Click the Guinness to buy Pat a pint ... Cheers from Co. Waterford in Ireland
Please scroll down!
---
Click to play midi music! 'Come on Eileen!'
Students from Waterford Institute of Technology spent
the day recently trying to find out why cars appear to defy
gravity roll backwards uphill on the Clogheen Road near the Vee
up in the Knockmealdown mountains in Co. Waterford.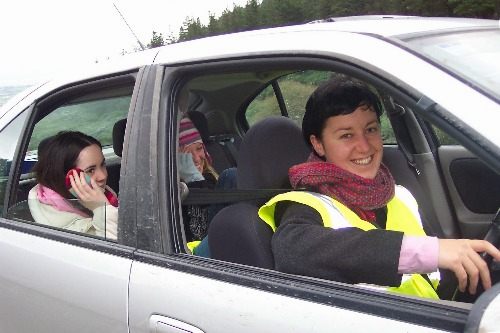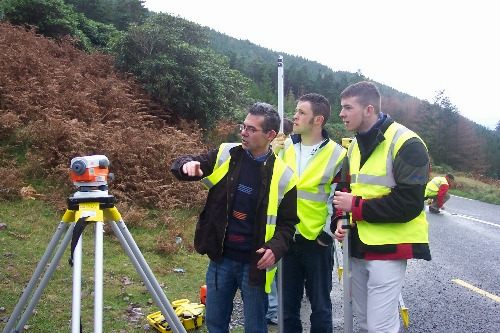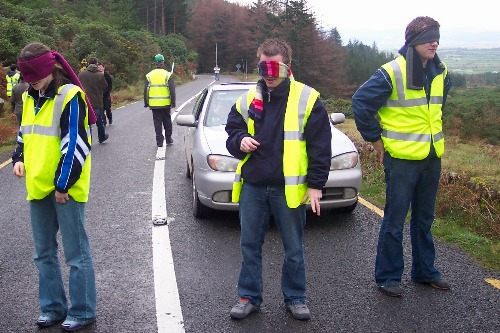 photos (c) pat kiely 2004 (Nov 2004)
Fairy Magic up at the Vee?
A series of simple experiments were recently
carried out on the Clogheen Road, just down from the car park situated near the right turn for
Ardfinnan, on the Tipperary side of the Vee, near the Co. Waterford / Tipperary border,
by architectural study students from the Waterford Institute of Technology, under the
guidance of their lecturer, Michael Stuart, to try to establish once and for all, why cars
will apparently freewheel backwards uphill on a 1:30 gradient, if they are left in
neutral with the handbrake off.
A similar mind boggling experience also happens near the Mahon Falls, in the Comeragh Mountains,
near Waterford, forty miles away, where some old people claim it is
the work of the fairies, who, unhappy with trespassers on the fairy land,
want to push them away. Mr Stuart however claims, that although his
students carried out various experiments to try and establish a cause,
like perhaps magnetic influence, all they found, was that the effect was simply,
an optical illusion.
"Even if it is only an optical illusion, It's still worth a visit, to experience
this strange effect, provided you are aware of road safety, and it's still a
very beautiful area to visit," remarked WIT Lecturer Mr. Stuart, as the
team packed up to go.
---
New Shopping Mall opens in Dungarvan.
photo (c) pat kiely 2004 (Nov 2004)
A new shopping mall has just opened in Dungarvan with many well known
names like Dunne's Stores opening their stores there.
---
Floods hit the sunny(?) South East!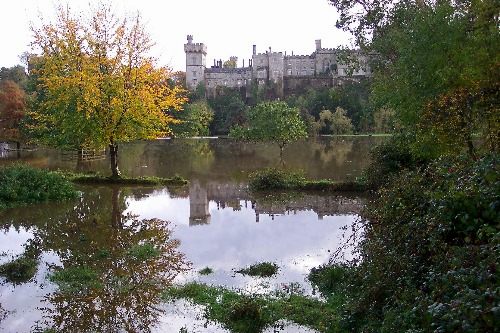 photo (c) pat kiely 2004 (Nov)
Flood Water covering fields near Lismore Castle.
---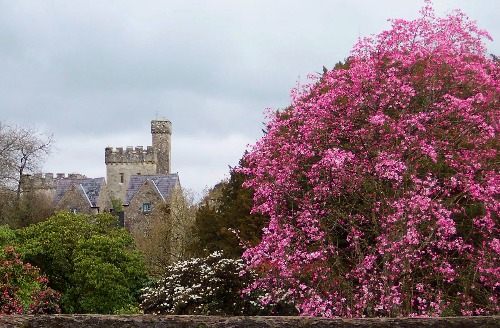 Lismore Castle Gardens now open for the summer season!
---
Near the Monument and the Lismore Hotel, in Lismore, Co.Waterford.

Oct 2003
Recently, over 300 volunteers took part in a motorcycle run through West Waterford and Cork to raise
money for Cork University Hospital, EuroDisney project organised by the Kinsale, Co.Cork Lion's Club.
The fundraisng effort, will provide a holiday in France next year for 50 children
who attend the children's ward at the hospital and their carers.
---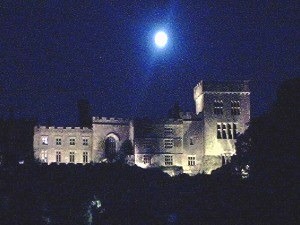 Lismore Castle, Co.Waterford on a Moonlit Night.
---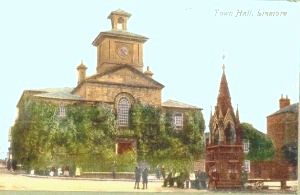 Lismore Courthouse circa 1900 ad.
---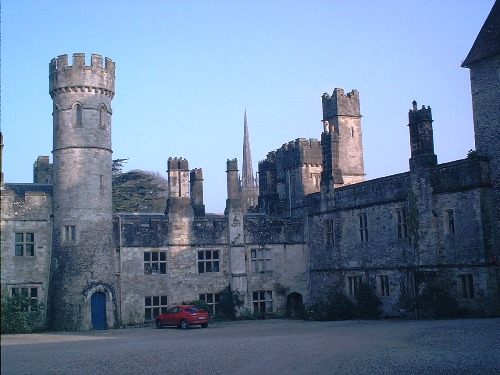 Lismore Castle Courtyard
Changing Ireland!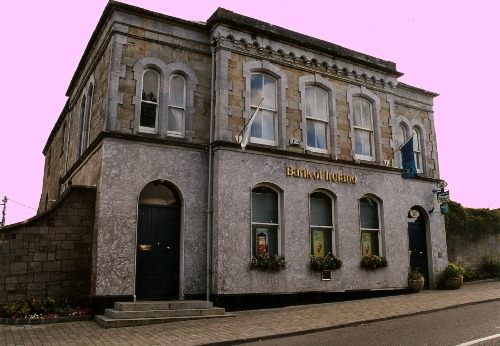 Lismore Bank of Ireland, recently robbed in broad daylight of over 70,000 euro in a spate of local robberies for which no one has yet been caught.
---
Fermoy in Co.Cork is now becoming Just like Bayswater Road in London or Momartre in Paris with artists selling their work from the pavement each Sunday. Most paintings cost between 75 and 800 euro.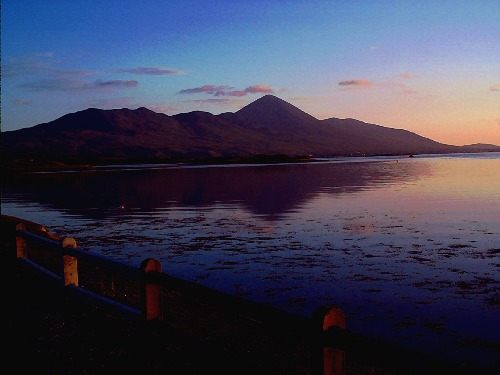 Ireland's Holy Mountain, Croagh Patrick!
---
Lismore, the winners of the Best Small Town in Ireland Tidy Town Gold medal Award 2002,(update)won the national best Tidy Town in Ireland in 2004.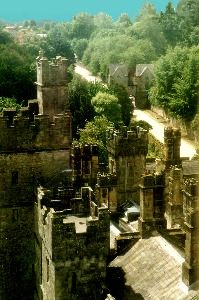 View from the top of Lismore Castle, Co.Waterford, Ireland.
---
Sunset over the River Blackwater in Lismore,Co.Waterford!
---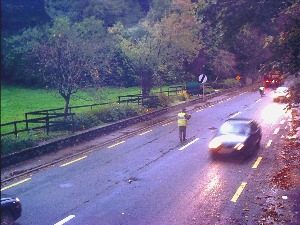 Line painting on the Cappoquin / Lismore Road, Co.Waterford.
---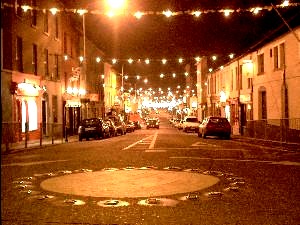 Dungarvan at night!
---
A feathered resident of Park's Road, Lismore.
---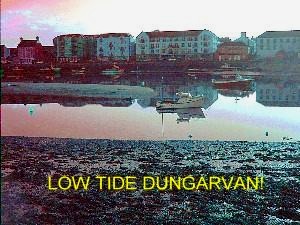 Dec 2nd. 02
---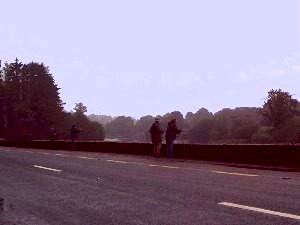 Fishing along the Blackwater! ...........(Sept 30th 02.).
---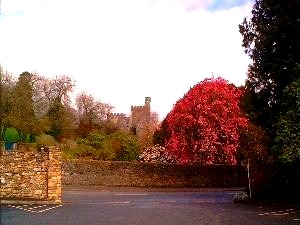 Lismore Castle Gardens viewed from the carpark of the Lismore Hotel.
---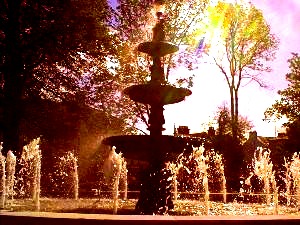 The New Fountain in the Lismore Millennium Park.
---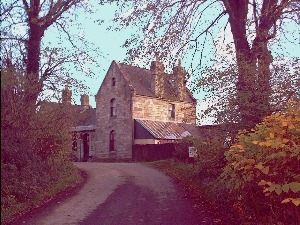 The Old Raiway Station Lismore now a Craft Centre.
Thousands of people walked up this road during the 40s/50s and 60s leaving Ireland behind sometimes forever,
in search of a new more economically prosperous life in Britain or America.
---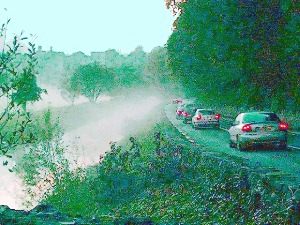 The Cappoquin to Lismore Road near the canal on a foggy Sunday afternoon.
---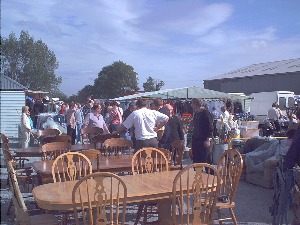 Sunday Carboot Sale in Kilkenny!
---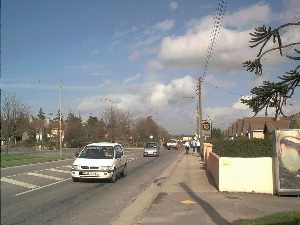 On the main Dungarvan to Waterford Road near Woodies Do It Yourself store.
---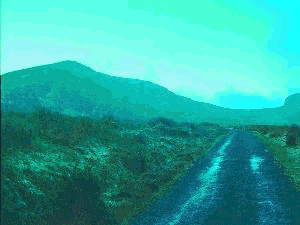 Moving Picture of The Comeraghs and Mahon Falls Co.Waterford.
Wait a few seconds for image to change.
---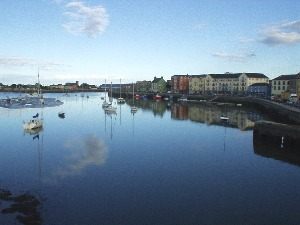 A beautiful photo of Dungarvan Harbour
---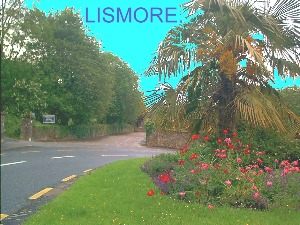 Looking towards Lismore Castle Gardens!
---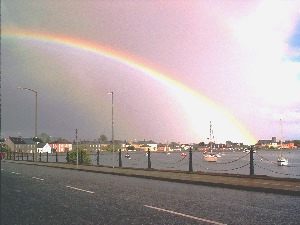 During the wettest Irish summer for years a dramatic
rainbow over Abbeyside, Dungarvan.
---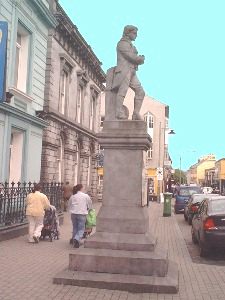 CLONMEL
(Above Left) Nationalist Statue in Parnel St. Clonmel Co.Tipperary
remembering the men of '98.
(Above Right) The view of the Knockmealdown Mountains
from Grubbs house on the Clonmel/ Clogheen/ Lismore Road.
---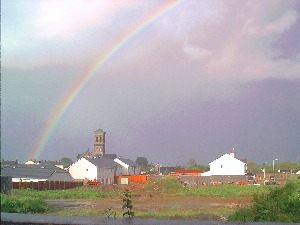 Rainbow over St.Carthage's Cathedral, Lismore, last week.
The photo was taken from New Street looking across
what used to be the Fairfield but is now a housing development.
---
Bay Loch up in the Knockmealdown Mountains.
The lock holds a fatal attraction for lusty men according to legend!
---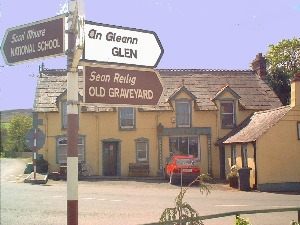 *
Newcastle West, Co.Tipperary.
---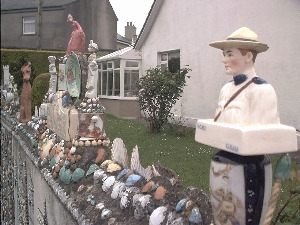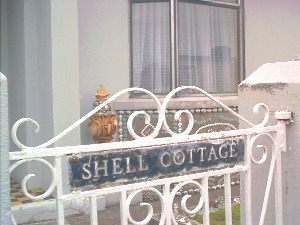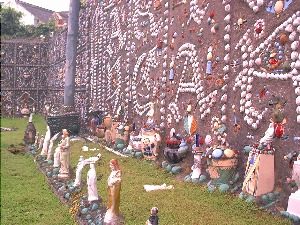 Shell Cottage Abbeyside, Dungarvan..(Not open to the public)
Cheers

from Lismore, County Waterford in Ireland
---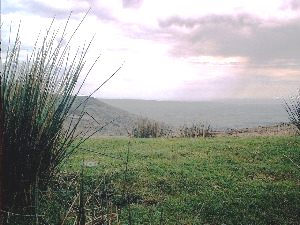 Looking towards Dungarvan from the famous Mahon Falls!
Please don't forget to scroll down as there is loads of stuff.
---
Dungarvan Harbour.
---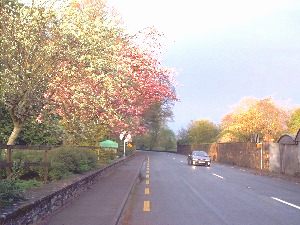 Lismore to Cappoquin Road near Kiely's Cottage!
---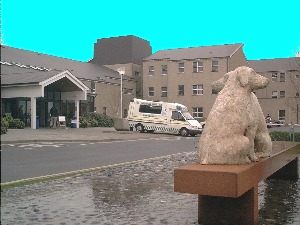 Ardkeane Hospital,Waterford.
---
The Irish Ferries boat in Rosslaire, Co.Wexford
about to leave for Pembroke South Wales.
---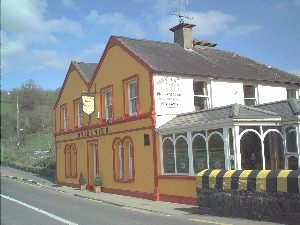 The Bride Bar and Restaurant, Tallow, Co.Waterford.
---