(just updated)

People 4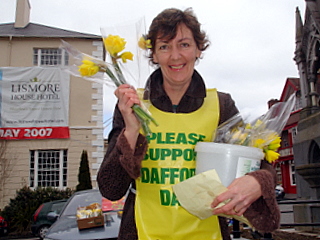 Pat Kiely (c)March 2007
Mary Flynn collecting on Daffodil Day in Lismore,
Co.Waterford in aid of cancer research!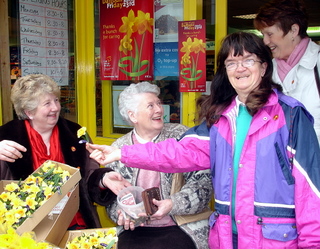 ...........
(pic : (c) pat kiely 2007 (march)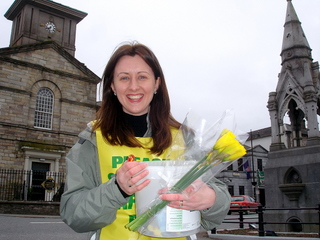 Collecting on Daffodil Day in aid of Cancer Research
in Lismore & Tallow, Co.Waterford!
---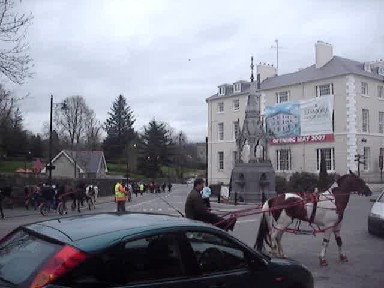 FUN RIDE IN LISMORE! on YOU TUBE
---
New!

IRISH DANCING IN LISMORE on YOU TUBE
---
(recently published in the Dungarvan Observer )
Joan Baily 1919 - 2007
Until 1971 in Ireland, a married woman in Ireland was regarded as a mere chattel or possession of her husband.
Click to read my tribute to the late Joan Baily, who with her friend, forced the government to repeal this law.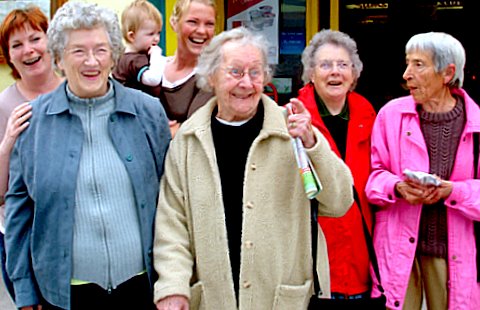 Josie Robie (centre) recently celebrated her 88th birthday in Lismore.
(pic (c) pat kiely Oct 06)
---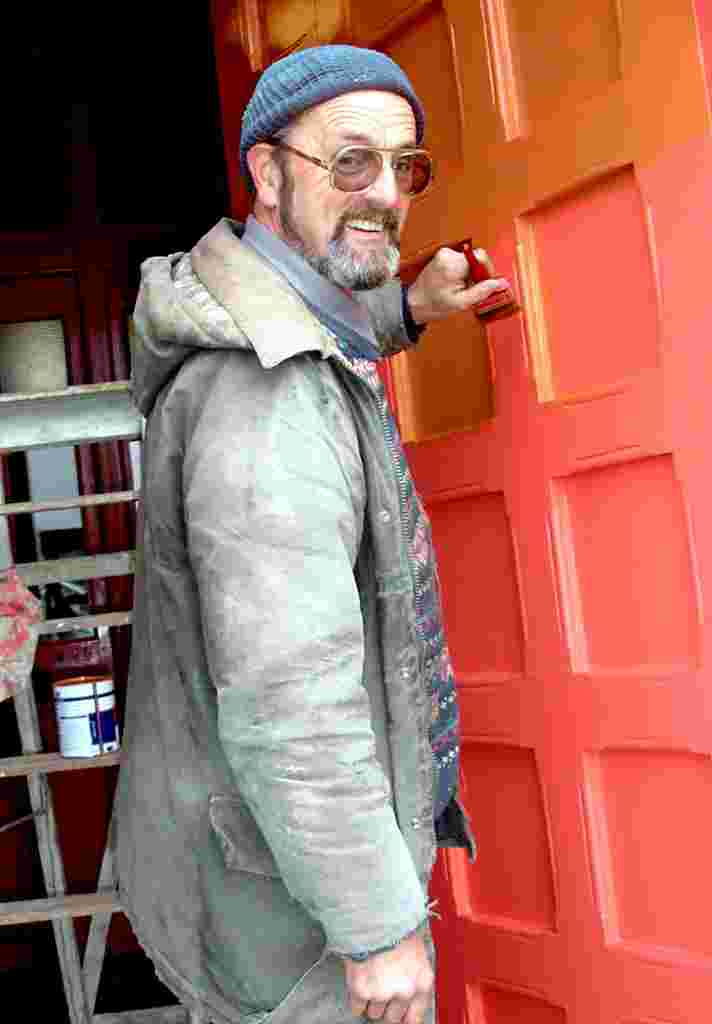 photo (c) pat kiely 2006.
John O'Sullivan at work repainting the front doors
of St.Carthage's Catholic Church,Lismore,
in time for the March 26th 2006, Confirmation ceremony,which will be attended
by his grace, Bishop William Lee..
---
Handing over the Money!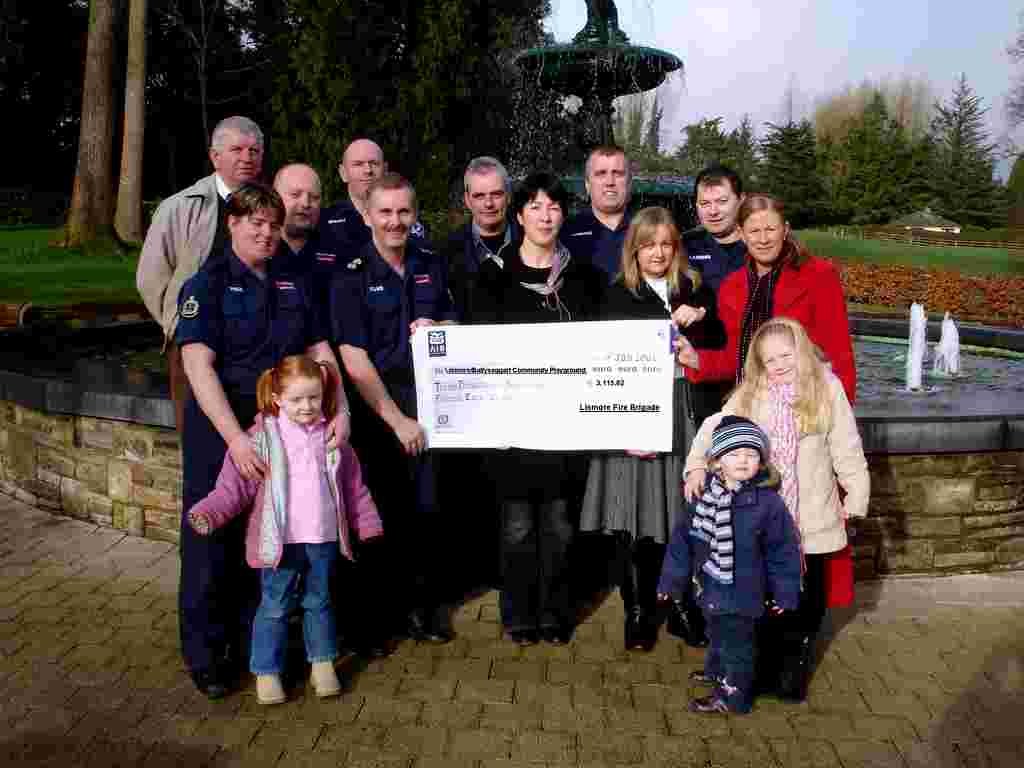 photo (c) 2006 Pat Kiely (JAN 2006)
Members of Lismore Fire Brigade, handing over a cheque for 3,115.00 euro to
Lismore & Ballysaggart Children's Playground Fundraising Committee.
Over 5,000 euro was raised by the firemen from a Christmas Eve' Ladder Climb '
collection in Lismore, and 2000,00 of the total proceeds will go to St.Carthage's Retirement Home.
---
Dec.24th 2005 (c)pat kiely
Jason O'Callaghan and Steve Kennefick.
LISMORE FIRE OFFICERS COLLECTING FROM PASSING
MOTORISTS DURING THEIR
ANNUAL CHRISTMAS LADDER CLIMB FOR LOCAL CHARITIES.
---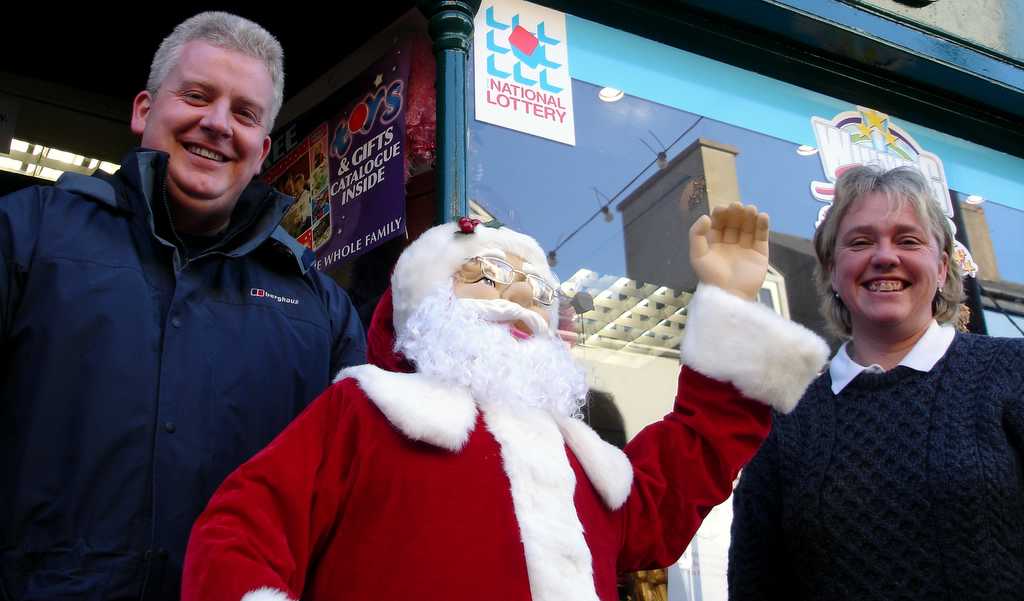 photo pat kiely (c) Dec 2005
Moving Santa!
Shaun and Daphne Power outside their Cahill's fancy goods and flower shop in Main Street, Lismore,
with their almost life size Santa ,who springs into life and sings and dances, whenever
he hears the sound of a passerby or a customer entering the shop.
---
photo (c) pat kiely (nov.2005.)
A raffle draw of a Christmas cake,took during the Lismore Artisan's Christmas Fair,last Sunday the 4th. December
in the Lismore ,GAA Community Centre building in West Street.
---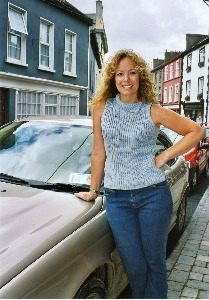 ...
Hi, to Jennifer Mayser (above) from Denver USA
Jennifer visited some of her Irish cousins
in Lismore,Co.Waterford in July 2003.
patkiely(c) July 03
---
Two Waterford nurses visiting Lismore, who
were helping out some of the athletes
competing in the Special Olympics held in June 2003.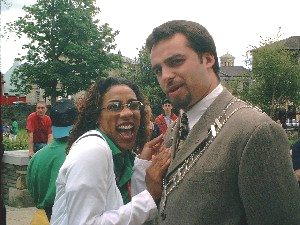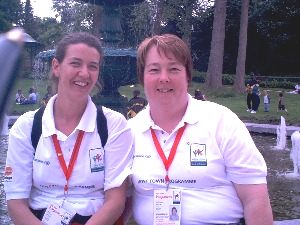 Deputy Mayor, Mark Khan ,welcoming Cleopatra M.Adderly and the
Special Olympics Team from the Bahamas on a quick visit to Lismore.(17.06.03)
---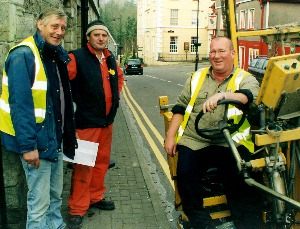 2.4.03
Laying new 'No Parking at anytime,' Yellow lines in Lower Chapel Street, Lismore.
back in 2 003,wereSonny McNamara, from Lismore and Micheal Wright
and David Sullivan from Dungarvan.
---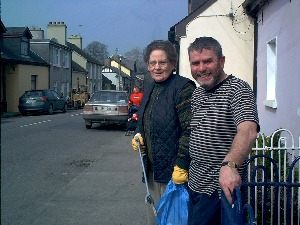 Tidy Towns worker,
Kathy Sheehan and
Lismore Town Councillor Bernard Leddy
in Chapel Street, Lismore,in April 2003.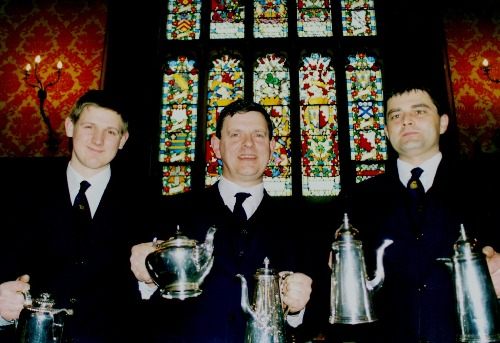 ---
Head Butler at Lismore Castle, Dennis Nevin, (centre)
with footmen Patrick Nevin and Michael Rafferty in April 2003.
---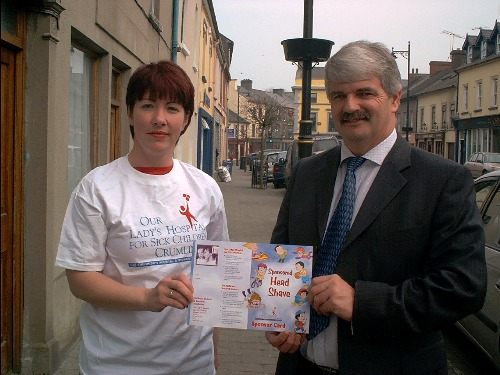 HEAD SHAVE!Orla Russell (now Cllr.Russell) from Lismore, with Martin Cahill, Fund Raising Development Executive from Our Ladys's Hospital, Crumlin, Dublin.
Orla held a sponsored head shave on May 16th. 2003, in the Lismore Hotel to raise funds for the Hospital.
Firemen from Lismore, Ardmore, Dunmore East, Dungavan,Cappoquin,
Portlaw,Tramore, Kilmacthomas and Tallow and a civillian
from Ballysaggart have all volunteered
to be 'head shaved' on the night. 10.03.03
---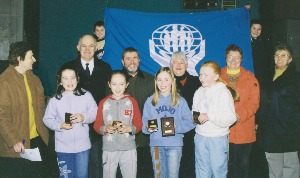 2003 winners of the Lismore and Cappoquin Credit Union
Schools Quiz competition held in the Lismore Hotel.
(Jan03)
---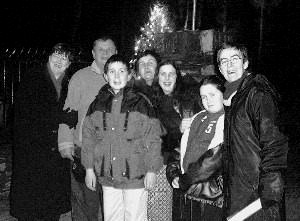 Home for a Visit!
Hi to, Val Power and Peter Allingham over from London with
Patrick and Anne Forbes, Aine Cronin, Margaret Forbes from
Tallow and Kate Tobin also over from London, last Christmas
standing in front of the the tree in the Lismore Millennium Park. 2003.
---
HI to Tom and Pat, I met a few months ago in Cappoquin.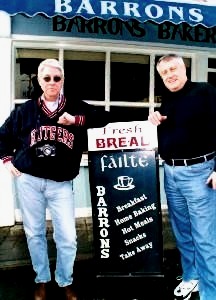 Tom Devine who was born in the USA of Irish decent and Pat Reddan,
born in Cappoquin Co.Waterford have been best pals since Pat arrived
in New Jersey, USA aged 7 years. The lads were recently over in Ireland
for a few days holiday. Pat remembers as a child buying cakes from
Barron's famous bakery in Cappoquin
which is still going strong today. 2003.
---
HUGS ALL ROUND!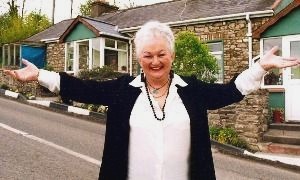 Hi to singer Tessa Quinlan over in Australia.
This pic was taken when she was over visiting her
Irish home in Tallow, Co.Waterford in 2003.
---
Sean O'Shea from Lismore and his trusted friend, hard at work
in Ballyrafter Woods, caught on Kiely's Camera back in 1999.
---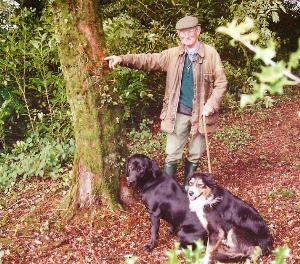 Lismore Castle Estates Woodland Manager, Hal Chavasse at work in Ballyrafter Woods..
It is Hal's job
to decide which trees need to be felled on the castle's woodland estate.
---
Jimmy Coffey from Old Parish, Co.Waterford, Ireland.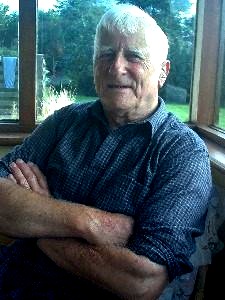 Many Moons Ago!
You can hear Jimmy talking about his life and singing some really old songs he
learnt from his dad,including,' Many Moons Ago,' back in 2002,by clicking here or on his picture
81 year old traditional Irish singer Jimmy Coffey's story was recently
featured in my column in the Dungarvan Observer. (Oct 02)
---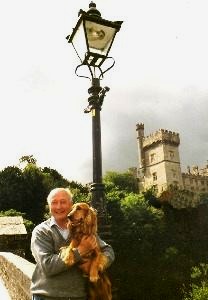 Caught on Kielys Camera in 1999.
Carthage Landers from Parks Road,Lismore, with
his pet dog on Lismore Bridge.
---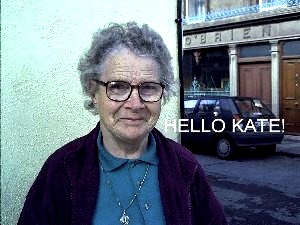 Mrs. Anne Tobin from New Street, 'Botany' Lismore,
wishes to send her love to her daughter Kate over in England. (3.10.02)
Caught on Kielys Camera in 2002.
---
Cecelia 'Cely'-Foley-O'Donnell-Eustice (right) from New York with her husband
Tom (Both licenced psychologists) pictured outside Lismore Heritage Centre.
Cely's aunt called Cely (pronounced Seeley) Foley
used to run the well known Foley's bar in the Lismore until her death last July. (02)
---
Celebration!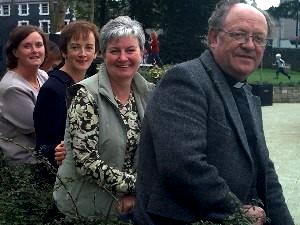 Left: Tidy Town Committeee members Veronica Troy,Mary McBride,
Mary O'Brien with Rev.Dean W.Beare (C of I) listening to Irish band Rannach
in Lismore Millennium Park last Sunday afternoon, during a celebration
afternoon organised by the Tidy Towns Movement who have recently been
awarded four awards including The Tidiest Small Town In Ireland award.
On the right, Jim and Nellie Fitzgerald from
New Street,'Botany,' enjoying the afternoon.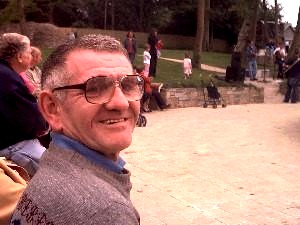 Tommy Morrissey and Frances Rothwell enjoying the Lismore Tidy Town's
celebration held this afternoon in the new Millenium Park, to mark Lismore winning
four awards including Best Small Tidy Town in Ireland and a gold medal.
Music for the afternoon was provided by the Irish band Rannach.
Meet Ber O'Farrell from Youghal, Co.Cork and Jean Mangan
and little Ryan O'Ke
efe from Lismore .
Caught on Kielys Camera in 2002.
Lismore won the National Tidy Towns, All Ireland Best Tidy Town Award,in 2004,
and this year won the Best small town in Ireland award,plus
a gold medal in this years (2005) Europeean,Entente Competition.
---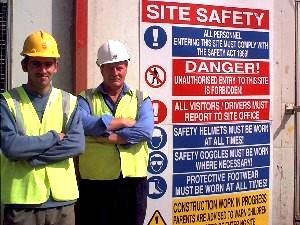 Getting Things Done!
Tom O'Reilly, (Site Engineer) Richard Doyle,(General Foreman) were
in charge of the building of the new 500 pupil Secondary school in
Lismore, which opened in 2003 which is being built
on the site of the old CBS School.
Caught on Kielys Camera in 2002.
---
Musicians.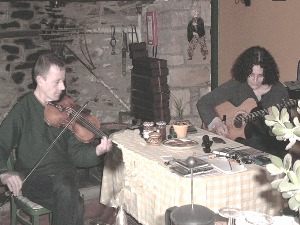 Hi to Nancy Conescu and Gerry Harrington both brilliant professional
Traditional Irish musicians recently featured in my weekly newspaper column
in The Dungarvan Observer.f I met during the summer at Gerry's cottage Nr. Lismore
in Co.Waterford. Nancy is from New York and Gerry was born in Cork but grew
up in Kenmare Co.Kerry. They have been performing together for two years after
Nancy heard Gerry play at a concert in the States.
Caught on Kielys Camera in 2002.
---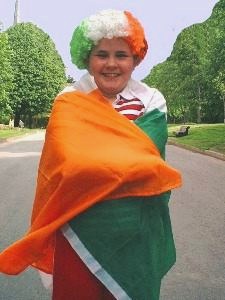 World Cup Fan!
One happy young Lismore fan all dressed up in Ireland's colours out on the
streets, on a summer Saturday Morning last summer after one of our successful
World Cup games played in Japan.
Interesting guide about living in Japan
Caught on Kielys Camera in 2002.
---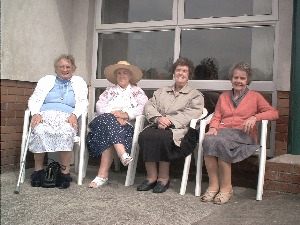 NNellie Walsh (Lismore) Kathleen O'Rourke, (Cappoquin,) Frances Bolger (Cappoquin) Rip
and Mary Hannon (Ballyduff) now all residents of St.Carthage's Home, Lismore,
enjoying some summer sunshine in 2002.
Caught on Kielys Camera in 2002.
---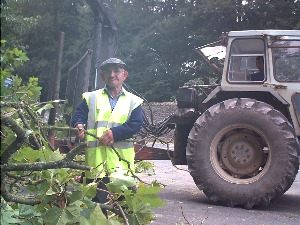 Tommy Morrissey has worked for the Lismore
Castle Farm Estates and Forestry Dept.
for many years is seen here hard at work in 2002.
Caught on Kielys Camera in 2002.
---
Caught on Kielys Camera in 2000.
---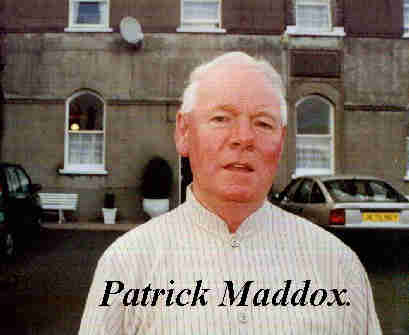 Patrick Maddox (left) was an orphan in St Michael's Orphange,
Cappoquin,Co.Waterford, who I interviewed in Y1999
Read his moving story by clicking link below..
http://kielyscomments.tripod.com/maddox_.htm
Caught on Kielys Camera in 1999.
---
Lismore Ladies Cleaning Up!
Dedicated members of Lismore Tidy Towns group hard at work.
Caught on Kielys Camera in 2000.
---
Hello to my cousin Eileen's husband John Savage (third from left)
and some of the crew at St. Joseph's Hospital Radio, Clonmel Co.Tipperary.
Go there and sign their guestbook
or ask for a request if you have a
friend or relative in the hospital.
http://www.st-josephs-hospitalradio.com
---
Hitchhiker extraordinaire_Tommy Parker - Murray!
Tommy Parker (Murray), aged 74, hitchhiker ,
extraordinaire can be seen most days and nights hitching a lift somewhere
along the Waterford County roads. Tommy from Lismore
is a great source of local information, and usually starts his
day near Willoughby's Garage at about 1.30 pm.
Don't forget to give him a lift if you see him with his arm out,
and tell him you saw him on the Internet, which will certainly blow
his mind!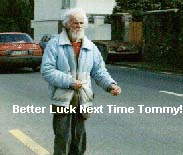 KEEP SCROLLING DOWN THERE'S still LOTS MORE!
---
The Sweep Pub, Kilmeaden a few months ago where
Marion Murphy was happily dishing out the Guinness
---
Married 50 years.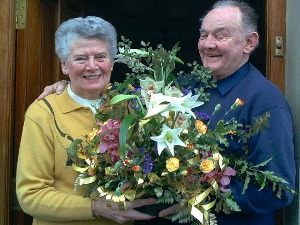 Click to hear a Real audio message from the Hogan's
in Lismore, Ireland to their Finlayson cousins in Canada.
The Hogan's were reunited with their long lost Canadian cousins
back in 1999. A message left on an Internet notice board by Susan Finlayson
caught Kiely's eye and amazingly 24 hours later he had traced
their Irish connection to Lismore.
The Canadians had been trying to trace their Irish connection
for over 80 years click to read their story..
---
Jan 2002 The Euro arrives in Ireland. MORE
On January 1st 2002 shoppers In Ireland began changing
their Irish Punts into Euros. In Lismore, Co.Waterford Willie Roche's
Supermarket set up a temporary Bureaux de Change to help his
staff and customers cope with the changeover to the new money.
---
Sad Story!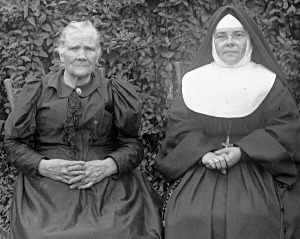 This amazing photo was sent to me from
Sheila MacAvoy Block over in the USA whose ancestors
came from the Glencairn / Lismore area of County Waterford
The picture was taken in the USA about 1900 by her grandfather,
Thomas MacAvoy, an amateur photographer.
It is of Mary English Coleman (originally from
Glencairn) Nr.Lismore, Co.Waterford, Ireland)
---
Caught on Kiely's Camera back in 1979.
Dominic Behan 1929-1989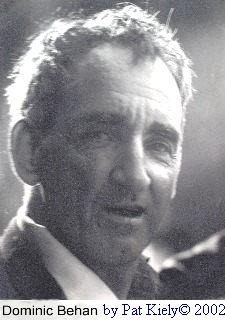 (brother of the famous playright Brendan) who
composed the song Liverpool Lou! Dominic was
photographed by myself, Pat Kiely, at the CRAIC '79 Irish music
and poetry festival held in Finch Road, Lozells, Birmingham.
Were U There?
Click pic to read more about the fascinating Behan family.
---
COPYRIGHT: pat kiely 2006
ALL PHOTOS/ VDEOS/Audios files and TEXT ETC.
unless otherwise stated:
patkiely@eircom.net LISMORE, Co. Waterford 1998-2005