---
My gift to you. Free Report: How To Write A Book in 14 Days or Less! CLICK HERE
'Jimmy's Uncle Paddy' by Pat Kiely.
First published in 199/2000
Single man, Paddy Leahy (79) of Tallow, has been called 'Uncle Paddy,' by Jim Fitzgerald and his family of New Street, 'Botany,' Lismore, for as long as they can remember.
'They say blood is thicker than water, but in Paddy's case I think that might be a contradiction.' said Jim, as he and Paddy recently shared their memories with Kiely over coffee in Tom Keniry's, well known Tallow pub.
Our own children and now, even our grandchildren regard him as a relative, said Jim, who added, that 'Uncle Paddy,' has also attended at least three of our family's weddings, several funerals and loads of christenings over the years.
'He went to the same school in Tallow as my dad Declan. He knew my grandparents Jim and Hanna Fitzgerald, and still clearly remembers my grandmother, who was a well known local Tallow character, and he has known me, since birth .'
'When I was quite small, in the 1950s my parents moved to England to look for employment, but accommodation was very difficult to find in those times for Irish people especially those with a baby, so they left me here with my aunt Nellie Walsh (nee Coleman) , and my granny, Ellen Coleman, intending to collect me later. '
'Time passed, and when my granny died, I stayed on here with my aunt Nellie (featured in this column a few months ago) who was like a second Mam to me and I never did go over to join them, but all through my childhood I remember 'Uncle Paddy,' kept in contact with me,'Jim said.
Paddy continued the story:
'After Jim's parents married, they moved to Lismore where Jim was born, and I used to regularly cycle the three or four miles from Tallow to see them. I continued to visit Jim and his relatives in Lismore regularly, after his parents moved over to England, until I went over there myself. ' he said. '
'I remember Jim had a fascination for cycle lamps when he was just 5 or 6 years old, and when I used to visit his aunt's house in Parks Road, he would wait until my back was turned and then take the lamp off my bike and disappear off with it to explore any dark nooks and crannies that he could find. When it was time for me to cycle back to Tallow, my cycle lamp would be replaced on my bike, but the battery would be flat, and I would have to go back along that dark road without a light,' added Paddy with a smile.
'Although I went to the Tallow National School with Jim's dad, Declan Fitzgerald, Paddy continued, it was not until we were teenagers that we became great friends. We used to go off to the local dance halls together, and it was at one of these dances that Declan met Jim's Mam, Alice (Coleman).'
Reflecting on his own childhood, Jimmy then asked Paddy if he could remember taking him , to 'Teasy Mead's' shop in Main Street, Lismore, was near to where John O'Gorman's newsagents shop is today.
'Meads used to sell everything you could imagine in that little shop from a pencil to a musical instrument, Jim said, as well as toys and sweets, and I recall when I was no more than 5 or 6 years old, wanting this plastic toy roundabout very badly.'
' After quite a bit of gentle persuasion you agreed to buy it for me, it was about 3 pounds, a lot those times. When we got to the shop however, the roundabout had been sold, and I was really disappointed.'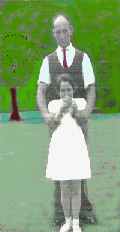 It was around the time of this incident in the 1950s that Paddy Leahy moved away to England and got a job with British Rail where he worked on maintenance for many years, living quite near to Jim's parents and Jim's younger sister Eileen in London.
'My sister once told me you spoiled her rotten as well,'Jim added with a grin.
Paddy kept in regular contact with Jim by letter over the years, and when he used to return home on holidays he would always bring presents etc back with him.
Earlier in the conversation, Paddy had spoken about Jim's granny Hanna Fitzgerald, a local Tallow character, who had 14 children, and still loved to get up and dance even when in her 80s.
'They say she took out all her own teeth, and never visited a dentist in her long life, and she lived to be almost a hundred,' said Paddy.
'I remember one story I heard tell about her, when she was well on in years, that after obtaining a copy somewhere of the infamous book, 'Lady Chatterley's Lover.' which had just been taken off the banned book list in England after a sensational court case, she was supposed to have asked the local Priest if he had ever read it.'
'That remark must have raised a few eyebrows in Tallow at the time, Paddy said, and the priest's answer is not recorded!'
Before we left Keniry's pub, Jim said that one of his happiest memories as a boy was getting a lift over to Tallow on a Saturday, to see his 'uncle Paddy.'
On another Saturday, many years later Jim met his wife Nellie at the Arch Dance Hall, a local hop, which was held in what is now the community centre building in Tallow.
Kiely forgot to ask if 'Uncle Paddy,' if he was at Jim's wedding, but I suspect he was!
---
My gift to you. Free Report: How To Write A Book in 14 Days or Less! CLICK HERE
Copyright 1999/2002 text and pics patkiely@eircom.net