The Story of ther late Fr.Michael Troy 1912 - 1943.
Ballysaggart (The Townland of the Priests)Remembers The Year of the Titanic 1912
(Three Photos including group (names below) and original pic of Fr.Michael Troy, plus an old and new photo of Fr Patrick Prendergast.)
In 1912, the year that the Titanic went down in the Atlantic, Michael the 4th youngest child of 13 children was being born to Robert and Julia Troy (nee Keefe) in Ballysaggart, Co. Waterford, a small village without its own church.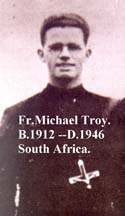 During little Michael's first year of life however, work was started by local people to build their own place of worship, and on March 25th 1913 the foundation stone of a new church was laid.
By the time he was two years old, at the beginning of WW1. Mass had already been celebrated in the newly dedicated church in this area, known in Irish as 'The townland of the priests,'
'At last, explained 83 year old Maurice 'Moss' Troy, Michael's surviving younger brother when talking to Pat Kiely recently, us Troys and our neighbours the Prendergasts, as well as most of the other villagers, were pleased we no longer had to make the 5 or 6 mile treck each Sunday on an empty tummy to attend Mass and Communion in Lismore.
Talking about his brother Michael, Moss remarked, 'As a young lad, my brother was good at practical skills like woodwork, and carpentry, but we both had a real love of music, especially Michael, who was a great singer and would dance or sing at the slightest opportunity,' he said.
'When Michael was a young man he taught himself to play the melodeon or' box,' as we called it, and soon I used to go with him all over the place to open air dances in places like Araglin.'
'When my brother reached his twenties he would work occasionally as a carpenter for the two Feeney brothers, Jim and Mick, who were builders from Tooradoo but in between doing this, he tried studying for the priesthood a couple of times but changed his mind.'
'Eventually though, he recognised he had a vocation and settled down to study seriously, finally being ordained in 1943 at the age of 30.'
'Father Michael was the second in our family to enter the religious life, my sister Bridget (92) (Sr. Ivana,) took her vows a few years before him, and has now been a Sister in a convent in the USA for over 70 years, where she is still serving God.'
'Soon after his ordination my brother was posted out to a Parish in South Africa, which must have been very primitive those days, and he set about using his carpentry talents to build a little church.'
'I remember that as a schoolboy he formed a lifelong friendship with Patrick Prendergast, who was later, also to become a priest.
Fr Prendergast's parents were teachers at the nearby school. Three years after Michael went to Africa,
Fr Patrick was also sent out to South Africa to work in a nearby parish. '
'He thought he would take some things out for my brother, but when he arrived, was given the awful news by another priest that Fr. Michael had just died at the early age of only 33 years, (in 1946) after drinking infected water from which he got a fever and never recovered. 'said Moss.
At a recent Sunday Mass in Ballysaggart, Curate, Fr.Michael Walsh spoke in his homily about Fr.Troy and remarked, 'The loss of such a young priest was a tragedy, and there was great sadness when the news reached Ballysaggart all those years ago, where he was so greatly loved.'
'He is still remembered to this day by many older people for his love of life,' said Father, who continued, it was suggested to Canon Nugent, P.P. of St Carthage's, Lismore, by a group of Ballysaggart parishioners that they would like a memorial to Fr Troy in St Mary's Church, who agreed, and that is why we are here today.'
'I would like to thank Andrew Prendergast, home from the States, a brother of Fr. Patrick, who is still a serving priest in Africa, for sponsoring the beautiful solid mahogany baptismal font, candlesticks and new funeral rite book and other parishioners for their generosity, and also Sean Willoughby's of Ballyrafter, Lismore, who was commissioned to make the font. '
GROUP PHOTO: Left to Right: Andy Prendergast(USA) Paddy Stack(USA)Paddy T.Fennessey, Bob Troy(nephew) Mrs Anne troy,'Moss'Troy, Fr.Michael Walsh(Lismore) 'Pad'J.Fennessey,and Tommy vealle(Parishioner)
After the new baptismal font had been blessed and the Mass finished, Fr Walsh presented a framed photo of Fr Michael Troy to his brother Maurice 'Moss' and his wife Ann who were sitting in the front rows.
A brass plaque on the new baptismal font was inscribed with, the following verse written by his nephew,
'Remains at rest under the African skies He left us here like a rose. Barely a summer long. His presence,His love of life, Remembered by his friends in the valley.'
Kiely would like to leave you with the last verse of a moving poem penned by Fr Michael himself, published in the 1985 book, called.....
'Ballysaggart GAA Remembers.'
'BAILE Na SAGART.'
'Although I am severed from my home Yet I'll never forget it where ever I roam.
And I'll pray that the dear ones around it abide Will stand with the 'blessed' on God's right hand side.'
Fr.Michael Troy. RIP.
Since this article was written in January 2000, Maurice Troy and his sister ,Rev.Sister Ivana over in the USA have died. Sr.Ivana only recently after a very long life serving God, may they Rest in Peace, Amen.
---
NOW PLAYING: