---
LIFETIMES APART! ...PADDY JOE'S STORY.
A recent phone call from Cathy O Keefe in Parks Road, Lismore led Kiely to a little place near Ardmore to meet her dad and Mam, Paddy Joe and Bridget 'Biddy' Stilwell (nee O' Connell)
'I was 24 years old in 1948, when I decided to go to England for a week's holiday, and meet my dad for the first time, ' explained retired carpenter and postman, Paddy Joe, in his cosy cottage in the little village of Grange near Ardmore as he spoke about the first time and only time he met his dad, Charles Stilwell .
'I saw my dad through the grimy train window, waiting on the platform with my mam Catherine (Troy) and my younger brother John, as the old BR steam train pulled into Paddington Station.
' I recognised him, from a photograph my mam had shown me on one of her visits , a few years before, to this house, where I was born and grew up.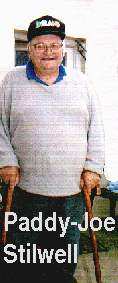 'My mother who lived to the great age of 96 had gone to England after the first World War,too seek work and often used to joke in later years about how she met my dad who was an English catholic, at the communion rails of a church in London one Sunday morning.
I don't know how they got chatting, but that was how they met, ' said Paddy with a smile.
'In those far off days in England it was very difficult for a married couple to get rented accommodation if they had children, even only one child, and when my mam found she was expecting me, she decided to come over to Ireland with my older brother Mike who was aged two, and stay with her parents Michael and Catherine Troy here in Grange for a while, until I was born. '
'She actually stayed here 'till I was about 18 months old and was then going to take just me back to England, but my brother Michael, kicked up such a fuss every time her back was turned, that she decided to take him over with her instead, and leave me here for a while with my Troy grandparents and aunt and uncle, until my dad found suitable rented accommodation, or a house of their own in England.
'I do not have much memory of those times, I suppose I was too young, I can only remember my older brother Mike as a kind of shadow, and although we did not meet up again until we were in our fifties about twenty years ago, he told me recently he could still clearly remember what I looked like then. '
'A few years passed before my parents were able to buy their own home, and by then I was well settled in here.'
' As a young boy, I loved watching my grandad and my uncle Patrick who was also a wheelwright as well as a skilled carpenter, making things with wood.
They had their own workshop, and were well known in the Ardmore area.
'Around that time I remember finding a letter to my granny from my parents saying, that they would be 'coming for Paddy Joe very soon,
' Still being very young, I was very scared by this remark, because this, was the only home I had known and the thought of someone coming for me to take me away, frightened me very much. '
'I still remember my granny reassuring me and telling me not to worry as she wouldn't let any one come and take me away, if I did not want to go.'
'Shortly after this my mother found she was expecting again, with my sister, and so I escaped having to go to England.'
'I loved the countryside and learnt all about growing flowers from my grandmother Catherine, who loved gardening.
She once won first prize for having the prettiest front garden in the area.' (even today, although not able to garden as much as he would like because of vascular trouble with his legs, PJ seems to have inherited his granny's gardening skills.)
'I also learnt all about carpentry from my male relatives and by the time I was only 12 I was quite skilled in this work, which I later worked at for many years.'
'Although I grew up separated from my Mam and dad and my brothers and sister, I still had quite a happy childhood, and in my spare time I also loved to go fishing!'
'As I was growing up, my mam would visit with my sister Kathleen almost every year for a holiday and stay for several weeks, but although my dad had travelled to many places all over the world during the first world war, including Russia, he never visited Ireland.'
'I can still remember meeting him for the first time on platform 8 near the clock under the big glass roof of Paddington Railway Station.'
'I suppose that meeting was a bit hard for us both really, but eventually we got on alright!'
'After shaking hands, we all made our way out into Praed Street to travel back to my parent's home in Woking in Surrey, where my sister had cooked us all a meal.'
'After that visit I never met my dad again, because not long after I came back to Ireland, he died, probably as a result of the long term ill health he suffered after being wounded in WW1. '
'On my return, I got the chance of a job working as a postman around this area. It was a job I liked very much.'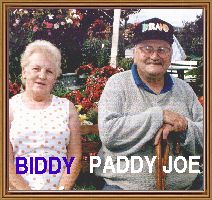 Even though you had to work a six day week, four out of the six days you finished quite early, so it meant that I could still do some work as a carpenter.'
This was a great help with expenses after I married 'Biddy' in 1953 and the first of our seven children started to arrive.'
'We married on the 8th of February 1953,' added Biddy with a grin, who had just come in from the kitchen at that moment carrying a big piece of homemade apple tart and cream and a cup of coffee on a tray which plonked onto Kiely's lap.
'How did you two meet then? Kiely dared to ask the couple later, while admiring the beautiful flowers planted by Paddy Joe in the couple's front garden.....
'Well, said Biddy, who came originally from Clashmore, I was working up this way and used to see Paddy Joe coming around with the post every day, and 'cause I quite fancied him, I used to time my visits to the well to get buckets of water, so that they coincided with his deliveries, and I suppose eventually we just got chatting, like you do!'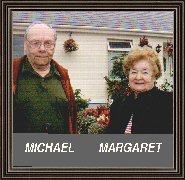 Paddy Joe's two brothers and his sister are still alive.
His younger brother John lives in England, his sister Kathleen (Hands) in New Zealand, and his older brother Mick in Canada. Mick now makes regular visits to see his brother, accompanied by his Canadian born wife Margaret.
'Perhaps one day we will all be together under the same roof, remarked PJ, as we have never all been together at the same time.'
Paddy and Biddy's seven children are now scattered all around, their daughter Liz and husband Joe run the appropriately named pub in Clashmore called the Old Still.
Their three sons have followed in their father's footsteps in the carpentry trade. One son has his own business in Boston, USA,called 'Waterford Carpentry,' a strong reminder of his Irish roots.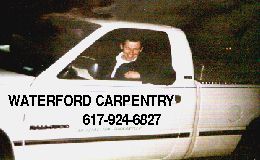 As well as his love of gardening, Paddy Joe has always been a keen fisherman, and is a life member of Ardmore Sea Angling Club, where in 1967 he won the Munster Championship for the heaviest Close Shore Catch.
Before Kiely left, Paddy Joe shared a lovely old story, told to him by his dad during that week in 1948 when they first met, about a visit his dad once made to the Doctor's surgery.
'There was a queue in the waiting room and no receptionist, so the Doctor would pop his head around the door each time he was ready for a new patient.'
When it came to my turn, the doctor called out 'Are you Stilwell?' to which I replied,
Yes!
After a short pause the Doctor replied with a grin,
'Well, why the heck are you here then!'
---