St Carthage Cof E. Lismore Canal . Lismore Castle Gardens
---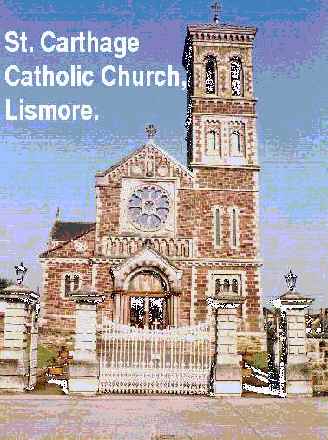 St Carthage's Catholic Cathedral, Lismore, County Waterford.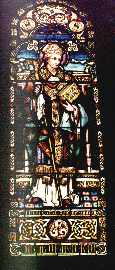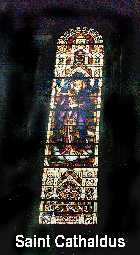 Built in the 1860's St Carthage's is one of the places designated by the Bishop Lee of Waterford to be visited as part of the Jubilee Year 2000. The other designated places are Ardmore,Waterford Cathedral, Mount Melleray Abbey.
---
The Farewell Homily of Fr.Michael Walsh... July 2000
Father Michael Walsh moved this week 8.7. 2000 to become the Parish Priest of a church in Ballylooby, County Waterford.
In his farewell homily Father said he was sad to be leaving St Carthage's parish which he had enjoyed very much, in particular the annual Stations where he was always asked to bring along the fiddle or the box to play a few tunes after the Mass.
He said he would loved to have made contact with more people during his time in the Parish but through pressure of other duties, time did not always allow.
We wish father walsh all the best in his new Parish.
The Rev Canon Thomas Nugent will be standing down from his position of Parish Priest, and soon St Carthage's, Lismore will be looking forward to the arrival of Fr Kevin Mulcahy from Ballyduff who will be taking over as the new parish priest shortly.
At the end of the homily , he thanked Canon Nugent for his help, and the congregation broke into a spontaneous round of applause for Fr Walsh , a popular priest and man of many talents both musical and artistic, who leaves Lismore just a few days before the first ever Munster Fleadh Cheoil comes to the town.
---
Mass Times..
Saturday Eve ..Vigil Mass 7.30pm.. . . Sunday Morning . . 9.30am. . .11am.
Weekdays. . . . .10am.
---
St Carthage Cof E. Lismore Canal . Lismore Castle Gardens
---
..Lismore (slow link ) Castle.....