---
---
Alice and Ned.
Some Woman! Some man!
Born in Ballymacarbry 74 years ago... dedicated fund-raiser... All Ireland 1972 Set Dancing Champion...... Tooraneena Notes Correspondent for the Dungarvan Observer and several other newspapers... Church Sacristan.... Mother of seven children, married to Ned for 56 years last October,Alice Burke is some woman!
Born in Modeligo, but living in Tooraneena since he was two years old.....Member of his local GAA club, for the last 78 years President for 8. ... Responsible for scoring a vital 3 points for Sliabh Gcua in the 1936 County Football championship, which helped his team win the County Finals....
Now retired, he was an employee of Waterford County Council for 40 years... Set Dancing partner to Alice in the 1972 championships, Ned Burke aged 87 is some man!.
The couple met, as was the custom, at a village dance, Ned just into his thirties, already a local football hero, soon fell in love with Alice, thirteen years his junior, a girl with a twinkle in her eye, a sweet smile, and a skip in her step, from nearby Ballymacarbry, whose mum had died when she was only two.
After their marriage, time passed quickly by, and soon Alice gave birth to their first child, a daughter they called Teresa.
Over the years, the couple were blessed with four more daughters and two sons, and as time went on, Teresa became like a little mother to her younger brothers and sisters, 'even a little mother to me at times,' remarked Alice, who as she spoke, was looking up at her daughter's framed photograph.
A frame surrounded by three red roses, in the parlour of the Burke's modern white painted bungalow.
'We got married just down the road at Tooraneena Church,' said her husband Ned, who was sitting in his favourite armchair gazing into the brightly burning coal fire.
' If I remember correctly, we only had ten shillings each in our pockets, with which to start our married life, (50 pence each for our younger readers) and we had a party afterwards here in the village.
'In those days you didn't have the money to go off away on a fancy honeymoon.'
Later, while showing Kiely an old photo of himself pictured in the winning 1936 GAA football team, he remarked, 'I was very fit in those days from all my sporting activities and I used to cycle 10 or 15 miles every day to my work., and back home again.'
' My job involved road repair, and cutting and tidying the hedges. I reckon, I must have helped tarmac nearly all the roads from here to Lismore during my 40 years with the council.'
'You would think after all that physical work, and cycling he would be too tired for more work, said Alice, who had just come back into the room with a big pot of tea, and some home-made scones, but when he got home, and had his dinner, he would be off across the road to his other job, which was tidying up the churchyard.'
Although officially retired, Ned still loves to go off fishing when he gets the chance, as well as taking an active involvement as President of the St Mary's GAA, a post he has for over seven years.After numerous refills of tea, Alice brought over a photograph to show Kiely that was taken of herself and Ned, and other members of the Tooraneena Set dancing team, during one of the couple's happiest years back in 1972, when, after being asked by well known local Set- Dance teacher Monnie Hallahan to join a group of three other couples, and form a dance set. ..
'After several months of Monnie's careful training and guidance several times a week ,we went on to win, the County, then the Munster, and finally the All Ireland Set dancing Championship, beating finalists from all over the country including Cork and Tipperary,' Alice remarked.
'There were some great celebrations here in Tooraneena, after each success, added Ned. We had quite a fan club of supporters, who hired buses and coaches and followed us around the country to give us their support.'
'In fact so many people turned up at Clonea, for one of the competitions, that they had to call the guards as the venue became too full.' he said with a smile.'
Two of their children, were also successful in Set dance competitions, there son Albert won the Sor, All Ireland Competition a few years back, and their daughter Terri was successful in the Slodagh.
Alice a young 73, still works as a Sacristan at her local church, and here recalls how she started working there 35 years ago.
'The Parish Priest at the time, called to the house and asked me if I would like to take on the job as Sacristan, and each time I refused. He thought it might be a good idea for me to take on a little job to get me out of the house and he asked me several times before I eventually accepted.'
'You see for the previous 12 months I had been going through the most awful grief and distress, going about my daily life almost in a trance, trying to come to terms with the sudden and tragic death, just a few weeks before her 18th birthday, of our oldest daughter Teresa.'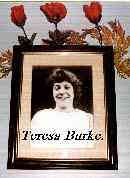 .....Our Daughter.....
'We were out visiting friends when the Garda (police) called to say Teresa, my 'little mother' had been knocked down and killed on the way home from work in the Dungarvan Hospital, where she worked as a Hospital Attendant.
'She was such a kind and thoughtful girl, that even after all these years I still miss her. I remember every week when she got her wages she would come home and give them to me,unopened, and I would give her back some money for herself, but before the week was over she would have spent most of it on something for the home or presents for the younger ones.'
'A couple of years after she died, a man called Tom visited our house. He did not know at first I was I was Teresa's mother.'
'When he found out, he told me about when he was a patient on her ward, and about her kindness to him and the other patients.'
'One day the Ward Sister told Teresa to give him a tablespoonful of whiskey as a medicine, and she had given him a half a cupful instead, much to his delight.'
'My work as a Sacristan did help me quite a lot to get over some of the grief.' she said.
While his wife had been speaking, Ned had listened quietly, still sitting by the now gently glowing fire, with a far away look in his eye.
Over the last twelve years Alice has become seriously involved in charity fund raising for local charities and hospitals. 'It all started with a coffee morning I held here at the end of the 1980s. she said. I was amazed when it raised over £70 and it inspired me to try again the next year, and every year since.
'Last year I held it on the day of the Elections, and I invited Waterford County Councillor, Ollie Wilkinson and several other politicians to come over and join us, which they were delighted to accept.'
Alice's other fund-raising endeavours have included, Pub Singing Contests, and this year a fundraising committee, has been formed and they are holding a Fashion Contest soon, and a best Granny and Grand-dad competition a little later in the year.
Alice said she would like to wish their old dancing teacher Monnie, who is busy preparing another set dancing team for this year's competition, every success, and to thank him and her local priest for their continued help with her fund-raising efforts over the years.
As Kiely was was saying at the beginning, Some woman! Some man!
If your down Tooraneena way I am sure Alice and Ned would be more than pleased to make you welcome for an old sup of tea!
(Music: Tears in Heaven..Eric Clapton)
---