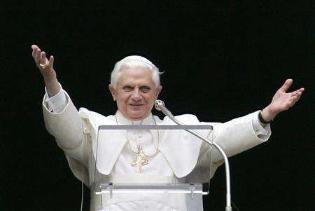 Pope Benedict 16th.
---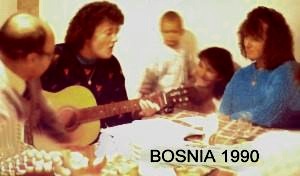 In 1990 I visited Medjugorje in Bosnia Hertgovinia
on a pilgrimage for the first time,
exactly one year before the Bosnian/Serb war started,
and during my visit, stayed at a small family run
guesthouse, where I met the people pictured above.
l to r. Polish Alfie from London, Catherine Lennon,
(playing guitar) little Maria and her mam
from Bosnia ( the guesthouse owners)
and Catherine's sister, Mary Waddoups from
Worcester in England .
Hi to all.
---
Hi to Damien and Cathy Stayne, photographed at the New Dawn
charismatic conference in the mid 90s who are
founder members of
a Catholic religious lay community
called Cor Lumen Christi based in Chertsey, Surrey in England,
http://www.cor-lumenchristi.org/
---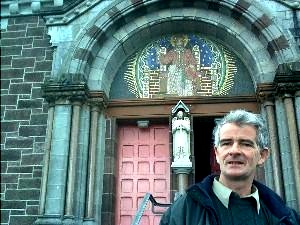 Hi to Fr.Colligan who has ben a missionary priest
in Brazil for the last 16 years in a parish with
22,000 parishioners.
Fr.Colligan grew up in Lismore, Co.Waterford
in the 1950s and has many happy memories of the town. (Nov.02)
---
Available soon...
A new CD of the dawn Mass celebrated in the grounds of the
Carmelite Convent in Tallow, Co.Waterford, Ireland in June 2001 during the visit to Ireland
of the relics of the saint Therese of Liseaux.
---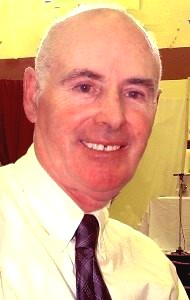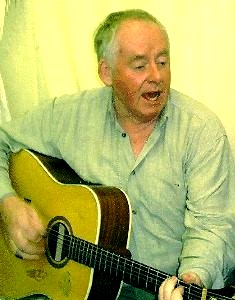 (
(Above left)...Hi to father of seven, Tony Hegarty from Cork who is a member
of the Emmaus Men's Christian Fellowship in Cork mentioned below.
(Above right)... Well known Dungarvan Christian singer, Jim Keoghan
strumming up a tune at the recent Emmaus Men's
Christian Fellowship weekend in the SMA centre in Cork.
---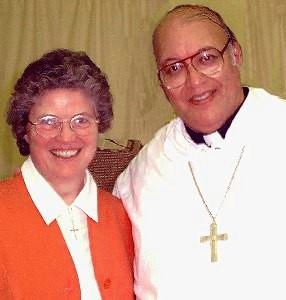 International Scripture Scholar, Frances Hogan with Bishop Robert Rivas
from the West Indies were the main speakers at the 3 day
Emmaus Christian Men's Charismatic Fellowship (Cork) event
held in the SMA Centre, Wilton, Cork 2002 .
---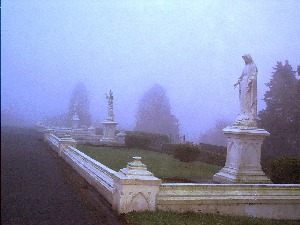 Melleray Abbey Co.Waterford shrouded in some November fog.
---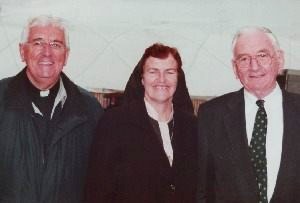 Fr.Kevin Scallan, healing nun Sr.Briege McKenna
from Florida
and Myles Dempsey, caught on Kiely's camera at
the New Dawn Conference held in Co.Kildare in July 2002.
---
This religious link is amazing, please wait for the sound
http://www.gieson.com/Library/projects/animations/risen/index.html
---
The relics of St.Therese of Liseaux visit Co.Waterford, Ireland
---
Fr.Thaddeaus Doyle visits Waterford.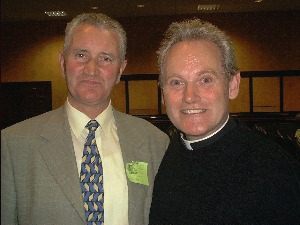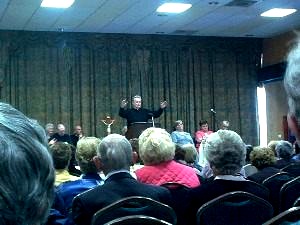 l to r. Tom O'Dwyer organiser of last years Charismatic Conference held
in Jury's Hotel, Waterford on Sat 14th. Sept 2002 with Thaddeus Doyle C.C.
who was the main Speaker at the 2 day conference.
Fr. Doyle publishes the well know monthly magazine, The Curate's Diary
and has just opened a website... www.jesuspowerministries.org
---
---
All about St Patrick CLICK HERE!
ATTENTION (Kiely's Comments) READERS: If you're serious about writing that book, I strongly recommend you take a look at this site! click here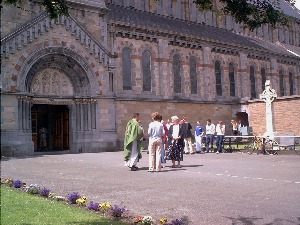 St. Peter and St. Paul's Church, Clonmel,Co.Tipperary . (2002)
---
Latest Medjugorje Message
---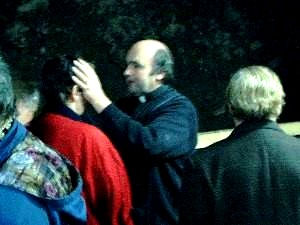 left) Well Known healing priest, Fr.Fitzgerald
from Cobh Co.Cork (A frequent visitor to Garabandal in Spain)
at Melleray Grotto.
Father led the prayers and rosary during the
16th anniversary celebrations in 2002, of the first apparition
at the grotto in 1985.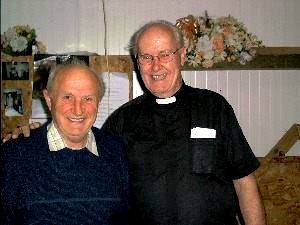 (right) American Priest Fr.Costigan, now resident in Garabandal, Spain
with Mr. Buckley,Cappoquin, Grotto Committee,
after the anniversary service.
---
The first NEW DAWN Charismatic Conference in Ireland. (2002)
Hi to Ber, Vincent and Ger from Co. Waterford
and Isobel and Ann from Scotland who all attended the event.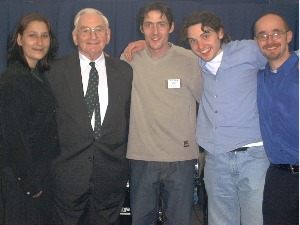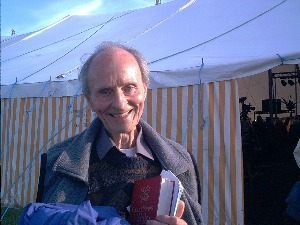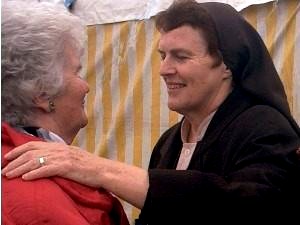 The 2002 New Dawn charismatic conference held in in Co.Kildare ,
(top right,) the band with Myles Dempsey the founder of the New Dawn conference.
(Above right,) Famous healing nun Sr. Briege McKenna (Florida)
(left,) an amazing octangerian priest, Canon Jimmy Collins from Liverpool, England
who still walks at least six miles a day.
All were present at the first 4 day charismatic conference ever held in Rexurexit
which was attended by
several 100 people a day (despite the rainy weather)
---
An old fashioned Sing a Long at Fr.John Keane's Parish House
in Dungourney,Co.Cork. (2002)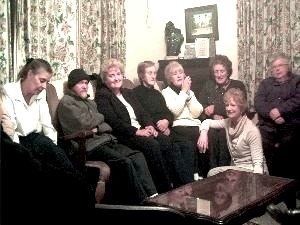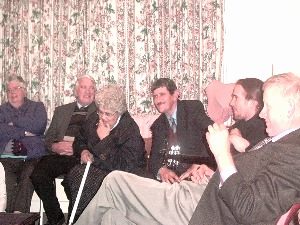 Meg O'Shea and Carmel Wilkie, from Middleton (Co.Cork )
with Ann Murphy Dungourney,and Josephine Hoskins,
Bartley,Rathcomack, below left.
On Guitar, Bobby Lee from Cork.
Update
Fr. John Keane, has now gone to South America as a missionary(Aug.2006)
he is missed a lot by his parishoners in Dungourney.
---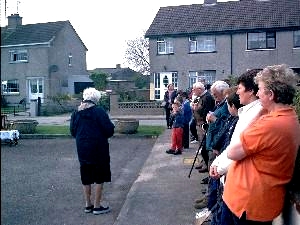 Local residents gather for the rosary in
Parks Road, Lismore, Co. Waterford!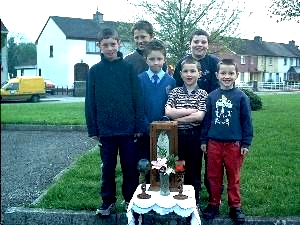 Lismore Annual May Street Rosary (May 2002.)
---
Page1. Page2. Page3. Home GUESTBOOK