A Living Saint! By Pat Kiely
(First published in Kiely's Comments Column in the Dungarvan Observer newspaper in Co.Waterford, Ireland in September 2003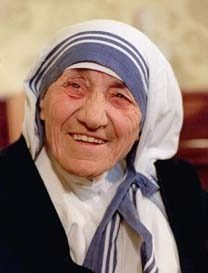 Its now 10 years since Mother Teresa of Calcutta, often described
as a 'Living saint,' or the 'saint of the gutter,' visited the famous
shrine of Knock, Co.Mayo, in Ireland, where she was received by a
crowd of over 40,000.
On October the 19th. 2003, this frail looking nun, who mingled with the
poor and the rich,
with tramps and presidents, with princesses and paupers,
is due to be beatified in Rome by Pope John Paul 11
A week later on the Sunday 26th.October, huge crowds are expected to
venerate her relics, at a special mass, celebrated in Knock, by the
Primate of all Ireland, Archbishop Sean Brady.
Mother Teresa's Irish Connection!
It seems appropriate that the relics of this Albanian nun, born in
Skopje in 1910,who was later to become more 'Indian' than those
of her adopted country, should visit Ireland, for it was here that
she first entered convent life back in 1928 with the Sisters of
Our Lady of Loreto in Rathfarnam,Co.Dublin.
Later that year she was transferred to one of their houses in India to make her
Novitiate,and chose the name Teresa, after the French nun Therese Martin,
who had been canonised with the title, St.Therese of Lisuex, only a year before.
Mother Teresa took her vows in May 1937 and was very aware of
the extreme poverty present in the streets around her convent.
A few years later in 1946 during a train journey for health reasons
to the mountains near Darjeeling, she felt called by God,
to dedicate her life to the poorest, 'a calling which would not go away.'
The following year she received permission from Pope Pius the X11 to leave
the order of Loreto and after obtaining Indian citizenship, settled in Calcutta and
started wearing the now famous garb, of a simple white sari with a blue striped
border and a cross on the shoulder, as she began to follow her new vocation.
Three years later, she founded the congregation of the Missionaries of Charity and
shortly after, opened a house for the dying, where even the poorest could die with
dignity,near an abandoned Hindu temple dedicated to the Hindu goddess of death
and destruction,Kali.
A year later another house for orphan children followed
and then a village for lepers.

Her ideas and her work with the poor must have seemed revolutionary to
the local Indian people at the time, used to the strict culture of the caste system
and the Hindu tradition of regarding some people as untouchables.
After working away diligently over the next 15 years and gradually recruiting others
to become part of her community, her order was given approval by the pope and
from that moment, Mother Teresa could open houses
even outside her beloved India.
In no time at all, 440 missions were created for the poor in 95 countries and today,
new houses are still being created throughout the world and are attracting many
young women to give their lives to God, at a time when vocations in this part of
the world are in decline.
"Poverty is not just being without food,Mother Teresa once said, it is
the absence of love!
I can tell you,there is more warmth in Calcutta, where people are willing
to share what there is,than in many places where they have everything!"
Many honours, too numerous to mention here, were bestowed on her during
her lifetime, both by Pope's and lay organisations, including the Nobel prize
in 1979.
She was welcomed by the famous and even spoke at the United Nations
and despite a slanderous TV programme a few years back, continues to
live on in the memory of millions, for the kindness and love,she gave to the
most disadvantaged in society.
It is a love now being carried on by her successor,
Superior,Sr. Nirmala Joshi,
an Indian born Hindu who converted to Christianity
at a young age and by a global network of missionary sisters
of charity now based in over 133 countries.
In 1990, her order unanimously rejected Mother Teresa's resignation
as Superior General of the Congregation and so she continued on
despite bouts of ill health.
She passed quietly to the Lord, a few days after the tragic death
in 1997 of one of her biggest fans, Princess Diana.
For those on the net it is possible to hear recordings of
Mother Teresa voice and the beautiful prayer below she loved...
http://home.comcast.net/~motherteresasite/audio.html
"Dear Jesus,help me to spread thy fragrance everywhere I go.
Flood my soul with Thy spirit and love.Penetrate and possess
my whole being so utterly, that all my life may only be a radiance
of thine.
Shine through me and be so in me that every soul I
come into contact with may feel thy presence in my soul.
Let them look up and see no longer me,but only Jesus.
Stay with me and then I shall begin to shine as You Shine,
so as to be a light to others."
Copyright Pat Kiely (Lismore, Ireland ) 2003.
---

er
---
Midi: Sometimes When We Touch!
---