---
St.Thérèse of Lisieux Page.
Feastday, Tuesday, October 1st.
Below are photos taken in June 2001 when the relics of St. Therese visited Tallow in Co. Waterford, Ireland for three days.
---
Available soon ... A new audio tape of St. Therese's Dawn Mass celebrated in the grounds of the Carmelite Convent in Tallow, Co. Waterford, Ireland
---
.................
NOW PLAYING:

Oh Holy Night!
---
St. Therese was a young nun of simple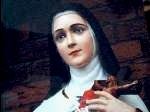 faith died unknown of TB at the age of 24 years of age, but the contents of the writings in her spiritual diary spread around the world like wildfire within just a few years.
The relics of St. Therese of Liseaux arrived in Tallow Bridge last Saturday 16th of June 2001 at 4pm. Although the weather seemed likely to rain all evening it did not and the special Mass was held outdoors infront of a large crowd.
---
THE FRIDAY PREPARATIONS!
Eric Curley preparing the convent wall entrance for the arrival of the saints relics.
Friday night the 15th June 2001.
---
THE ARRIVAL IN TALLOW SATURDAY 16th. JUNE 2001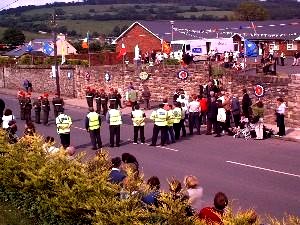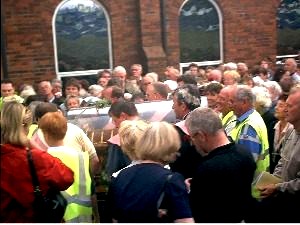 ---

SATURDAY NIGHT/SUNDAY MORNING YOUTH DRAMA THE LIFE OF
ST. THERESE.

SUNDAY A.M. ALL NIGHT VIGIL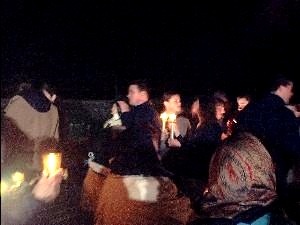 DAWN MASS 4am SUNDAY 17th.JUNE 2000.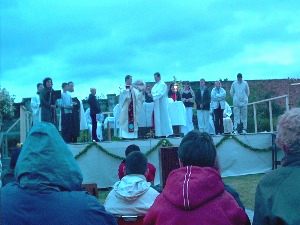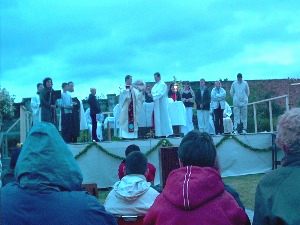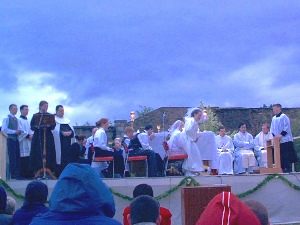 Young children perform a short drama during Mass.
---

SUNDAY AFTERNOON HEALING MASS.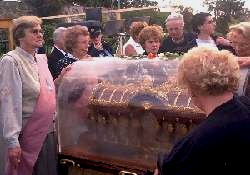 Legion of Mary, Ann Delaney on left...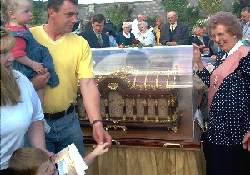 (President of Tallow LOM ) standing guard at the reliquary.
Young family at the reliquary
.
---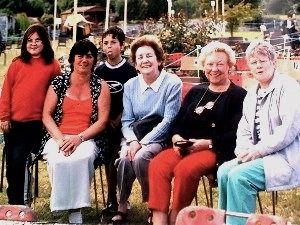 Kathleen Tobin, (Monagown, Conna) Rita Hegarty, Ann McCarthy, and Anna Murphy (Lismore) with the twin Deirdre and Kevin Tobin aged 9 caught on Kiely's Camera on the Sunday at the recent St. Therese weekend in Tallow, County Waterford.
---

MASS AND FINAL DAY MONDAY MORNING 17th.JUNE 2000.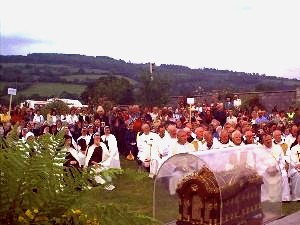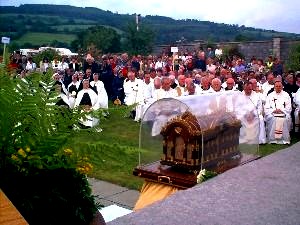 Today Monday (The final day) Fr. Purcell (from Kilkenny) at the Children's Mass.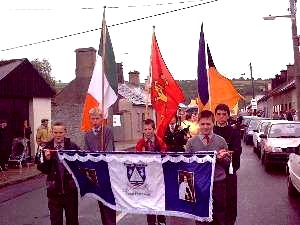 ---

PROCESSION THROUGH THE CONVENT GROUNDS.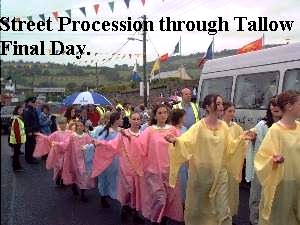 ---

KEEP SCROLLING DOWN.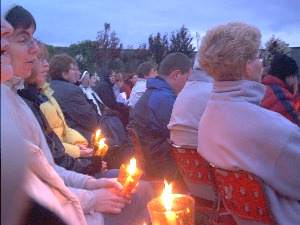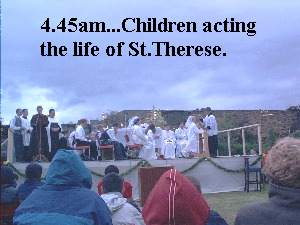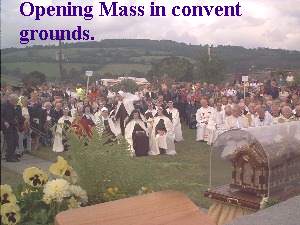 ---