Click to see Pat Bailey reading two of his poems on YouTube.
(Please include email address in guestbook message,if you need a response,thanks)
Scroll down to read Pat Bailey's story.
---
Kielys comments OCT 31st 2007 (as published in the Dungarvan Observer newspaper)
Poet of Nature!
Pat Bailey of Villierstown is a man of many interests and talents.
During his life, Pat worked as a local fisherman for the James Villiers Stuart's Dromana Estate for many years and has always been a committed nature lover,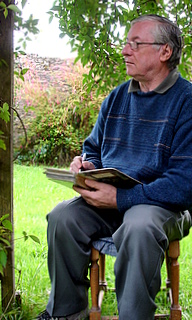 A self taught traditional musician since childhood, playing the whistle,box and banjo with finesse,Pat has always been willing to strike up a tune, whether at home or during the time he spent in Lancashire in the 1970s.
For the last five years however,Pat has been severely bitten by the poetry bug,in particular, with writing poems that have a link to his observations of nature and wild life, one Pat's other loves.
"Growing up and working in the Villierstown area and being surrounded by beautiful rivers,streams,and countryside, nature has always been near to me physically and near to my heart too,"explained Pat.
"I was actually born in nearby Dromore and my parents, Margaret & Paddy, moved to Villierstown when I was about 6 years of age, where I then went to the local school etc.
Pat (60) who has never been married, loves the simple life,enjoying music,nature,and reading, and over the years has kept a variety of pets, including birds, rabbits and a ferret,and still has happy memories of going fishing with his dad (also an estate fisherman) as a young boy, where he first learnt to observe and enjoy nature.
"One summers day about five years ago, I was walking near the River Blackwater,when the beauty of it all just got to me, and when I arrived home, I penned a poem for the first time in my life, which I called simply called,' The River."
Here is a short extract from that four page poem of Pat's thoughts and observations:
The River.
The summer sun sets in the sky, the aspen leaves they quiver,
The blackbird sings his tuneful song, as I stroll down by the river.
From the quay I like to see the egret and the heron.
The swallows high in the evening sky, as they twist and turn.
They skim and weave with lightening speed, without a care or worry,
The solitude down here, when all are in a hurry.
"For me, a poem should both rhyme,and have rhythm. I have now written over 40 poems and in them all I try to create this,maybe this comes from my other love, traditional music."
"One of my poems was recently set to music by a local singer/ guitarist, Mark Long,originally from Cork and it gave me great enjoyment to hear a rendition of one of my poems used as the lyrics for a song."
"Several of my nature poems were also read out on air by John Kennedy on his Youghal Radio show, 'Sunday Miscellany,'over a four week period,and the presenter said he liked my poems very much,but I believe Youghal Radio are not on air at the moment, as they are looking for new premises," continued Pat.
"I have had all my handwritten poems typed out and put together in a hand made book, but would ideally love to have them accepted and published in a professional way," added pat.
" Many of my friends, have said how much they like my work and would love to be able to buy a book of my poems, if it was available,so maybe I will try and get that done in the future."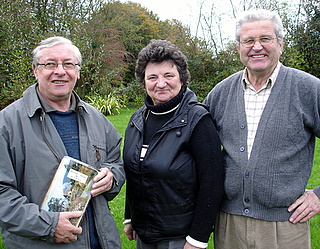 Although most of Pat's poems are about nature, his collection also includes a poem dedicated to his late brother, simply called 'Matty. ' Matty died of a form of Leukemia about 20 years ago, but the poem shows the love Pat had for his late brother,and his moving poem talks of his brother's childhood and journey into adulthood and eventual passing.
Pat enjoys reading,and definitely prefers radio to the TV,and is not much into electrical gadgets such as DVD's and computers.
"You can do a lot more with the radio on,than the TV and other modern gadgets, which you have to watch all the time,and I still prefer to take long walks in the woods around Villierstown and around the Dromana Estate and get a lot of inspiration for my writing while doing this."
Often when he has finished writing a new poem, Pat likes to pop around to his good neighbours, Ann and Peter Reilly for a chat and to let them read his latest rendition.
" I think Pat has written some great poems and I keep telling him he should get them published," remarked Ann earlier this week, after Pat had read her one of his latest works entitled, 'November.'
November.
No fragrant flowers,
No leafy bowers,
No early morning dew.
No dragonflies,
No butterflies,
No bright ocean blue.
No bracken fronds,
No cukoos'songs,
No budding trees.
No pimpernels,
No bluebells,
No busy bumblebees.
No swallows flight,
No lilies white,
No cherries to surrender.
No sunny haze,
No balmy days,
November.
---
photos: Pat Bailey composing one of his nature poems. (pat kiely)
Pat Bailey (l) his good neighbours, Ann and Peter Reilly.( pat kiely)
---
****************************************************************************** end