---
At least 100,000 Welcomes to you all.
Please do not try to contact me or subcribe to my newsletterthrough my old Quios email address or local Ireland as I will not get your message! USE EMAIL....patkiely@eircom.net
MAY 31st. 2001.
KIELY'S COMMENTS formerly known as Local Ireland's WATERFORD & COUNTY WEEKLY FREE NEWSLETTER Free regular newsletter bringing you the latest news views and and stories from around County Waterford.
Published By: Pat Kiely Volume 1 Number 74 ********************************************************************

Hi and welcome once again to all of you from in and around the County of Waterford, whether by birth, ancestry or adoption, who regularly tune in here, to read your interactive Waterford and County newsletter with a few of Kiely's comments thrown in just for good measure.
Remember there are updated extra items everyday to read on my web-site, just click, or cut and paste either of these links to go there.
Well here it is, the May issue,at the end of a month of excellent weather with the flowers bursting in to bloom, and the threat of Foot and mouth all but gone. we even celebrated St.Patrick's day in May also this year.
This month's issue contains a main story about an Welsh born Irishman who now lives in Canada, author and ex pilot, Mr.'Pat' H.J. Barron. It makes an interesting read.
Hopefully I hope to have the June issue out very shortly.
People in Ireland at the moment are being bombarded with propaganda from the government to say YES to the Nice treaty, pronounced NEECE and also as a separate issue, to vote for the total banning of the death penalty which is to take place on June 7th.
It's far from a 'nice' treaty by the sound of it, and will give the four biggest countries in Europe even greater powers to dangle their smaller neighbours including Ireland, like puppets on a string.
I wonder if the English writer of the old Euro song contest winner with the words 'Puppet on a String,' in the title, realised how prohetic his words might turn out to be.
If we vote YES, our hard won sovereignty and even our right to remain a neutral country will be compromised, not to mention the hidden european anti church agenda.
For several years there has been pressure on the Irish government to hold a referendum about whether abortion should be legalised here, which has been delayed time and time again.
Dosen't it seem ironic that time could not be found to include this referendum alongside the Nice treaty and death penalty voting next week, considering that we are talking about similar issues. ....
Oh, but maybe the execution of adults is of far more important an issue for the Irish government than the killing of the helpless unborn.
But first,
A Boat Cruise with a Difference!
Still on depressing subjects, A Dutch floating abortion ship is due to arrive in Waterford very shortly, before moving on to other ports around the coast such as Cork and Dublin.
Any Irish woman wanting an abortion will able to avail of the 'service' as long as it takes place at least 12 miles off our coast.
Now for something a bit more lighthearted......
Panic at the Hotel
It was two o'clock in the morning, and the receptionist at a posh hotel was just dozing off, when a little old lady came running towards her, screaming.
"Please come quickly," she yelled, "I just saw a naked man outside my window!"
The receptionist immediately rushed up to the old lady's room. "Where is he?" she asked.
"He's over there," replied the little old lady, pointing to an apartment building opposite the hotel.
The receptionist looked over and could see a man with no shirt on, moving around his apartment.
"It's probably a man who's getting ready to go to bed," she said reassuringly. "And how do you know he's naked, you can only see him from the waist up?"
"The dresser, honey!" screamed the old lady. "Try standing on the dresser!"
--------------------------------------------------------
At The Going Down of The Sun!
At the end of the summer last year Kiely had the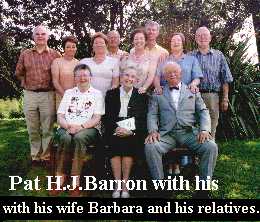 pleasure of meeting retired fighter pilot and first time author H.J. Pat Barron when he visited Ireland with his wife Barbara for a short holiday. The couple stayed with Pat's, Barron relatives at the old Station House in Cappoquin.
An account of eighty three year old Pat H.J. Barron's exciting life has just been published by Loon Books in Canada called, 'At The Going Down of the Sun" which tells the story of his childhood in County Waterford and his later career as a fighter pilot, Flying Instructor and commercial pilot.
So where did it all begin I asked Mr.Barron,
'I was born on the 12th March 1917 in Swansea, Wales, UK. My mother died only two years later, leaving my father James with two young children, myself aged 2 and my sister Nora who was only four.'
'My father had been severely injured during the First World War in Flanders in 1918 and was in no condition to care for us two small children, so we were eventually sent over to live with our grandmother Barron, in Ballinameela, West Waterford where we later attended school.'
' The Barron family were connected with the well known Cappoquin Bakery and I can always remember the smell as a young child, of newly baked bread in my grandfather's bakery.' remarked Pat with a nostalgic smile.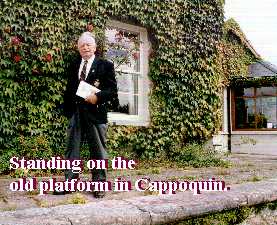 'Another early memory is of being given a present of an encyclopaedia set called "The Book of Knowledge" by my uncle Jack Barron. I was only about five or six and the exciting path of discovery and content I found in these books was like magic to my young mind.'
'What really caught my imagination though, was reading about aeroplanes and the growth of aviation.'
This subject really fascinated me and as I got older I devoured all the stories I could find about the exploits of famous World War 1 fighter pilots, aces such as Bishop, Mannock, von Richthofen (the Red Baron), Ball, Collishaw, Pope and many others.'
'Fate had it, that when I was only about eleven years old, Sir Alan Cobham's "Aerial Circus" came to Dungarvan. After that I was hooked.'
'Over the next few years at St. Augustine's College, I studied really hard at as I knew that to be accepted as a trainee pilot I would need high exam pass marks and a good record at school.'
'Well to cut a long story short a few years later in 1936 I went to England and was accepted as a trainee military pilot in the Royal Air Force.'
'Just three years later, at the start of WW2, I was sent on the first of several bombing missions with my squadron.'
'On May 10, 1940 I lived through the nightmare of having to watch my best friend and flight commander, Brian Kerridge, being shot down and killed.'
'I was wounded in action over Luxembourg that day myself and I still have a hole in my leg to prove it," remarked Pat as he showed Kiely his old war wound.'
Later H.J. Pat Barron was decorated for his bravery with the Distinguished Flying Medal by King George VI and was made a "Citoyen d'Honneur" of Münneref, Luxembourg.
In his book, Pat gives many vivid accounts of his wartime experiences, but there are also many humorous passages about the people he has met and the strange cargoes he later carried across the world both during and after WW11 when he continued working as a civilian pilot.
One account tells of the time he was flying an unknown cargo to Fiji in 1945. While in the air, curiosity overcame Barron and his crew, and they decided to take a peep into the cargo hold only to discover that they were carrying thousands of hornets who were busily flying around. 'Lucky none of them escaped, ' remarked Pat with a grin.
'As it turned out, the hornets were needed in Fiji to eat insects that were feeding on valuable trees, which were used in the manufacture of rope for the wartime effort,' added Pat.
'How long did your auto-biography take to write.' I asked?
"I started writing it eight years ago and did two chapters and didn't touch it until last spring," says Barron. "I suppose the matters of growing older and wanting to leave something about the family to my children and grandchildren is what prompted me to finish it.."
Later as we drove out to look at his old primary school in Ballinameela,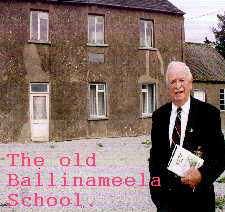 I asked Mr Barron, what it felt like flying a fighter plane.? Did he have any conscience about his mission and the dropping of bombs?
His answer, ' My Dad's first World War generation and my own who fought in World War 11 did so, to protect the values of democracy, he replied. "In both wars, that was the challenge.'
'It was clear to us as youngsters going into the services. We didn't have any question in our minds that society as we knew it would not live without democracy.'
'There would be no freedom of choice, freedom of movement, of education, religion."
As we looked around the now derelict school and playground of the old Ballinameela school, Pat showed me the spot where he had once defeated a local bully in a playground fight after some unofficial boxing lessons from one of his teachers who had once been in the same dilemma himself as a child..
'I remember one day, this brawny farmers's son who had been a frequent tormentor of mine demanded I give him my cap, explained Pat, The bully then announced to his cluster of admirer's that he was keeping it.'
'Well first I kicked him on his shins and then put into action some of the tricks the teacher has shown me. Very soon, 'Bullyboy' with a bleeding nose, backed down and handed me back my cap. It was a good lesson for me - never back down from a bully.'
A lesson which must have motivated H.J. Barron's thoughts in his later wartime flying career.
Copies of 'At The Going Down Of The Sun,' published by Loonbooks.com in Nanaimo, Canada or can be obtained by Irish readers from from Barron's Cake and Bakery Shop in Cappoquin.
It's an excellent read both as a nostalgic novel for local people and as a most exciting read for those who enjoy a real life adventure story
-------------------------------------
FEEDBACK.
Over the last few weeks I had the pleasure of meeting members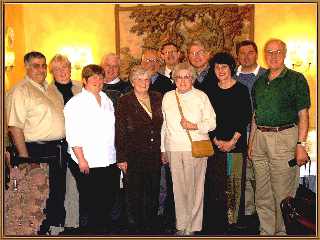 of the Bader / ORourke family from Minneapolis, USA who had come over to County Waterford to meet the long lost Irish cousins from Kilmacthomas and Ballylaneen.
Kiely had played a small part in connecting them all together and I hope to bring you all the gorey details in the next issue :-)
Hi to Mairead Lavigne who sent me a lovely 'real' postcard from the Rockies, Mairead tells me she has also just made contact with a long lost Australian cousin through the internet, and hopes to come to Ireland in July with her two sisters. ( I Look forward to meeting you Mairead!)
So finally,finally, finally.....
As they say down this way...Thanks a million! to all of you who sent emails, signed my guestbook, or sent me real postcards...
See 'ya all next week. God bless, Pat.
******************************************************************** If you have enjoyed Waterford & County newsletter please spread the word, and get your friends and relatives to visit Kiely's web-site, http://www.kielyscomments.com ******************************************************************** COPYRIGHT The copyright of the photos and text belongs to Pat Kiely... email: patkiely@eircom.net
JUST AWARDED FOUR SHAMROCKS BY THE
IRISH DIRECTORY.
If you send your feedback to patkiely@eircom.net I always find your feedback most encouraging....
Archives.......COMMENTS ISSUE 64......COMMENTS ISSUE 65.....COMMENTS ISSUE 66. COMMENTS ISSUE 67 COMMENTS ISSUE 68....ISSUE 69 ...Issue 70 ...Issue 71.....issue 72 .....ISSUE 73
---
.All material and images (copyright) Pat Kiely Lismore, Ireland 1999-2002