---
Hope you all had a Happy Easter!
Newsletter . . . Subscribe below.

At least 100,000 Welcomes to you all.
APRIL 18th 2001
Hi and welcome once again to all of you from in and around the County of Waterford, whether by birth, ancestry or adoption, who regularly tune in here, to read your interactive Waterford and County newsletter with a few of Kiely's comments thrown in just for good measure.
Well, its Eastertime again, a time of re-birth, and renewal for many Christians. 2000 years since the first Easter and despite all the wars, famines, plagues and disasters, the world is still spinning.....just!
It's also approximately Eighty five years since the Easter Rising in Dublin, an event that was to change Irish history for ever.
By hook but not necessarily by crook, Ireland has still managed to escape the spread of the dreaded Foot and Mouth disease, at least down here in the South, but over the northern border things don't look so good, with two new cases recently discovered.
If things remain clear in the South there's now talk, of holding the postponed St Patrick's Day Parade here in MAY! (any excuse for a party over here, will do just fine folks!)
But first.....
An elderly lady discharged after treatment in an old people's hospital decides to grant herself a life long wish before she leaves to go home, and run stark naked through one of the male wards.
Two old fella's in one of these wards see her streak past and one turns to the other and says, 'What was that?'
His friend replies,'I don't know, but what ever it was, it sure needs an iron!' ----------------------------------------------
Remember there are extra items everyday to read on my web-site, which space here may not allow.. just Click ------------------------------------------
STANDING OUT FROM THE CROWD!.
When it comes to painting and poster design, young Shauna Kate Humphries stands out from the crowd.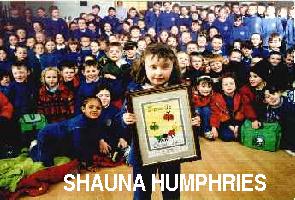 Last year she came first in the Lismore and Cappoquin Credit Union, local competition and then second in the National competition . This year, young Shauna has gone one better by winning not only first place in the local, but also first place in the under 7s 2000/2001 National Finals as well.
In February , an excited Shauna travelled up to Dublin's Gresham Hotel to receive a cash prize from TV personality Ray Darcy, and last week at her Lismore primary school she was presented with a framed copy of her original winning poster. '
The theme of the competition was 'join Us!' said The Chairman of the Lismore and Cappoquin Credit Union, Tony McCarthy.
The presentation took place infront of her cheering classmates, and children from the older classes, Bunscoil Bothar na Naomh Principal, David Corbet and teachers, Deirdre Keneffick, and Mrs Mc Grath, representatives from the Lismore and Cappoquin Credit Union Ltd, Eleanor Burns, (Treasurer) and Helen McGrath. CU Director.
After congratulating Shauna's teacher's, Credit Union Chairman, Tony MacCarthy turned to Shauna and praised her for her wonderful and colourful poster '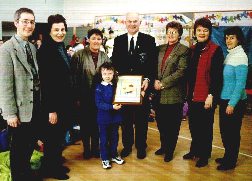 I can see that a lot of effort has gone into the lettering and painting. You have used strong and striking colours and shapes to produce a very eye-catching poster, ' he added.
( Bunscoil Bothar na Naomh , were awarded a special 'school prize,' of £250 pounds because Shauna came first in the National Competition.)
As she received her framed poster, her classmates burst into a spontaneous rendition of'Cliff Richard's 'Congratulations. '
Later when they were being caught on Kiely's camera, Shauna encouraged them all to smile even more by getting them to join her in saying the word 'cheeeeeeeeese.'
Later this year Shauna 's winning poster will be published in the Credit Union Calendar which will be available at branches all over Ireland.
Well done Shauna!
---------------------------------------------------------------------
NEW YORK! NEW YORK! SO GOOD THEY EVEN SENT PETE KIERNAN THERE! 1 x photo.
Shauna (9) Adam,(13) Robert (17) in Lismore and Vicky (19) (who is working in London as a photographic model ) think their dad Pete is such a good dad, they all decided to save up over the last few months to treat him to a late birthday surprise present of a three week trip to New York.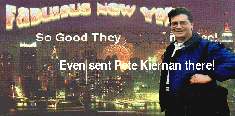 When this pic was taken a couple of weeks back, Pete was busily packing his bags and couldn't wait to get away from the leafy lanes of Lismore to experience the sites, excitements and dizzy heights of New York City.
So excited was Pete at the prospect of his trip, that he almost burst into a rendition of the famous song! New York! New York! while being caught on Kiely's camera! ---------------------------------------------
PRESENTATION TO THE PRESENTATION!
'My old photocopier was on its last legs,' remarked Anne Fitzgerald, Principal of The Presentation Convent Secondary School, Lismore since 1999, as she proudly showed off the new machine bought for the school with funds raised by the Parents Council.
The present Parents Council are an enthusiastic group of parents and teachers, chaired by teacher Pat Fleming, who hold an annual event, such as this years well supported Non-Stop Five Week Draw, to raise money for items such as the badly needed photocopier, sports gear or office equipment.
Money raised also helps to subsidise and fund various talks held at the school for concerned parents on subjects such as Drugs, Parenting, Alcohol abuse etc.
'The Parents Council was originally founded in the mid 80s by a group of parents in response to their interests in school affairs and over the years they have been involved in many positive ways both in liaison with the school and in fund-raising,' remarked Anne, who has been Principal since 1999.
'I think the involvement of parents in their children's education and with us teachers is most important and I am sure it has a stabilising and positive effect on the behaviour and attitude of the students themselves, she added.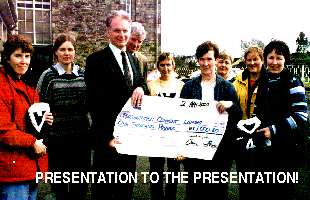 'Over the last two years we have enjoyed various social events at the school organised by the Parents Council including an American Tea Party, a Table Quiz, at even a Night at the Races,' added Anne with a smile, who said she would like to thank members of the Parents Council for their co-operation and all those who supported them in their fund-raising efforts.
The first Presentation School was founded in Cork in 1775 by Nano Nagle who spent many years, teaching and caring for the poor, before founding her religious community.
Times have moved on, as have so many of the nuns who dedicated their lives to education, the original school motto was taken from Nagle family crest...NON VOX SED VOTUM 'Not a voice but a vow,' meaning 'not words but deeds.'
Its a spirit which still seems alive and kicking in Lismore's Presentation Secondary School with its ten full-time, eight part- time staff, 182 female and four (transition year) male pupils and dedicated Parents Council.
-----------------------------------------------------
FEEDBACK (no photo)
A few weeks back in my Dungravan newspaper column, Tom Kiely from Sligo was asking after his old friend Frankie Walsh of Chapel Street, Cappoquin who he hasn't seen for seventeen years .
Frankie was delighted to hear that his old friend Tom was asking for him and shall be writing to him shortly. -------------------------------------------------------
TOM FITZGERALD JUST LOVES THE OLD AFFANE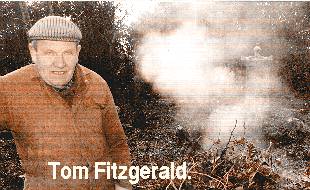 GRAVEYARD...
Find out why in the next issue!
So finally,finally, finally..... As they say down this way...Thanks a million! to all of you who sent emails, signed my guestbook, or sent me real postcards...
Remember if you receive this newsletter by email, you must go on-line to see the photos.... See 'ya all next week. God bless.....
JUST AWARDED FOUR SHAMROCKS BY THE
IRISH DIRECTORY.
If you send your feedback to kiely@quios.com my mobile phone will remind me when it arrives.. I always find your feedback most encouraging....
Archives.......COMMENTS ISSUE 64......COMMENTS ISSUE 65.....COMMENTS ISSUE 66. COMMENTS ISSUE 67 COMMENTS ISSUE 68....ISSUE 69 ...Issue 70 ...issue 71 issue 72 ISSUE 73
Sound version of issue 66 on Real Player Send Kiely a Real Postcard! .....Local Ireland
---
.All material and images (copyright) Pat Kiely Lismore, Ireland 1999-2000