---
Please do not try to subscribe to my newsletter through the Local Ireland web-site or email me through my old Quios address or I will not receive your message.
JUST AWARDED FOUR SHAMROCKS BY THE
IRISH DIRECTORY.
At least 100,000 Welcomes to you all.
FEBRUARY 15th. 2001
Hi and welcome once again to all of you from in and around the County of Waterford, whether by birth, ancestry or adoption, who regularly tune in here, to read your interactive Waterford and County newsletter with a few of Kiely's comments thrown in just for good measure.
Apologies for the gap between the last few newsletters which has been caused for all sorts of reasons.
Another St. Valentine's day has come and gone I hope you had enough romance to last you at least until the weekend.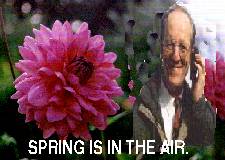 Its officially been Spring in Ireland for the last two weeks now, and it was really refreshing this week for the first time in ages to have three consecutive bright sunny days and after several months of dark damp wet winter days.
The sun really does bring about a transformation in the appearance of the counties of Ireland especially in Waterford with all its natural beauty.
This news item which has nothing to do with Valentine's day, or spring recently caught Kiely's attention......
As you know, Ireland has always been famous for its 'little people,'
But did you know that until recently any vertically challenged individual however well qualified, could not become a law enforcement officer in Ireland?
Unless you stood a minimum of at least 69 inches in height for a men and 65 inches for a women, you didn't stand a chance, due to a rule brought in when the Garda Siochana was founded back in the 1920s/30s.

But now in our new found politically correct society, the good news is, that in future it will be illegal to discriminate against anyone wanting to join the force because of their height.
Another recent news item which caught Kiely's attention was about our famous irish welcome or rather how our this traditional irish welcome has changed in recent years.
A group of 15 East European workers from Morovia found a warm welcome the last thing they got recently as they set foot on Erin's green isle, unless you call a few nights free bed and breakfast in Mountjoy Prison a sign of our generosity.
The workers had arrived to take up promised employment at a local Dublin firm, but soon found themselves in handcuffs and chains tethered together like convicts bound for Botany Bay.
What had they done wrong?
Perhaps arrived illegally, or without proper working permits? No, their only crime was that the jobs they were looking forward to starting were no longer available, and their pockets were not bulging with cash, like some of our more prosperous visitors..
After three days of confinement they were released without charge and offered accommodation by a sympathetic local hotelier said he would make sure they would be given a more traditional welcome that evening in his hotel bar.
Lets hope they had a good night!
As that 60's child Bobby Dylan was so fond of singing .. 'Oh, the times they are a changin!'
For those of you who have been away from Ireland more than 10 or 15 years the changes more than the times will surprise you.
But first before your attention span completely goes, something a bit more lighthearted...
A LETTER FROM AN IRISH MOTHER
Dear Son,
Just a few lines to let you know I'm still alive. I'm writing this slowly because I know you can't read fast.
You wont know the house when you get home, 'cos we've moved.
Your Father has a lovely new job with 700 men under him - he cuts grass at the cemetery.
There was a washing machine at the new house, but it's not working too good. Last week I put in 12 shirts, pulled the chain and I haven't seen them since.
Your sister, Colleen had a baby this morning, but I haven't found out if it's a boy or girl, so I don't know if you're an uncle or aunt.
Your Uncle Mick drowned last week in a vat of Whisky at the Dublin Distillery. His mates tried to save him, but he fought them off bravely. He was cremated and it took four days to put the fire out.
I saw the doctor last week and your Father went with me. Doc put a glass tube in my mouth and told me not to talk for five minuets. Your Father wanted to buy it from him.
It only rained twice this week, first for four days the second for three days.
We had a letter from the undertaker. He said if the final payment on your Grandmother's grave wasn't paid in seven days - up she comes.
Your loving Mother XXXX
P.S. I was going to send you 10 Punts, but I'd already sealed the envelope.
---------------------------------------------------------------
Billy 'Gareth' Hogan. 3 photos.
'If you look very closely at the stone pillar on the left hand side of the road , at the entrance to the Lismore Castle Estates, you will notice that at about three feet from the ground, there are several deep indentations in one particular spot.'
'Nothing much to see you might think, but to me, everytime I notice them, they remind of my dear old granddad, who made those marks many years ago, remarked Billy Hogan, local entertainer and member of one of Ireland's first showbands, 'The Bridesiders,' back in the 1940s/ 50s/60s.
'Billy or 'Gareth,' Hogan as everyone called my grandfather, lived to be 96 years of age, and worked for the castle for many years on the Castle Farm looking after and breeding the horses. After he retired he became the Castle Lodge Gate Keeper at the entrance to the Green Road.
'In his time, the entrance was much narrower than today, and there were large iron gates which my grandfather would be responsible for locking every night at about 10pm.'
'I can still see him now in my mind's eye, sharpening his little knife on that stone pillar, ready to cut the tobacco into small pieces ready for smoking.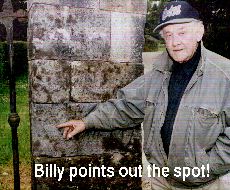 'I wonder if any older people in the town can still remember him, standing at his favourite spot, chatting or waving to the people passing on foot or bicycle, as there weren't that many cars around in his time?'
'He didn't have far to go to lock or unlock the gates each morning or evening as the lodge, a little black and white building known locally as Hogan's Lodge, was just behind the pillars. and still stands today '
'In his young days back in 1898 'Gareth' was a Gaelic football player for the Lismore 'Blackwater Ramblers,' and they represented Waterford on one occasion.
'In the old times there was a football field where the golf course is today.'
'Our grandmother's name was Kate (O'Keeffe)and she came from the Mondeligo, Cappoquin area.
I believe they had 9 or 10 children, including my father, Billy concluded.
Another detail was added later by another grandson also called Billy Hogan, a retired printer from Main Street, Lismore, who said,
'The Green Road was always a favourite walk for courting couples in the past,' and our granddad who died in 1964 would love to tease and embarrass the young couples as they passed the gate lodge on a summer's evening to take a romantic walk.'
I'm sure he caused a few blushes in his time, added Billy with a smile.
--------------------------------------------------------
The Bells are ringing! (Photo)
Wedding bells, funeral bells, Angelus bells! Recently retired St.Carthage's church Sacristan, Helen O'Sullivan (nee Crowe) from Chapel Street, Lismore, has rang them all.
After 12 dedicated years in the job, mother of two Helen (56) decided this Christmas to step down and take a break from the seven days a week job.
'Since my daughter Annmarie moved to Cork I have found it very difficult to visit her regularly, remarked Helen,
Before taking on the role of Sacristan, in St Carthage's busy parish, Helen worked as a telephonist, and later in the Lismore library.
'When I was working as a Sacristan, my day usually started at around 8.45am,
with the opening of the church, the ringing the bell and the preparation for Mass.' she said.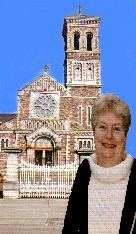 'I was lucky living just across the road because the job can involve frequent visits to the church during the day for duties like ringing the Angelus bell, and extra duties such as funerals, baptisms and weddings, so you have to be very committed, added Helen.'
During her 12 years as Sacristan, Helen O'Sullivan at a rough count has rang the Angelus bell approximately, one hundred thousand times.
------------------------------------- THANKS.
Thanks to all who sent kind messages about my late father in law who died just before Christmas.
So finally,finally, finally.....
Thanks once again to all who subscribed, signed the guestbook, sent real postcards or emailed or left voice messages..and as they say down this way.. Thanks a million! or even 'Phone a friend!'
There will be more name mentions next week, and remember you must go on-line to see the photos....
See 'ya all next week. God bless, Pat.
If you send your feedback to patkiely@eircom.net my mobile phone will remind me when it arrives.. I always find your feedback most encouraging....
Archives.......
COMMENTS ISSUE 64......COMMENTS ISSUE 65.....COMMENTS ISSUE 66. COMMENTS ISSUE 67 COMMENTS ISSUE 68....ISSUE 69 ...Issue 70 ...issue 71
See 'ya all next week. God bless, Pat.
---
.All material and images (copyright) Pat Kiely Lismore, Ireland 1999-2000