---
Send Kiely a Real Postcard! .....Local Ireland
Sound version out soon!
JUST AWARDED FOUR SHAMROCKS BY THE
IRISH DIRECTORY.
Newsletter . . . Subscribe below.
At least 100,000 Welcomes to you all.
Happy New Year!
Hi and welcome once again to all of you from in and around the County of Waterford, whether by birth, ancestry or adoption, who regularly tune in here, to read your interactive Waterford and County newsletter with a few of Kiely's comments thrown in just for good measure.
Hi once again and I hope you are all hard at it again after the Christmas and New Year celebrations. This week's newsletter is a little more serious than normal, so perhaps if you are having not such a good week, you may prefer to read it another time..
At Christmas we had intended to go over to Ormskirke near Liverpool in England to visit my son Andrew and his wife Nikki who belong to the Prince of Peace catholic lay community there.
They are in the music ministry and provide some really exciting modern Christian music using African drums and bongos, and pretty well any other instrument that takes their fancy however, sadly, a few days before Christmas Eve the health of my father in Law, Paddy, originally from Longford but in a nursing home in Naas, took a turn for the worse.
Paddy had not been well since a mild stroke in the summer and so his death, which occured just before Christmas Eve was not totally unexpected.
One consolation for his widow Kathleen, (my mother in law)and the rest of the family was the peacefulness of his death.
When his time came on the Friday afternoon all his family were at his bedside, and as the local priest finished the rosary Paddy just quietly slipped away, and a beautiful peace seemed to fill the room.
His funeral was on Christmas Eve in St Mell's Cathedral, Longford and amazingly for such a busy day nearly a thousand people were present at the service to pay their last respects.
After Christmas we travelled to Britain, arriving on the following Wednesday just before the snow.
My New Year's Eve this year was spent at a special mass at the community house where my son Andrew and his wife Nikki have been living for nearly a year. we were joined by most of my other children (did I say children?) and 50 or so Liverpudlian Irish, who had decided to brave the elements on New Year's Eve and travel up to 40 miles to attend.
Everyone present welcomed in the first few minutes of the new (real) millennium with prayer,music and praise to God, (Kiely even joined in on the Bongos himself!).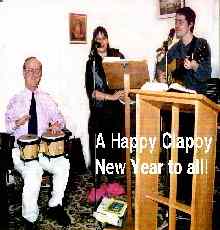 If you have never tried seeing in the New Year with prayer rather than in a haze of alcoholic merriment, Kiely would recommend you try it for next year.
You can always go out and have a few drinks on New Year's Day instead, smugly knowing that most people who celebrated the night before in traditional fashion are still nursing their aching heads and empty wallets, and perhaps even wondering who ate their last Rolo!
('Rolo,'A chocolate sweet regularly advertized on TV here.)
But first....
POET OF PEACE!.
Michael P. Mc Hale loves peace, peace in the world, peace in Northern Ireland, peace in his life, peace for the young!
Most of his working life before retirement was spent as a Manager with Irish Rail, but secretly lurking within him, there was always a desire to write something other than the daily reports and form filling his job required.
The spark that eventually kindled Michael's creative literary talent, was the death of his mother Helena 'Eileen' Mac Hale, nee Landers, in 1996, a passing which Michael, the eldest of seven children felt deeply.
His sadness at her loss, inspired him to write his first poem entitled,
'Mo Mhathair' .... 'My Mother.'...... Which he says. ' was a tribute to the memory of a great mother of a large family.'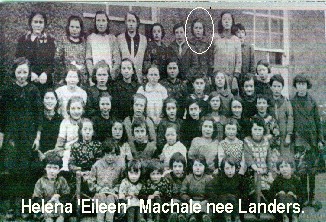 After this first poem flowed from his pen, a torrent of new work followed, much of it to be later published, including several poems about the Good Friday Agreement, including one called 'Good Friday, Voices from the Grave,' which was written in 1998.
Michael P.Mc Hale sent copies of these to Statesmen, Leaders and Clergymen in Ireland, Britain, The North, and the USA.
Before very long the postman became a regular caller at Micheal's house in Dun Laoghire, even bringing him a hand-written reply from a man who is still working very hard to try and secure peace in the North, the outgoing USA President, Bill Clinton.
'I was amazed that he took the time and trouble to write to me himself, remarked Michael, as things were happening in his personal life at the time which must have put him under great stress.'
I also received letters from many other famous people including, Northern Ireland Secretary, Dr. Mo Mowlan, UK, Prime Minister, Tony Blair and the Primate of all Ireland, Archbishop Brady.
Quite spoken Michael, a cheerful, talkative man with a love for the countryside, (He and his wife Maureen have bought themselves a retirement home in New Street, Botany, Lismore. ) reminisced about his childhood family holidays in Mondeligo, where he loved to escape the rush and tumble each year of the busy Dublin streets.
'My late mother came a from Churchquarter, Cappagh, Mondeligo where my aunt Mrs. Pauline Barry still lives, added M. I was the eldest of 7 children, and my Mam was a fantastic lady who never complained about all the work she had to do in raising us all.'
When we moved to Dun Laoghaire, I went to the Christian Brothers, and then the Jesuit College, before eventually studying Chinese Civilisation at UCD. I remember at the CBS once being asked to read out a short story in front of the school when I was 10 or 11.
I remember signing my work with the rather ostentatiousness signature of, M.P.N.T.McHale.
'When I finished my studies, I started working for CIE in the clerical dept, where I eventually rose to the position of Manager. I married my wife Maureen in the early 60s and we have four grown children.
Two boys and two girls and two grandchilden, Evan and Jamie.'
'When Evan was born I wrote a three verse poem called, 'Our Grandson.'which captured our feelings at the time, the poem concludes, ..
'At a time of sadness and loss, he arrived
Bringing joy, new hope, new life
At night in the clear sky new stars appear
Placed by family past to welcome their own
A happiness shared, we join them and
Welcome this special boy
Who is he you ask?
He is Evan Ross
He is our grandson.
Michael continued,
'We bought our house in Lismore about two years ago and visit it regularly. It was in quite a state of disrepair when we bought it, but my cousin Michael Barry, his wife Ann and the rest of the family including my aunt, who all live in County Waterford have been such a help, I dont think we could have managed without them. '
'People are still so friendly down this way, and still have time to say 'Hello,' or 'Good Morning,' or offer help with my house, that sort of thing, I have travelled all over the world including Russia, but I think Lismore people must be some of the friendliest in the world. '
'To get away from the rat race is something we love to do, and I do not even have a phone connected in my Lismore house (by choice),' said Michael with a smile.
'One of our daughters, Helena is a teacher, but I don't think teachers get half enough for the work they do,' added Michael.
'I think the young people have such a hard time of things these days, and Maureen and myself are so glad our kids are grown up now. '
'The suicide rate among young men in Dublin is getting out of control lately, I remember how I felt when I heard of the death of a young man I used to work with.
'He left his friends at the pub one night with the remark, 'Bye, Have a good life!' He never arrived home alive, but just went off and hanged himself. '
'I find that when I am moved emotionally by an event or incident, then I like to try and express my feelings about it in the form of a poem. But when you hear of a wasted young life it is so sad.'
'When I wrote the poem about this young man called, 'Departing Soul, ' I tried to describe in the first verses, the mask that we as human kind so often wear...'
For that young face smiling
As it did across the table.
It was, you thought the face of
A young man happy and stable
But that face was a lie.
Another exertion of cover.
Instead it masked a mind riddled with dark thoughts.
Never reaching in this world
The great heights sort.
Michael's poems have won him recognition in the USA as well as in Britain and he has twice been nominated as Poet of the Year, by the Int.Society of Poets (Maryland, USA) who invited him to read his poetry in 1997 and again this year at the Sheraton Hotel before the largest gathering of poets in history.
McHale's work has also been published in at least eleven books, anthologies and many magazines, the most recently in a hardback anthology called, 'A Stream of Imaginings'
In 1997 and again in 1999 he was winner of the 'Editors Choice Award,' for outstanding achievement in poetry, which was presented by the international Library of Poetry, UK. and in 1999 his work was chosen for inclusion in a hard back anthology called 'Honoured Poets of 1999,' drawn from the work of poets around the world.
At the moment he is working on a novel, but finds many things stimulate him to write poetry and prose.
A recent visit to the old workhouse in Lismore, has given him the inspiration for a new poem, and he vividly described to Kiely what he thought it must have been like for the starving famine victims to have been turned away from the Workhouse door, all those years ago.
In the final verse of his poem called, 'Good Friday...Voices from the Grave, '
Michael captures what he feels to be the thoughts from the grave of those who gave their lives during the troubles leading up to the signing of the Good Friday Agreement......
And from the graves your sons cry
out to family and friends
'Your cup of vengeance overflows its
time to end the war
My God, My God please no more blood'
'So end it, end it, end it now
and build a lasting peace'
(After the above article was recently published in my newspaper column, Michael kindly called around to Kiely's cottage with a thankyou gift of a bottle of delicious red wine and a box of chocolates, or maybe the chocs were for 'herself,' as they seem to have suddenly disappeared without trace. The funny thing is, they weren't even Rolos?)
---------------------------------------------
Now for something a bit more lighthearted.....
E. and Fe-MAILS!
NICE FRISBEES!
Back at the end of last summer Kiely received this email and photo from 2 frisbee playing fanatics which somehow slipped through the net,so here it is at last...
'Good Morning from Canada.
Recently my cousins, the Power family (Geraldine, Liam, Wayne, Adrian and Lianne) from Liss, Araglin came for a visit.
We all had a good time doing the sights and talking about relatives and friends from Ballyduff and Araglin.
I am sending you a picture of the winners of The First Annual Humphrey Frisbee Competition, held on August 06, 2000.
Competitors ranged in age from two years to sixty plus and were both male and female.
The winners were.....(drum roll). Geraldine Power and Mary Donaghy.
PS. Still enjoying the site and the gab every week.'
Thanks Geraldine and Mary,and a Happy New Year.
Well that's it for this week, Happy New Year to all who wrote over the holiday... I haven't forgotten you all (Mentions next time)
So finally,finally, finally.....
Thanks once again to all who subscribed, signed the guestbook, sent real postcards or emailed or left voice messages..and as they say down this way.. Thanks a million! or even 'Phone a friend!'
There will be more name mentions next week, and remember you must go on-line to see the photos....
See 'ya all next week. God bless, Pat.
So finally,finally, finally.....
If you send your feedback to kiely@quios.com my mobile phone will remind me when it arrives.. I always find your feedback most encouraging....
Archives.......
COMMENTS ISSUE 64......COMMENTS ISSUE 65.....COMMENTS ISSUE 66. COMMENTS ISSUE 67 COMMENTS ISSUE 68....ISSUE 69
Sound version of issue 66 on Real Player
See 'ya all next week. God bless, Pat.
---
.All material and images (copyright) Pat Kiely Lismore, Ireland 1999-2000