---
Send Kiely a Real Postcard! .....Local Ireland
Sound version out soon!
JUST AWARDED FOUR SHAMROCKS BY THE
IRISH DIRECTORY.
Newsletter . . . Subscribe below.
At least 100,000 Welcomes to you all.
November 14th. 2000
Hi and welcome once again to all of you from in and around the County of Waterford, whether by birth, ancestry or adoption who regularly tune in here, to read your copy of your interactive Waterford and County newsletter with a few of Kiely's comments thrown in just for good measure.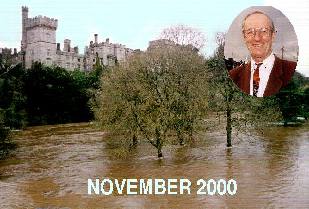 Last time we met I mentioned the risk of flood and storms and true to form a few days later they arrived, giving Kiely's cottage a soaking into the bargain.
In this photo taken from Lismore Bridge 200 metres from where Kiely lives, the normally green fields near Lismore Castle are completely submerged by flood water.
The recent floods all over Ireland and around Waterford City and County were so bad in fact that the government have stepped in with promises,of financial help to County Councils so that they may carry out work to prevent flood damage to vulnerable houses in future...
Lets wait and see if they really will keep their word, and are not just using people's misfortune as a possible vote catching gimmick!
But first...
As mentioned in my August issue,I have had several letters and photos from Billy Clements over in England who grew up in Lismore in 1930/40s.
BILLY'S STORY
Billy's father died when he and his older brother were small children and they were brought back by his Ma to live with their granny in Main Street, Lismore.
His granny soon got fed up with having two lively grand-children under her feet and so they moved to live in the Tourtane Gate Lodge about a mile away from the town.
Here is part one of Billy's story
'I came to live in Lismore as a baby from England with my widowed Mother and my older brother Reginald aged two.
It was not my Mam's first visit here, as her family home was in Lismore where my grandparents, lived.
My grandad Henry Joel King worked at the long gone Paxman's Butter factory near the Lismore Canal, and married a girl called Ruth in 1889.
Their address was recorded on the marriage certificate as East Main Street (opposite Hickey's Garage).
Shortly after their marriage my grandparents moved to Salisbury, Wiltshire, where they opened a grocers shop.
Three children were born to them over the next five years, my mother Elisabeth, and my two uncles, Arthur and Billy King.
When my grandparents grocery business eventually failed, my grandad decided to come back to Lismore with his wife and family, where he took up employment at Paxman's once again.
He remained at the butter factory for most of the rest of his life, and my mother worked there as a young girl as well before going to England where she met and married my dad Reginald.
Sadly, she was widowed after only three years and decided to return to my grannies house in Main Street.
It was not long before my grandmother found the noise and chaos caused by two young children aged under three running about her house too much for her patience and we had to move out and take up residence in Tourtane Gate Lodge on the Tallow Road where I spent the rest of my childhood, but that's another story.
When my two uncles grew up one (Arthur) got a job in Cappoquin Bacon factory and then in the Castle Estates Office where he stayed until 1947 before going to England.
My other uncle, Billy, worked in the castle all his life until his death 1965. He was killed after suffering a heart attack when his car collided with a stationary lorry, near the entrance to the castle.
One of my memories I have of my time in Lismore, is of the funeral in 1947 of Lord Charles Cavendish, the present Duke's uncle, who died quite young.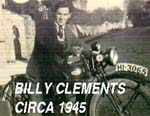 He was married to dancer Fred Astaire's sister Adelle who I met a few times. She and her mother were very nice people.
I remember the funeral was a very big affair with most of the town turning up to watch and pay their respects, as so many people in the town had connections with the castle in one way or another.
The procession started at the castle and proceeded through the town to the cathedral.
My uncle Billy took it in turns along with Jimmy Meade, Jack Nugent, and Pat Scanlon to be Pall bearers.
There are not many people still alive now, who are in the old photo I have sent you. Maybe some will be recognised.
My first job was working in the castle wood yard, and the woodworking skills I learnt there I have used throughout my working life in England.
I used to be a member of the Lismore Cricket Club and have sent you a photo of the team and of the Dean of that time, the Rev Dean Stanley.
Another memory I have is of the first day the parents of my old school friend Billy Hogan, opened their shop in East Main Street.
The shop has been closed a long time but the name Hogan is still above their house..........
There will be more photos and excerpts from Billy's life story over the next few weeks.
-----------------------------------------------
Portlaw.
Waterford County Council are to draw up plans to deal with the development of the former Tannery. Cllr Paudie Coffey asked the Council for practical support. ---------------------------------------
Link up..........Lismore to Lismore.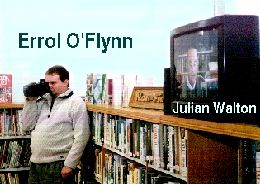 Little did that charismatic Kerryman, Carthage Mochuda and his group of footsore monks and followers who founded Liosmor in 636ad after a long hard trek from Rahan in County Offaly realise, that almost 1800 years later the 'Great fort' that they founded, would be making links with another Lismore in a then as unknown and undiscovered continent by means of the 21st century magic of the Internet.
If Carthage and his monks by some miracle could have witnessed this link up, which took place recently in Lismore Library between the Town Commissioners of Lismore, County Waterford, and their counterparts in Lismore, New South Wales they might well have thought they were witnessing something supernatural.
Although not quite RTE's Prime Time, or the Australian soap Neighbours, watching dignitaries from both Lismore's was quite an experience.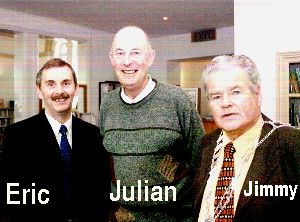 Included in the County Waterford team were Town Commissioner and Town Clerk, Eric Flynn, Chairman of the Mochuda Development Co. and Commissioner Bernard Leddy. Town Commissioner's Chairman, Jimmy O'Gorman, and other commissioners.
invited guests included the County Secretary of Waterford County Council, Peter Carey and Historian and Wlrfm radio personality Julian Walton.
The exchange of information and history between the two town's was fascinating, with Aussie Lismore's Mayor, the cheerful Bill Gates chairing the meeting and introducing the meeting from down-under.
During the link up which lasted almost an hour, in front of a special internet camera as pleasantries and general greetings were exchanged, as well as videos of the two towns.
The link up culminated with the simultaneous signing of an official Sister City agreement.
During a session of question time, which followed an invitation to 'come on over some time,' was offered from Bill Gates.
Cmmsr.Jimmy O'Gorman called for strong links between the schools in both places to be to be set up, while Cmmr Leddy appealed to any one from out larger sister city to consider investing here in what was a virtually crime free environment.
Like the founding of the original Liosmor, back in 636ad this day was truly a historic occasion, but one wonders in God's name what kind of communication will exist in Lismore 1800 years from now in the year 3800AD. ---------------------------------------------------
Bonmahon.
Set dancing classes will be held every Wednesday evening at 8pm in the Hayes Bar. Feel free to come along and step it out!
--------------------------------------
Ringo Starr.
Ringo Starr is alive and well and living in Neenagh, Co Tipperary. Not the Ringo of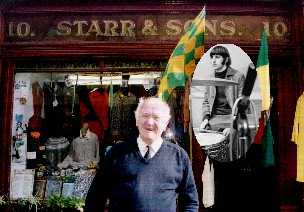 Beatles fame but a home grown variety who claims jokingly to be descended from one of Cromwell's men.
Kiely recently met Mr Starr, who has kept a second hand book and clothes shop in the town for many years, when asking directions to Knock,in County Mayo and discovered that this Ringo loves nothing better than a good read of a religious novel or story, and has never touched a set of drums in his life..
'All my customers have called me Ringo for years because of my second name,' remarked the happy shop keeper, and although I'm not much good at playing the drums I do love to hear a lively hymn with a good beat when I attend my local charismatic prayer group each week, added Ringo with a grin, as he was caught on Kiely's camera!
(For all you children of the 60s out there, a brand new Beatles web-site has just gone on line designed by Paul McCartney and the remaining Beatles and Lennon's widow Yoko Ono, which has taken a year to design .. http://www.beatles.com )
(Kiely reckons the website still needs a bit of work doing to it. (Let me know what you think if you visit it.)
--------------------------------------------------
E. and Fe-MAILS!
Due to the chaos after my house floods, the section about Emails carried forward to next time, thanks to all who wrote etc..replies will be sent soon.
Well that's it for this week,
So finally,finally, finally.....
Thanks once again to all who subscribed, signed the guestbook, sent real postcards or emailed or left voice messages..and as they say down this way.. Thanks a million!
There will be more name mentions next week, and remember you must go on-line to see the photos....
See 'ya all next week. God bless, Pat.
-----------------------------------------------
Well that's it for this week,
So finally,finally, finally.....
Thanks once again to all who subscribed, signed the guestbook, sent real postcards or emailed or left voice messages..and as they say down this way.. Thanks a million!
There will be more name mentions next week, and remember you must go on-line to see the photos....
See 'ya all next week. God bless, Pat.
If you send your feedback to kiely@quios.com my mobile phone will remind me when it arrives.. I always find your feedback most encouraging....
Sound version of this newsletter out soon.
Archives.......
COMMENTS ISSUE 64......COMMENTS ISSUE 65.....COMMENTS ISSUE 66. COMMENTS ISSUE 67 COMMENTS ISSUE 68
Sound version of issue 66 on Real Player
See 'ya all next week. God bless, Pat.
---
.All material and images (copyright) Pat Kiely Lismore, Ireland 1999-2000