---
Send Kiely a Real Postcard! .... Local Ireland IMPORTANT: PLEASE DO NOT EMAIL ME OR TRY TO SUBSCRIBE TO NEWSLETTER THROUGH LOCAL IRELAND WEB-SITE OR THROUGH MY OLD QUIOS.COM EMAIL ADRESS AS I WILL NOT GET YOUR MESSAGE.
Use this email address patkiely@eircom.net
JUST AWARDED FOUR SHAMROCKS BY THE DORAS IRISH DIRECTORY.
At least 100,000 Welcomes to you all.
October 26th 2000
Hi and welcome once again to all of you wonderful people, from in and around the County of Waterford, whether by birth, ancestry or adoption who regularly tune in here, to read your copy of this 'priceless' interactive Waterford and County newsletter with a few of Kiely's comments thrown in just for good measure.
Thanks a million to all of you, who have been reading this newsletter since Issue One, back in December 1998, over four years ago!
They reckon (who-ever 'they' are?) that four years on the internet is like ten in the 'real' world.....so that's real loyalty.
Another big thankyou to all of you who visited Waterford Radio's new web-site and signed their guestbook.
In fact so many of you signed it, and mentioned this web-site, that some of the radio presenters at the station must have thought 'himself' had 'just bought the company,' a phrase the owner of the Remington Razor Company, a Victor Kyam, used to say on a TV add a few years back!
If you still haven't been to WLRfm yet check it out soon.
Well, as we head for Halloween, winter is approaching rapidly here in County Waterford, with high winds and wet wet rain, bashing off my cottage window as I speak!
Lets hope we're not in for a repetition of the storms we had down these parts two years ago when Kiely came back after the New Year break to find his humble abode had been flooded in his absence.
But first,
Little Halloweenie!
Halloween is almost upon us again, a night when kids everywhere like to dress up as little Hallow'eenie ghosts and monsters.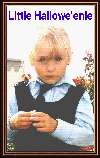 A night by tradition, full of mystery and magic when children all over the country like to go out in small groups (In these changing times, often shadowed at a safe distance by a concerned parent or relative.) to knock on a stranger's door, threatening a harmless trick if a treat like a few sweets is not forthcoming.
One young lady who has good cause to remember Halloween more than most, is young FRIONNA SALMON, whose parents JOE and LIZ run a public house (Bar) in Clashmore, because this day is also her 5th birthday.
Frionna (A name which means which 'Verity or Truth,' according to her proud father ) looks suitably mischievous in this pic knowing that she only a few days to go before she can delve into plenty of her own special treats, no doubt assisted by her older brother James, aged seven and younger sister Eve aged 18 months who are bound to come up with some tricks of their own...
The next item by coincidence is about little FRIONNA'S grand-dad Paddy Joe Stillwell. -----------------------------------------------------------
LIFETIMES APART!
A recent phone call from Cathy O Keefe in Parks Road, Lismore led Kiely to a little place near Ardmore to meet her dad and Mam, Paddy Joe and Bridget 'Biddy' Stilwell (nee O' Connell)
'I was 24 years old in 1948, when I decided to go to England for a week's holiday, and meet my dad for the first time, ' explained retired carpenter and postman, Paddy Joe, in his cosy cottage in the little village of Grange near Ardmore as he spoke about the first time and only time he met his dad, Charles Stilwell .
'I saw my dad through the grimy train window, waiting on the platform with my mam Catherine (Troy) and my younger brother John, as the old BR steam train pulled into Paddington Station.
' I recognised him, from a photograph my mam had shown me on one of her visits , a few years before, to this house, where I was born and grew up.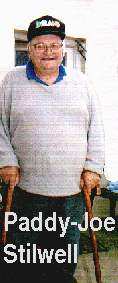 'My mother who lived to the great age of 96 had gone to England after the first World War,too seek work and often used to joke in later years about how she met my dad who was an English catholic, at the communion rails of a church in London one Sunday morning.
I don't know how they got chatting, but that was how they met, ' said Paddy with a smile.
'In those far off days in England it was very difficult for a married couple to get rented accommodation if they had children, even only one child, and when my mam found she was expecting me, she decided to come over to Ireland with my older brother Mike who was aged two, and stay with her parents Michael and Catherine Troy here in Grange for a while, until I was born. '
'She actually stayed here 'till I was about 18 months old and was then going to take just me back to England, but my brother Michael, kicked up such a fuss every time her back was turned, that she decided to take him over with her instead, and leave me here for a while with my Troy grandparents and aunt and uncle, until my dad found suitable rented accommodation, or a house of their own in England.
'I do not have much memory of those times, I suppose I was too young, I can only remember my older brother Mike as a kind of shadow, and although we did not meet up again until we were in our fifties about twenty years ago, he told me recently he could still clearly remember what I looked like then. '
'A few years passed before my parents were able to buy their own home, and by then I was well settled in here.'
' As a young boy, I loved watching my grandad and my uncle Patrick who was also a wheelwright as well as a skilled carpenter, making things with wood.
They had their own workshop, and were well known in the Ardmore area.
'Around that time I remember finding a letter to my granny from my parents saying, that they would be 'coming for Paddy Joe very soon,
' Still being very young, I was very scared by this remark, because this, was the only home I had known and the thought of someone coming for me to take me away, frightened me very much. '
'I still remember my granny reassuring me and telling me not to worry as she wouldn't let any one come and take me away, if I did not want to go.'
'Shortly after this my mother found she was expecting again, with my sister, and so I escaped having to go to England.'
'I loved the countryside and learnt all about growing flowers from my grandmother Catherine, who loved gardening.
She once won first prize for having the prettiest front garden in the area.' (even today, although not able to garden as much as he would like because of vascular trouble with his legs, PJ seems to have inherited his granny's gardening skills.)
'I also learnt all about carpentry from my male relatives and by the time I was only 12 I was quite skilled in this work, which I later worked at for many years.'
'Although I grew up separated from my Mam and dad and my brothers and sister, I still had quite a happy childhood, and in my spare time I also loved to go fishing!'
'As I was growing up, my mam would visit with my sister Kathleen almost every year for a holiday and stay for several weeks, but although my dad had travelled to many places all over the world during the first world war, including Russia, he never visited Ireland.'
'I can still remember meeting him for the first time on platform 8 near the clock under the big glass roof of Paddington Railway Station.'
'I suppose that meeting was a bit hard for us both really, but eventually we got on alright!'
'After shaking hands, we all made our way out into Praed Street to travel back to my parent's home in Woking in Surrey, where my sister had cooked us all a meal.'
'After that visit I never met my dad again, because not long after I came back to Ireland, he died, probably as a result of the long term ill health he suffered after being wounded in WW1. '
'On my return, I got the chance of a job working as a postman around this area. It was a job I liked very much.'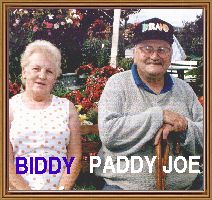 Even though you had to work a six day week, four out of the six days you finished quite early, so it meant that I could still do some work as a carpenter.'
This was a great help with expenses after I married 'Biddy' in 1953 and the first of our seven children started to arrive.'
'We married on the 8th of February 1953,' added Biddy with a grin, who had just come in from the kitchen at that moment carrying a big piece of homemade apple tart and cream and a cup of coffee on a tray which plonked onto Kiely's lap.
'How did you two meet then? Kiely dared to ask the couple later, while admiring the beautiful flowers planted by Paddy Joe in the couple's front garden.....
'Well, said Biddy, who came originally from Clashmore, I was working up this way and used to see Paddy Joe coming around with the post every day, and 'cause I quite fancied him, I used to time my visits to the well to get buckets of water, so that they coincided with his deliveries, and I suppose eventually we just got chatting, like you do!'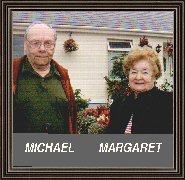 Paddy Joe's two brothers and his sister are still alive.
His younger brother John lives in England, his sister Kathleen (Hands) in New Zealand, and his older brother Mick in Canada. Mick now makes regular visits to see his brother, accompanied by his Canadian born wife Margaret.
'Perhaps one day we will all be together under the same roof, remarked PJ, as we have never all been together at the same time.'
Paddy and Biddy's seven children are now scattered all around, their daughter Liz and husband Joe run the appropriately named pub in Clashmore called the Old Still.
Their three sons have followed in their father's footsteps in the carpentry trade. One son has his own business in Boston, USA,called 'Waterford Carpentry,' a strong reminder of his Irish roots.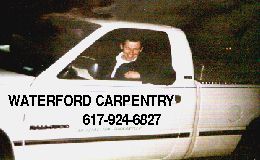 As well as his love of gardening, Paddy Joe has always been a keen fisherman, and is a life member of Ardmore Sea Angling Club, where in 1967 he won the Munster Championship for the heaviest Close Shore Catch.
Before Kiely left, Paddy Joe shared a lovely old story, told to him by his dad during that week in 1948 when they first met, about a visit his dad once made to the Doctor's surgery.
'There was a queue in the waiting room and no receptionist, so the Doctor would pop his head around the door each time he was ready for a new patient.'
When it came to my turn, the doctor called out 'Are you Stilwell?' to which I replied,
Yes!
After a short pause the Doctor replied with a grin,
'Well, why the heck are you here then!'
---------------------------------------------------
E. and Fe-MAILS!
As I mentioned last time here are some of your emails i've received since the last issue.
Hello to the following who all signed the http://www.wlrfm.com/ radio station guestbook.....
Hello to JOAN COOK South Carolina USA whose grandparents came from Portlaw...JOAN would like to say 'Hello!' to her good friends, ANNE and MICHAEL.
Thanks for the jokes, MIKE POWER in CANADA, and greetings to BOB MURPHY in Cape Cod, whose mam lived to be 101 years of age..
Hi to BETTY PRENDERGAST over in Sudbury MA USA... Thanks for your message also. Hello to CHARLES GAFFNEY in Indiana USA, MARY and JOHN WADDUOPS in Warwickshire, England, and MARY HOULIHAN who runs the Heritage Centre, here in Lismore, and Dungarvan photographer, SEAN BYRNE .
Howdie to PAUL MASKILL over in Ocean Pines, MD USA, regulars BRIGID GUARINO in Falmouth, and MARJORIE JANKIEWITZ in North Walpole, both in the US and SUSAN and JANE FINLAYSON over in Canada.
Whats the weather like in chilly Croydon over in England MIKE O'NEILL? I bet it's more pleasant in Rocky River, Ohio, USA where BUNNY BECKER lives.
Get well soon to CHARLIE BAUMHAUER in Mobile, Alabama, and Hello to CYNTHIA his wife.. PJ ORGAN in Texas sends his best wishes to EDDIE CANTWELL over here in Dungarvan.
LISA AZZALKINA resides in Boston, Mass, but that doesn't stop her reading Kiely's weekly comments.. Hi LISA!
ALTA JEWELL says Hello from Washington, USA. Thanks for signing the guestbooks, ALTA (Kiely always thought that name was only a search engine!)
CHRIS LENNON has been in touch from ROMFORD, Essex across the Irish sea over in England. (Isn't that where the Spice 'Girls?' come from?
Hi to GABY ROUGHNEEN in the USA who still feels homesick for PORTLAW.
Best wishes to MARGARET WEBB in Louisville,KY, also in the USA and ELLEN MARIE in New York, whose email address is called 'one songbird,' worth a whistle from me anytime.
SIBYL McLENDON a lady whose ancestors were American Indians,has a web-site called the brown mouse medicine co, check it out on Kiely's postcard page.
SIBYL thinks Kiely is soooo sweet...AHHHHHHHH!
Hello PETER BOUCHER in Coral Gables in lovely Florida.
Thanks to 85 year old TOM LANDERS in British Columbia, Canada, who sent me a picture of his old school friends.
I used your picture today in my Dungarvan Observer newspaper Column called 'Kielys Comments.'
Tom and I will send you a copy when I get the chance Tom!
Hi to BILLY CLEMENTS in Frinton on Sea, England, who has also sent me photos and stories from his childhood which i have published.
If you have connection with County Waterford and would like to send me your story and photographs, I will see what i can do at a future date to get it published in my newspaper column or here on Local Ireland if I can. My address is here www.kielyscomments.com/howcards.htm
A quick hello to PE WILLIAMS USA who just loves modern gadgets.
Hi To MAUREEN SHERIDAN SCOTT and too LOUISE KENDRICK over in Brumm-land in the Midlands of England.
JAYSA MANDELL... your nice postcard of THE INN at DEPOT HILL in the beautiful, Capitola-by-the-Sea in sunny CA, USA arrived today,thanks to you and all who have sent cards over the last six months, I will be able to mount an exhibition one of these days.
Welcome to DAMIEN GEOGHEGAN here in IRELAND, would you believe! who has just subscribed to receive this newsletter..Thanks DAMIEN... you don't say which county your from.
I hope I haven't left out anybody this week, if I have please let me know....and finally.....
Thanks to Radio Presenter BILLY McCARTHY

Programme Controller and the main, 10am to 12pm morning presenter on WATERFORD'S http://www.wlrfm.com/ phone-in show, who also signed my guestbook and added Kiely's web-site to their main links section.
BILLY has been a presenter with the station for over 10 years. You can catch his thought provoking Waterford show if you get up very early around 6am if you live on the East Coast of the US or Canada in the evening around 10pm in Australia.
----------------------------------------------- Well that's it for this week,
So finally,finally, finally.....
Thanks once again to all who subscribed, signed the guestbook, sent real postcards or emailed or left voice messages..and as they say down this way.. Thanks a million!
There will be more name mentions next week, and remember you must go on-line to see the photos....
See 'ya all next week. God bless, Pat.
If you send your feedback to patkiely@eircom.net .. I always find your feedback most encouraging....
Sound version of this newsletter out soon.
Archives...COMMENTS ISSUE 64......COMMENTS ISSUE 65.....COMMENTS ISSUE 66.
Sound version of issue 66 on Real Player
See 'ya all next week. God bless, Pat.
---
.All material and images (copyright) Pat Kiely Lismore, Ireland 1999-2002