---
Send Kiely a Real Postcard! ...
Important do not email me or try to subscribe to my newsletter through the Local Ireland web-site or I will not get the message.
At least 100,000 Welcomes to you all.
OCT 5th. 2000
05 October 2000 AD. Volume 1 Number 66
Hi and welcome once again to your free Interactive Waterford and County Newsletter and Pat Kiely's 'almost' weekly comments.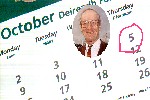 Welcome all those of you wonderful people, from in and around the County of Waterford, whether by birth, ancestry or adoption.
After another hectic month its nice to meet you all again, I was hoping to be in touch sooner but I have been very busy lately in and around the county collecting little stories which I hope to be bringing you here over the next few weeks. which also allows you to hear as well as see some of the people you meet in this newsletter.
My local radio station here in Waterford has just opened an updated website which is very good.
http://www.wlrfm.com/

if you go there before this Friday midnight and sign their guestbook you can win a snazzy prize, but don't forget to say Pat Kiely sent you and where your from, you can even include my website address if you feel really kind http://kielyscomments.tripod.com/
Happy birthday to Actor Charlton Heston (76 this week) who Kiely saw perform in 'The Caine Mutany,' on stage in the late 80s at the Theatre Royal in the old Roman City of in Bath, Near Bristol, England.
At the time I was working for a Community TV Unit and Charlton was one of the few visiting stars I was unable to arrange a dressing room interview with during his visit.
The late Sir Anthony Quayle a well known English Shakespearean actor who I interviewed some weeks later who had worked with Heston, was one of the most charming and humble men I have met.
This week as we head into October, the winter winds are whipping up around our coast and around the county, tragically claiming the lives several fisherman over the last few days.
Miraculously 3 fishermen survived in two separate tragedies against all the odds.
My old granny used to always say when she heard about a miracle escape, that someone must have been praying for them.
It was tears all round for the Waterford girls who recently lost to Sligo after a nail biting game by only one point in the recent All Ireland ladies football finals and I'm sure some of the fellas had their hankies out too!
On a happier note, Didn't our Sonia do well getting an Olympic silver.....Must be all the training she did with her little fella strapped to her back, that gave her the extra stamina. ------------------------------------------------
'Well done?' Eircom who recently took away the three old and only public telephone phone boxes in Lismore and replaced them almost immediately with two shiny new versions.
The only problem was that did not install handsets in them for nearly a week, even though one of the new boxes is sited almost outside the main door of the Telephone Engineer's Office. Lucky no one needed to make an emergency phone call that week!
But first.........
Sunny Seniors Down Under!
Photo. (l to r Olwyn Thomas and Tessa Quinlan)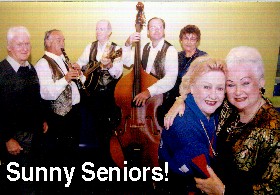 You cant keep a good Tallow women down (under) for long even after retirement if professional singer Tessa Quinlan Mundin is anything to go by.
Globe trotting Tessa originally from the foot of the 'Hill of Iron,' usually spends several months each year, at her second home in Australia, where she has just been featured in her local Australian newspaper called the Echo.
Just over a year ago Tessa started a club for retired people called, The Sunny Senior's Club.
The purpose of the club, as is suggested by its title, is to bring a little sunshine into the lives of its members, and as its first year has progressed, the club has become a runaway success and now boasts a membership of over 120 members, said her local news paper.
'The members meets once a month in the local cinema complex, where live entertainment, laughter, a good cup of tea and a chance to see the latest film, are provided,' according to Tessa, who plans to visit Ireland again this Christmas when she will be appearing on RTE. --------------------------------------------------------
Snippets from around the County ..!(No pics this section)
STRADBALLY ... Tidy Towns member, Alan Stone, reckons the public toilets in the town which are closed from September to June should be left open all year round to cater for the needs of visitors!
MONDELIGO ... Congrats to Mary Hickey and James Murphy who tied that famous knot recently.Many happy years together!
Melleray. This year marks to 50th anniversary of the erecting of the cross at Knockboy Mount Melleray. To celebrate the occasion in this Millennium year,an open air Mass will be said at 3pm on Sunday the 8th of October and weather permitting a large crowd are expected to attend.
LISMORE SUCCESS. The Tidy Towns Committee have something to celebrate this year, having won the award for the tidiest town in County Waterford and the best landscape award.
ARDMORE. Sympathy to relatives and friends of the late Nora Stoke, former proprietor of the Harbour Lights Pub in Youghal, who died last week.
Jimmy O'Connor who recently single-handedly appealed and won against the building of a clutter of dormer bungalows on the Rooney land by land developer Philip Jordan awoke on Sunday morning to find his car had been vandalised outside his home.
During the night someone had poured a fast acting corrosive acid over his car causing extensive damage. Anyone with info phone Youghal Garda station free phone 1800 666111.
DUNGARVAN.. Competition for kicking the weed!
A prize of a holiday in Thailand can be won courtesy of Nicorette the stop smoking chewing gum makers for residents of Dungarvan and thre surrounding county in a national competition aimed at helping others kick the smoking habit.
All you have to do to enter is send them your story of how you stopped, before Dec 1st. on the official entry form available from tel 1850 45 1995 or from local pharmacies. (Kiely stopped over ten years ago, without even a chewing gum, so it can be done.)
TALLOW/ KNOCKANORE. Irish music classes start this week on Wednesdays in the Shamrock Inn Knockanore, for adults and children at 7.30pm..Tel 024 97370
KILMACTHOMAS. The demolition of the old convent chapel is now nearing completion. For over a hundred years from 1882 it was the only church in the village, until it was replaced by a new church building some years ago.
-----------------------------------
History in the Making! Photo (West Street Lismore)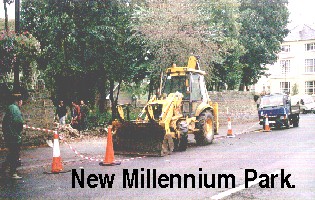 The removal of some of the wall almost opposite the Heritage Centre, in West Street, (formerly Gallows Hill), Lismore was ' history in the making,' remarked Fas worker Pat Montayne (42)who with Waterford CC JCB driver John Cahill of Cappoquin, whose dad runs James Cahill Plant Hire, had been working hard in the pouring rain on the construction of an entrance into what is to become the new Lismore Millennium Park, when Kiely caught up with them.
When finished The Millennium Park organised and paid for in part, by funds raised from the sale of tickets in the weekly Lismore Mochuda Development Alpha weekly lotto, which has recently had a run of jackpot winners, will provide a new facility in the town for residents and tourists alike, remarked Mochuda Chairman and Lismore Town Commissioner, Bernard Leddy. --------------------------------------------------
IT JUST MIGHT HAVE BEEN! 2 photos Castle Courtyard and Group. l to r. Louise Brennock,Ann Brennock,Georgina Penrudduck,Karen Brennock,Elaine O'Flynn
It may not have been Camelot, but as players from the, Off the Ground, Youth Theatre Company from England, performed their open air production of, A Legend of King Arthur, in Lismore Castle courtyard, it just might have been!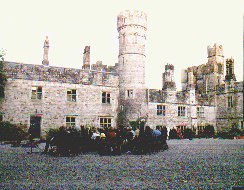 On a warm and balmy late August evening, an audience of around a hundred people or so gathered below the high walls of this castle venue, to be transported back through history, to a time of spells and magic, mystery and intrigue, mayhem and humour, as portrayed by the 16 or so talented young actors, whose roll it was, was to make us believe we were right back there, in ancient Camelot.
In a style somewhat reminiscent of Chaucer's Canterbury Tales, the audience were buffeted this way and that, bounced between Druids and Celts, Vikings and Kings,
Magicians and sorcerers during the couple of hours that the performance lasted.
A couple of hours of sheer escapism!
As the evening progressed as fast as a high speed Internet connection, the audience were treated to entertainment that could have only been rivalled by the variety of guests once featured on the old 'Late Late Show....
Characters such as Sir Lancelot and Queen Guinevere, King Arthur and his round table, Saxon warlords and Vikings came and went at the speed of light.
Even that man of magic and occult powers, Merlin, that some legends say, was a 6th century Celtic magician who once moved Stonehenge from Ireland to Salisbury Plains in England, by magic power alone, appeared as the night flew by.
This version of 'A Legend of King Arthur' was written by James Fogin who lives in Germany and was directed by Dan Meigh who has been with the 'Off the Ground,' Youth Theatre Company, since its foundation in the mid 1990s.
The OTG production, was loosely based on an original story about King Arthur written by a 12th Century ex monk and former Bishop of St Asaph in North Wales, called Geoffrey of Monmouth.
In his fictional book, which was called, The History of the Kings of Britain, the author quotes one of the sources for his material as being from 'a certain ancient book' (never found) which contained some 6th century prophesies about the future of English and Welsh affairs.
Over the centuries, the original story about this legendary King, who was once supposed to have single-handedly slaughtered 960 opponents in the battle of Bandon Hill, has become so embroidered and changed that the line between fact and fiction has long since become blurred.
Perhaps by no coincidence, this humorous version by James Fogin (which he jokingly says in the programme, will not advance our knowledge of King Arthur one bit) was aptly performed, on the very ground where the Lismore town's 636 ad founder, a monk, called St.Carthage, perhaps once walked.
Legend says Carthage, like Merlin, was also endowed with magical powers, which gave him the ability to heal the sick, to walk on water, and to cause holy springs to appear from the ground at will, as he once did from the earth reputed to be near where the Gate House of the castle (and birthplace of scientist Robert Boyle) now stands.
Although Lismore has never claimed any English King, as a long term resident, several of them through history have had associations with the castle and the area, ie. King Alfred of the burnt cakes, 12th century King, Henry the Second, King James 1st, (a man without a head for heights,) and most recently, King Edward 6th who stayed here for a short while in 1911.
Strange to think, that at about the same time, perhaps by another coincidence, that writer Geoffrey was scribbling away by candle light, about his kings and castles, the above mentioned Henry, a man with a good eye for property development, was visiting Ireland with a papal document called a Bull, on behalf of the only English Pope in history, Adrian, who had sent him here to tidy up the Irish monasteries which were becoming too powerful and separate from English and European Christianity.
As a sign of welcome and good will, on his visit to Lismore, Henry the second, was given some land by the local monks as a gift.
It was on this land that his son John later built the first Lismore Castle, a building which only survived a couple of years before being burnt down.
It was not to become a castle again for another three hundred years until the 16 century, when the foundations of the present castle were first built.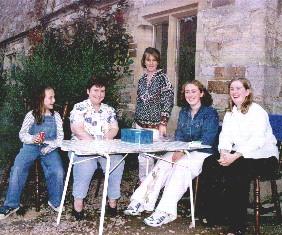 Also enjoying the evening were a group of happy looking volunteers including Castle Estates' Managers wife, Georgina Penruddick, who were selling tickets and manning the courtyard entrance with out a magic wand in sight. -----------------------------------------------------------
EMAILS and FE-MAILS! Next week I promise will bring you a bumper email section but the clock has beaten me this week.Just a reminder dont forget to sign that http://www.wlrfm.com guestbook I mentioned at the beginning before this Friday midnight, (and mine as well if you can! ) -----------------------------------------------
Well that's it for this week,
So finally,finally, finally.....
Thanks once again to all who subscribed, signed the guestbook, sent real postcards or emailed or left voice messages..and as they say down this way.. Thanks a million!
There will be more name mentions next week, and remember you must go on-line to see the photos....
See 'ya all next week. God bless, Pat. PLEASE NOTE my new Homepage address which is also easier to remember.
http://kielyscomments.tripod.com
If you send your feedback to patkiely@eircom.net my mobile phone will remind me when it arrives.. I always find your feedback most encouraging....
Well that's it for this week,
So finally,finally, finally.....
Thanks once again to all who subscribed, signed the guestbook, sent real postcards or emailed or left voice messages..and as they say down this way.. Thanks a million!
Archive...COMMENTS ISSUE 64......COMMENTS ISSUE 65......
See 'ya all next week. God bless, Pat.
---
.All material and images (copyright) Pat Kiely Lismore, Ireland 1999-2002