---
Back to INDEX ......Please Sign Kiely's Guestbook. Send Kiely a Real Postcard! .
At least 100,000 Welcomes to you all.
Please do not try to contact me through my old Quios email address or through Local Ireland Ltd or I will not get your messages.
NEW Just uploaded. . . Sound Version
SEPT 14th 2000
Hi and welcome once again to your free Interactive Waterford and County newsletter and Pat Kiely's 'almost' weekly comments.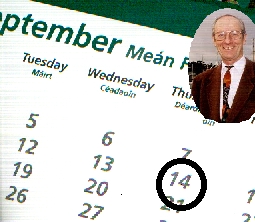 Welcome all those of you wonderful people, from in and around the County of Waterford, whether by birth, ancestry or adoption. Hello once again.
I have been very busy lately transferring my homesite material and photographs to a much faster server.
http://kielyscomments.tripod.com/
You should find it much faster to download from now on, or I'll give you your money back! (Money...What money?)
Tell me if you notice the difference..You should notice a vast improvement.......
As winter approaches us here in the Sunny South East, we seem to be heading for a full blown season of discontent as haulage drivers all across Europe, have decided en-masse its time to stop hauling and start blockading!
Irish lorry drivers have now threatened to join them, if our government refuses to cut fuel tax by this Friday.
Many people down Waterford way are already searching through the old shed for the rusty bike they haven't used for decades, just in case petrol (gasolene) runs short.
Talking of petrol, when Kiely was a little kid (some people think he still is!) there used to be an ad on TV for the Esso company whose slogan was, 'Put a tiger in your tank!'
In recent years the booming Irish economy has been likened to a tiger, but although a tiger can be sleek and fast and attractive to look at,it can also have a vicious side, and sharp claws which can sometimes lash out without warning.
If this European fuel crisis develops and lasts for any length of time, the people in this little island of ours could soon find themselves in for more than just a minor financial scratch or mauling!
Economic prosperity here in recent years has sent house prices through the roof, forcing many people who can't afford property in the main Cities to commute many miles to work each day.
A prolonged shortage of fuel would put the kybosh on the lifestyles of many and might even cause great financial distress.
But financial security isn't everything!
I forget who used to sing the song, 'You don't know what you've got till its gone,' but a lot of older people in Ireland are now beginning to realise in these more prosperous times, many of the good things they took for granted have, over the last ten years, mostly disappeared like a puff of blue car exhaust smoke.
Things like, the friendliness, the charity, and the good neighbourliness, of old..The open house with its unlocked front door at all times of the day or night...Of being able to leave your car unlocked and still find it there on your return!
Ask any, refugee or immigrant living in or near our capital cities about 'the land of 100,000 welcomes,' and see what answer you get!
A land where God Bless is quickly being replaced by Couldn't care less!
Perhaps this potential oil crisis may not be such a bad thing after all, if it makes people slow down and think a little!
But first, on a lighter note,two visitors who found their visit to Ireland lived up to all their expectations, especially the breakfasts!
FROM THE LAND OF THE SMALL BREAKFAST! Photo
Two happy looking Italian cyclists recently visiting Lismore on their trusty bicycles, were Minerva Sabino aged 40 from Rome whose uncle Franchesco 97 is the oldest bishop in Italy, and his life long friend Pierpaolo Patrizi, also 40 who teaches psychotherapy and works with HIV sufferers on behalf of CAFOD at a clinic he runs north of Tarento.

The two lads who arrived in Ireland in early August had already cycled over 300 klm when Kiely caught up with them and were intending to explore the Ring of Kerry before travelling back to Dublin by train.
After admiring the Lombardi Romanesque architecture of St Carthage's Catholic Cathedral before heading off once again, they Minerva remarked that they both owed their cycling strength to our' lovely big Irish breakfasts,' which they reckon can keep you peddling 'without a cease!' all day long.. . . . . . . . .. . .. . .. . . . .. .. . . .. New MEET AND LISTEN TO THE LADS
'Back home we only eats, how you say? A small breakfast, a couple of buns,' said Pierpaolo in broken English.
I wonder if a big Irish breakfast is the well kept secret of Dungarvan's veteran photographer and cyclist Rory Wyley?
He recently told Kiely that he regularly cycles as much as 90 miles in a day with his local cycling club. -------------------------------------------------------
NOW FOR A NEW FEATURE.. (No pics)
From now on I hope to bring you little text snippets of news from around the county.
Please let me have your feedback about this item! and email me if you have any snippets to share!
The first place we visit this week is.....
KILL. Congrats to Miss Serina Gallagher of Rainbow View, Kill who has just passed her driving test.
LICKEY VALLEY. Concern Group have just launched a new web-site... http://www.lickeyconcern.com/ which is all about there outrage about a superdump to be allowed in their area.
STRADBALLY. A Beatles tribute night will be held this Friday 15th Sept in Whelans Pub. The music will be led by resident American, Don Sutherland, who once played with Emylou Harris and the Hotband when he was based in California.
Over 30 Beatles hits will be performed by Don, Cathy O Shea and Bob Murphy from Killrossarty on Drums. (There is no cover charge.)
KILMACTHOMAS. Congrats to Mary Barry, from Garrahalish, Kilmacthomas and Thomas Lynch, from Rathgormack, who recently got engaged to be married.
Also in Kilmac, The annual Legion of Mary pilgrimage to Knock leaves the Grotto,Cork Road, this Sunday at 6.30am. The cost is 12 pounds.Details from tel 354519.
MONDELIGO. Congrats to Waterford Ladies on their recent win over Meath in the All Ireland Junior Final. (Glad you gave Meath a good kickin girls....)
TORANEENA. Badminton For Juniors starts again this week 14th Sept. in the Community Hall. 7.30 to 10pm.
KILROSSARTY. Sympathy extended to ICA Guild member Helen Hearne,nee Brenan, whose mother Catherine Dumphy died recently. May she rest in peace.
LISMORE. There have been 3 large jackpot winners recently in the Mochuda Co. Alpha lotto..Details soon.
TALLOW. Tallow has just held its annual Horse Fair along the Main Street. the event was well attended despite the damp and showery weather.
--------------------------------------------------------
GREAT AGE! PHOTO MRS JOAN BARRON .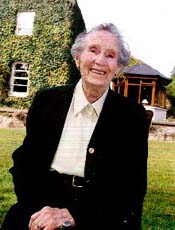 Happy 89th Birthday to Mrs Joan Barron of Cappoquin whose Joe husband ran the bakery in the town for many years.
Barrons Bakery, near The Square is still producing delicious crusty bread after 100 years under the supervision of her daughter Esther and son in law Joe.
The birthday party was well attended in the grounds of the converted old Station House which has been completely renovated by her Esther and Joe.

Mrs Barron's devoted family and grandchildren plus her cousin Hugh 'Pat' Barron and his wife Barbara over from Canada, gathered in the sunshine to wish her well.
Pat has just written his wartime fighter pilot memoirs in a book called 'At The Going Down of the Sun' more info in a later issue. The website for book details.. http://www.loonbook.com/
WHICH BROTHER MARRIED SYLVIA not once but TWICE? (Photo )
Last week Kiely posed the question which brother married Sylvia, Not once, but twice...Well the answer was Mike.. His brother Jim, has been happily married to Nellie for the last 3o years, more pics and details next time.

-----------------------------------------------------------
EMAILS and FE-MAILS!
First a big thanks TOM KIELY for sending the postcard from Sligo... 160 miles may seem like just up the road to you Americans, but to us down here in County Waterford 160+ miles is a BIG journey.
Hello to TOM LANDERS aged 85 over in Canada..I wonder if Tom is my oldest fan? If you can beat his age let me know.
Tom reckons he wasted his youth being a naughty boy in Dungarvan..Does anyone remember him...He went to St Augustine's old school....Please let me know.
Incidently If you read this column and are older than Tom also let me know. Well done Tom.
I think any octogenarian who is still interested enough in life to use a computer deserves special praise. ----------------------------------------------------------
Hi to BRIGID GUARIMO who wrote to say she is suffering badly from withdrawal symptoms not having received this newsletter for a while..Sorry BRIGID. -----------------------------------------------------
Happy Birthday to KATE TOBIN over in Liverpool,England who is 'thirty something' next week..... Loads of xxxx to you even if you are a nun, Kate. ----------------------------------------------------
Hi to LINDA MEAGHER over in sunny California, who cant wait to get her teeth into a Denny's sausage when she visits Waterford in October...
-------------------------------------------------- Hi to Autograss racer DANIEL DAVIS over in Wales whose team recently did very well in races against the County Waterford lads in Ballysaggert, where they won the Madden's shield..(bet you have fun with those initials Dan!) -------------------------------------------
Hi once again to DAVID and DONNA HENDRICKS over in the States. David is related to EDDIE CANTWELL who has recommended this newsletter to loads of his friends around the globe. I owe you an email David..will write soon! ------------------------------------------------------
Hi to MARY O DOWD who is getting ready for Olympic fever down under...At least you Aussies can be sure of the sun! --------------------------------------------
Hi to DeNISE O'KELLY in Dublin who loves windsurfing, sorry I did not get back to you yet with the info you requested about windsurfing in Dunmore East. Have not been down that way for a while. ----------------------------------------------
Hello once to SUSAN FINLAYSON in Canada and MARJORIE JANKIEWICZ who are both so helpful at giving me feedback about whether stuff is working ok on my homepage. --------------------------------------------------
Where are you P.E.W.? Has your pen dried up? ---------------------------------------------------
Hello to PAULINE-DUNNE-CAMBELL in Montreal, whose has promised me a Guinness at Eammon's Place next time she pops over to see her Mam in Lismore. ------------------------------------------------
Hi to the PERSON UNKNOWN who tried to sign my guestbook on the 5 Sept...Due to technical problems it did not record...If you know who you are please send it again.. --------------------------------------------
and finally a quick Hi to JACK LAMB...and the MADDENS and the MADDIGANS....and The COLONEL (Another one) who must be having too good a time to write. Oh and hi to CHARLES GAFFNEY hope I spelt your name correctly this time Charles. -----------------------------------------------
If you send your feedback to patkiely@eircom.net
Well that's it for this week,
So finally,finally, finally.....
Thanks once again to all who subscribed, signed the guestbook, sent real postcards or emailed or left voice messages..and as they say down this way.. Thanks a million!
There will be more name mentions next week... See 'ya all next week. God bless, Pat.
LAST WEEK'S(no64) COMMENTS ..........
See 'ya all next week. God bless, Pat.
This little search box below is amazing!........Just type in what you are looking for on this site, past or present and it will search it for you within seconds.
.All material and images (copyright) Pat Kiely Lismore, Ireland 1999-2002