This page has recently been updated and broken links fixed.
---
HARD LESSON!
March 29th.2004
NO SMOKING BAN INTRODUCED ALL OVER SOUTHERN IRELAND!
At midnight on the 29th March 2004 a 'No Smoking' ban, was introduced
by the Irish government in
Bars, Restaurants and Work places all over Ireland.
In future, any smokers, like Lismore men, Jim and Phil who want
to smoke over a pint
will have
to do so outside the licensed premises.
---
October 2003
Lismore Town Councillor,Bernard Leddy with a group of happy
Lismore people who watched the motorcycle cavalcade of fundraisers
pass through the town in Oct.2003.
---
Oct.2003
Three happy children attend a recent blessing of animals service in
St Carthage's C. of I. Cathedral in Lismore, County Waterford to
commemorate the feast day of St Francis of Assisi on Oct 4th.2003.
---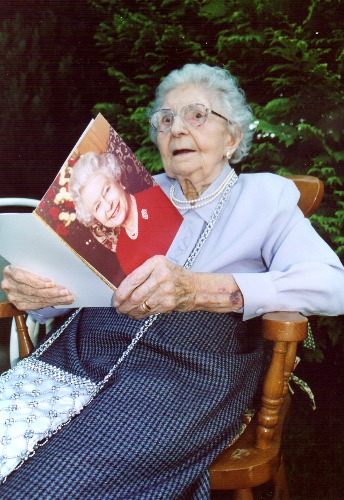 photo pat kely sept 03
Happy 100th. Birthday to Margery Manser originally from London,
who has been living in the Padro Pio Nursing Home
in Cappoquin, Co.Waterford in Ireland,since 1996.

Margery is seen here holding a special telegram
she received from the Queen of England.
Margery also received a telegram and a cheque from the President of Ireland, Mary McAleese.
Photo (c)patkiely2003.
(Mrs Manser has since passed away RIP)
---
T.D. Ollie Wilkinson relaxes
in the green countryside of the County Waterford.
---
Lismore,Co.Waterford under 16s. hurling team with sponsors.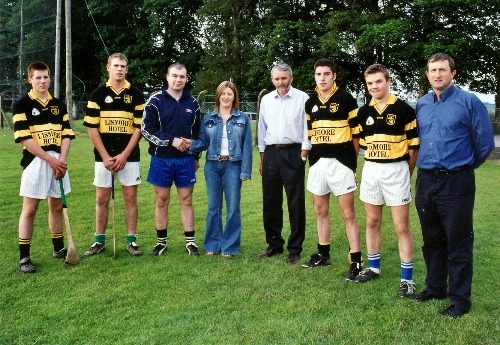 Names In group photo:
Mike Walsh,(Minor Captain,) James Shanahan,Vice Captain, James O'Connor (Trainer) Phyl Hannon (Sponsor) Eugene Hyland (Sponsor) Chris O'Keefe (Vice Captain) + Michael Coleman (Capt.Under 16s.) Billy Devine (Club Chairman) (on the right)
---
Sinead Motherway on Lismore Bridge.
Sinead appeared on RTE TV's Open House Programme in 2004
connection with a 6 week monotored slimming course.
---
Meet some of the people who live in and around Lismore,
in County Waterford in Ireland or with Irish connections.
photo: pat kiely 16-04-03.
Nina Coughlan and Kathleen McNamara from Lismore,
voluntary collectors for the recent National Kidney Week, with
Malcolm Putnam who had just bought a purple flower from them to show his support.
---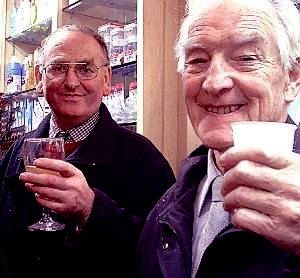 Cheers! from Willie Roche and Paddy O'Neill from
Lismore Co.Waterford, at the recent Mari Mina Pharmacy launch.
---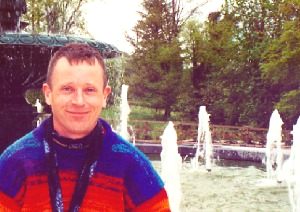 Gerry Harrington Irish Fiddle player and music teacher.
You can purchase his music albums from Ben O'Neils Music shop,
Dungarvan, Co.Waterford and from all good music shops around Ireland.
---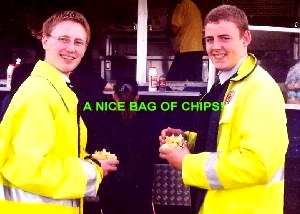 Red X workers Thomas Jones from Clonmel
and Sean Barrett from Cahir, Co.Tipperary. (2001)
---
Joe Connolly (23) (Centre) Lismore won
12,000 euro in a local lotto during the summer 2002
---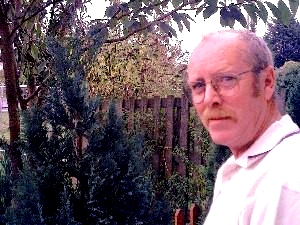 Retired Irish Army Sergeant,
Cyril Henry in Naas, Co.Kildare.
---
Traditonal Musicians from the Booley House Ballyduff playing on the steps of Lismore Heritage Centre in July 2000 at the opening of the Lismore Fleadh Cheoil na Mun 2000.
---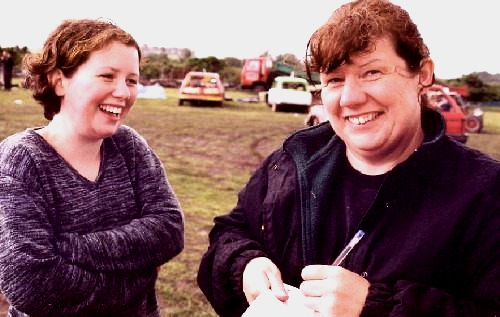 Sinead and Noreen Nugent selling raffle tickets in
Ballysaggart at a West Waterford Autograss Race Meeting! (2001)
---
Room with a View!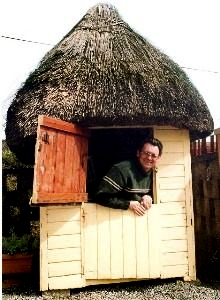 Michael Bennett looks out from
the smallest house in Ballysaggart,Co.Waterford.
---
Marion Flynn from Nr. Lismore, Co.Waterford with her First Cousin,
Aoife Reid from Melbourne, Australia, who was on a on a six week holiday Ireland a few weeks ago. 02
---
COPYRIGHT: pat kiely 2005
ALL PHOTOS/ VDEOS/TEXT ETC
unless otherwise stated:
patkiely@eircom.net LISMORE, Co. Waterford 1998-2005