.... PEOPLE 4

This page has recently been updated and broken links fixed.
---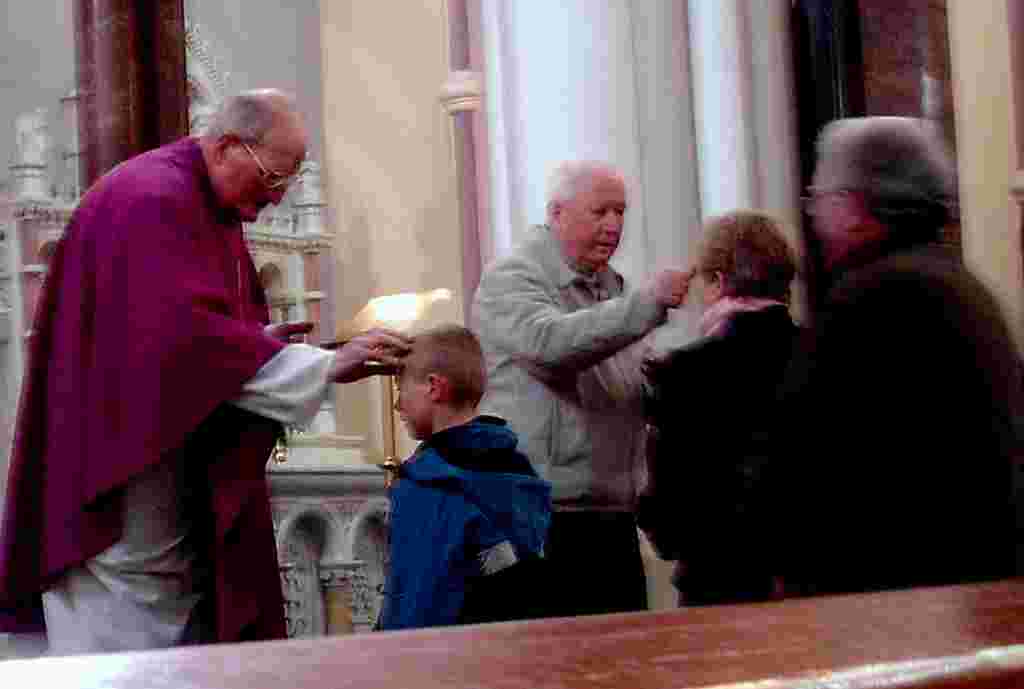 Ash Wednesday in Lismore.
Fr Mulcahy PP and Eucharistic Minister, Tom Walsh, marking the sign of the cross
in ash on parishioners foreheads in St.Carthage's Church, Lismore.
The ash is made from last years Palm Sunday palms.
'From ashes you came and to ashes you will return!'
photo(c) patkiely 2006
---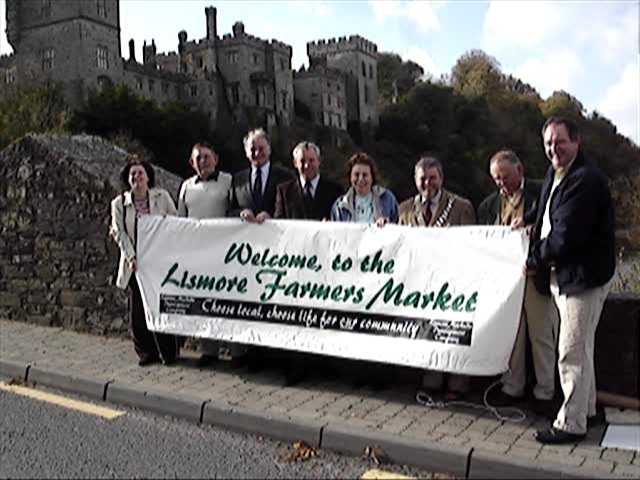 (pic (c)patkiely Oct.2005)
NEW FARMERS SUNDAY MARKET NOW AVAILABLE IN LISMORE!
Members of the Lismore Farmer's Market project, and Mochuda Development Group,
on Lismore Bridge at the launch of the market.
The weekly market is now open on Sundays from 12-3pm., and will mainly feature fresh locally grown produce.
---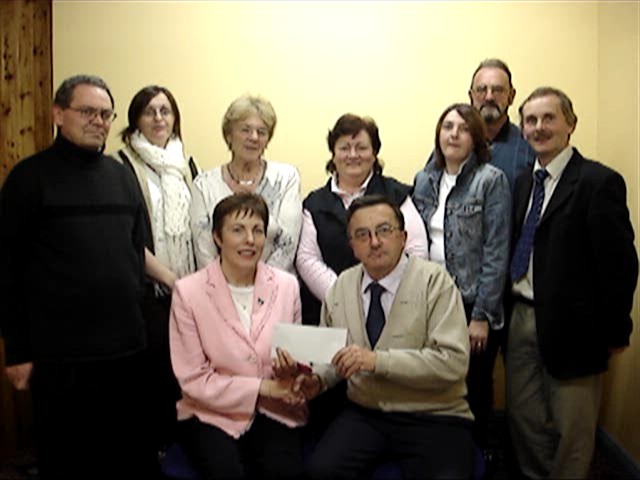 (pic (c)patkiely Oct.2005)
Mary O'Farrell who runs a holistic health centre in Midleton, Co.Cork
presenting a cheque to Tom Murphy,
President, of Lismore St.Vincent de Paul Society and committee members.
Mary recently organised a Health & Beauty afternoon in aid of the society ,
in the GAA Community Centre, Lismore.
---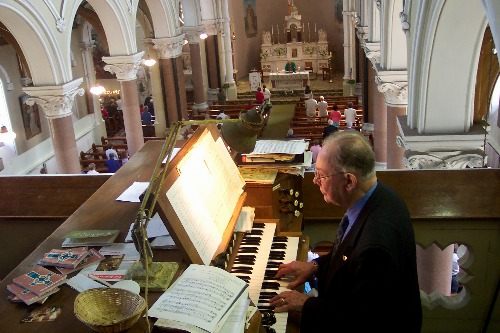 June 2004. photo (c) Pat Kiely 2004)
Organist and musician, Billy Hogan at work in St.Carthage's Church,Lismore.
---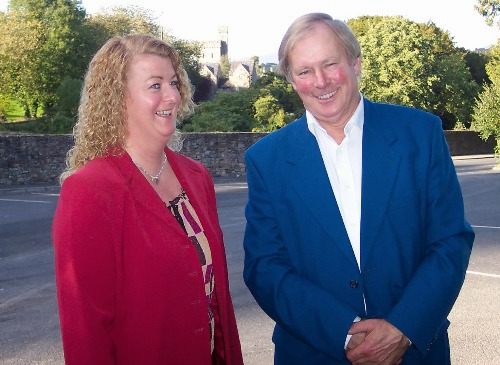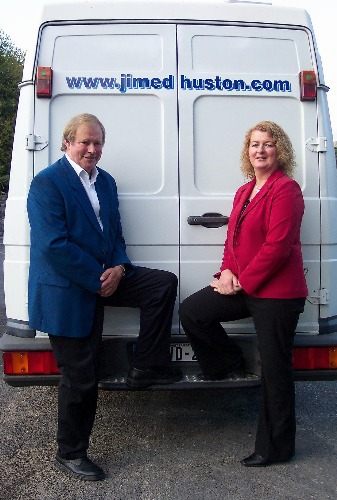 photo (c) pat kiely 2004 (Nov04)
Country & Western Singers, Jim Ed Huston and Julia Kiely on a trip to Lismore.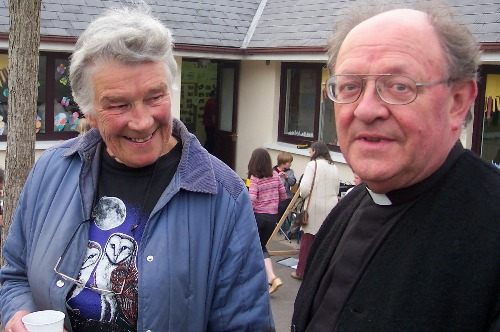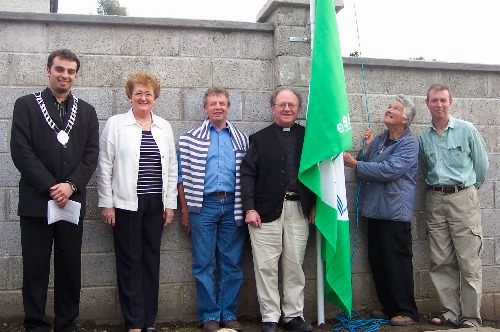 May 2004 photo (c) Pat Kiely 2004)
Internationally known Travel writer and Lismore resident, above,
Dervla Murphy, (above) just back from a trip to Siberia, chats to the
Rev. Dean William Beare, at a green flag award raising ceremony
held in St Carthage's Mochuda Church of Ireland Primary School
on Friday evening and below, Dervla unveils the Green Flag which the
Lois Mochuda school has won for its environmental and conservation efforts.
---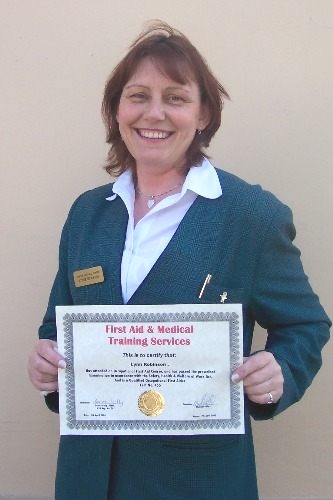 Heritage Centre worker Lynne Robinson who has just received a Cert. in First Aid.
May 2004 photo (c) Pat Kiely 2004)
---
May 2004
Eugene Flynn in May 2004,with his , 5 month old twin boys, Florence and Fergal.
---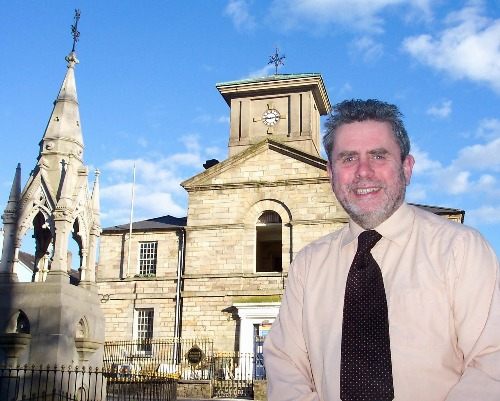 May2004(c)patkiely
Lismore Town Councillor and present town Mayor,Bernard Leddy, in front of the
Lismore Heritage Centre which was undergoing extensive renovation in 2002.
---
Congrats to Connie and Peter Dowd from Lismore, who are just back
from a lovely holiday in Florida, where they were celebrated their 43rd
wedding anniversary .2004.
---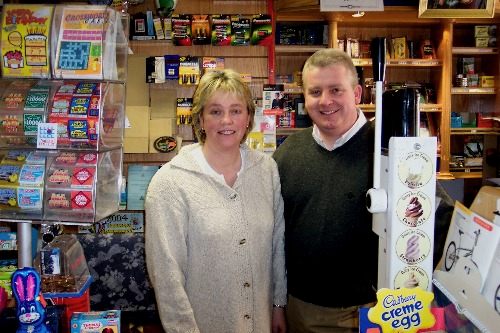 March 04
Shaun & Daphne Power in their shop in Main Street, Lismore.
---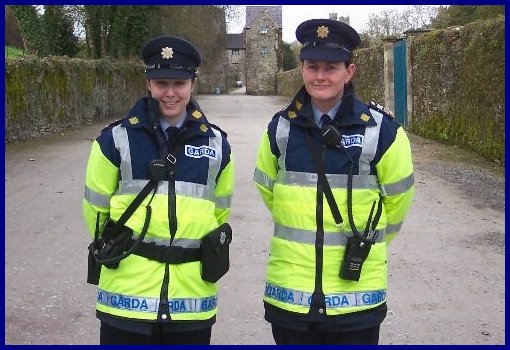 19-3-04
On Guard
Ban Garda ready for the visit of Prince Charles and Lady Camilla Parker-Bowles
to Lismore Castle, Co. Waterford, Ireland.
---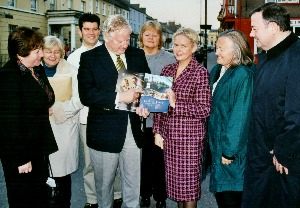 Oct 03
Members of Failte Ireland
and South East Tourism Ltd.
on a recent visit to Lismore in County Waterford.
Oct 2003
Members of Old Affane Graveyard Society from
Cappoquin and Mondeligo & England.
---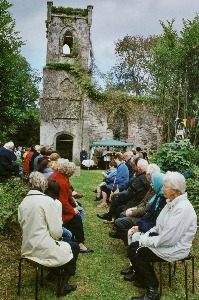 Oct 2003
Old Affane Church Cappoquin, Co.Waterford.
A remembrance service for the relatives of those interred
in the old graveyard, was organised by the Old Affane Graveyard Society (See above).
The service was conducted last week by Rev. Dean William Beare from Lismore &
Fr.Tom Hubbard, Fr.Robert Arthure and Fr.Micheal Barron from Cappoquin and
Mondeligo parishes.
In the background are the ruins of an old Church of Ireland Church.
---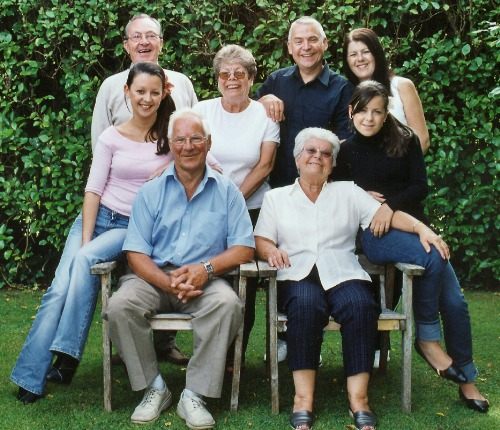 Hi to Billy and Glady's Clements (seated,) over on holiday over from England
with their two grandaughters Sarah and Hollie, their son Geoffe,
daughter in law Angela, (back row right) with Billy's, sister in law,
Ivy Dee and her husband, Bernard (back row left.) July 25th.03
---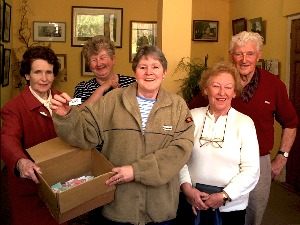 l to r.
Jo Lineen, Kathleen McNamara, Ann McCarthy and
Tom Doocey from Lismore,watching
Catherine Murphy draw the winning ticket
for the first prize, of a painting by Post-mistress, Ms.Ena Brien,
called 'Sun Flowers.' at a recent
....................................................charity prize raffle draw in aid of poor children in
............................................South America and Africa, which took place
.......................................recently in the Lismore Post Office. 17.04.03
---
Nellie Walsh from Lismore with
her pet dog Missie taken in 1999.
---
CHEERS!
Actors, Claudia Carroll and David Mitchell alias Jimmy and Nicola
from Rte's most popular TV soap ... 'Fair City,' caught last year on Kiely's Camera
in Lismore, Co.Waterford, where they had come to open a new pharmacy.
(Picture, Copyright, Pat Kiely, Lismore 2002.) .... (Nov.23rd.02)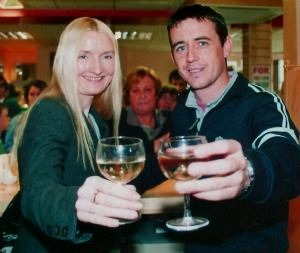 Jimmy from RTE Tv's Fair City signing autographs
for one happy fan called Breda from Lismore..
---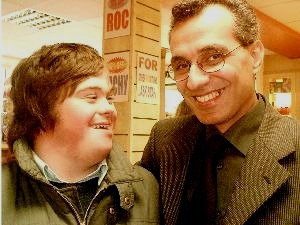 Ian Fitgerald from Crooked Bridge on the Vee Road
meets Pharmacist Akram Hanna from Lismore.
---
Lismore man, John Troy, with
his grandson Deon, 3 months old! (Nov 02)
---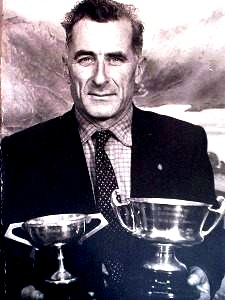 Singer Jimmy Coffey from Old Parish County Waterford
Then and Now! (20th10.02)
---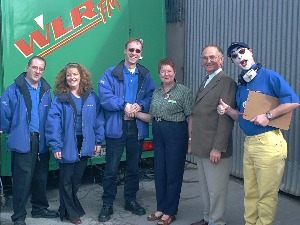 03.10.02
In the Dungarvan Observer this week. Oliver Carroll and the team
from WLRFM Radio congratulate Laura and Willie Roche
on the re-launch of their new Centra Store in Lismore.
---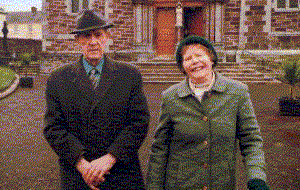 The late, Paddy and Kit Fennessey.(2002)
Farewell to Catherine 'Kit' Fennessey from Lismore/ Ballysaggart,
County Waterford, who was recently buried in Ballysaggart,
five months to the day after her beloved husband Paddy. ...
May they Rest in Peace, Amen.
---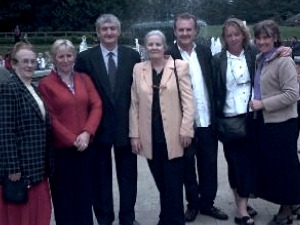 Ellen Fenton, Mary Fenton, (Lismore) Henry and
Eileen O'Neill (Carlow) Kevin Stenson and his sister
Kathleen Stenson and Tricia Ives from London.
(w/e 29th.09.02)
---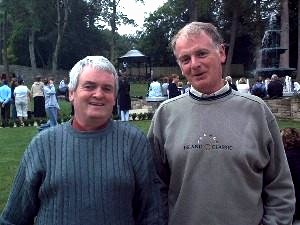 A Good Lesson!
James Bennett from Ballysaggart and Pat Fleming from Lismore have been teaching
at the same school in Cappoquin Co.Waterford for 25 years and before
that taught together at the Lismore CBS as well. (w/e 29th.09.02)
---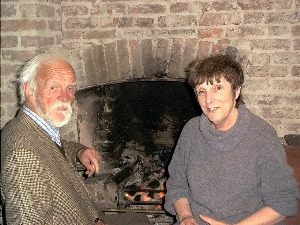 Tommy Parker -Murray from Lismore, with his sister Margaret and her
husband Ron recently home on holiday from England in 2002.
---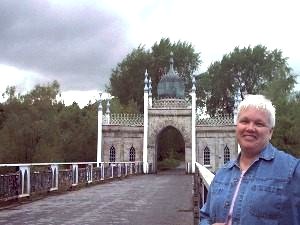 Regular visitor to Ireland, Ms.Sharon Murray-Sliwa, from Florida,
exploring the Hindu Gate Bridge at Dromana in Co.Waterford in 2002.
---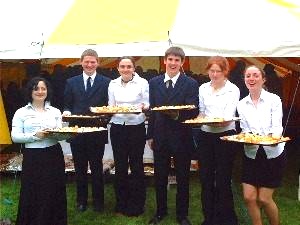 Young Caterers working at a function in the
grounds of Lismore Castle,Co.Waterford.
---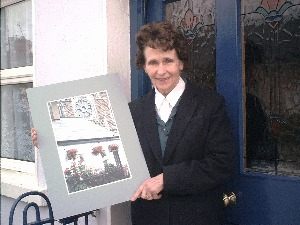 Jo Lineen was strolling through the famous Waterford Crystal Factory on a
tour recently when she saw a picture on display of her own house in Chapel Street, Lismore.
Jo is seen here with a copy of the picture kindly sent to her by The Waterford Crystal Company.
(As featured in the Dungarvan Observer and Avondhu Newspapers)
---
---
COPYRIGHT: pat kiely 2005
ALL PHOTOS/ VDEOS/Audios files and TEXT ETC.
unless otherwise stated:
patkiely@eircom.net LISMORE, Co. Waterford 1998-2005
Midi Canon in D
---