---
LISMORE AND BALLYSAGGART REDEMPTORIST MISSION OCT. 1st. - 6th. 2001
A warm welcome to Redemptorist missionary priests, Fr. Robert McNamara originally from Galway and Fr.Dan Baragry originally from Limerick who are holding a week long mission in the parishes of Lismore and Ballysaggart , County Waterford this week..... Daily Mass 7.am. (Ballysaggart) 7.30am (Lismore) 10am and Mission Service every evening 7.30pm in both churches.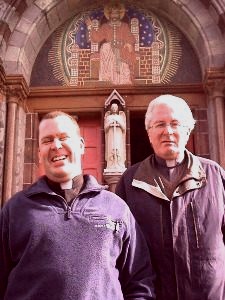 Fr. Robert McNamara originally from Galway and Fr. Dan Baragry originally from Limerick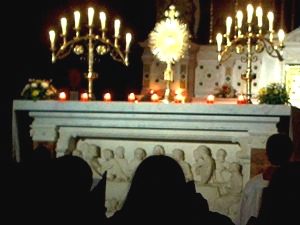 Fr Bob and Fr.Dan and photos of the Blessed Sacrament and children at Monday and Tuesday evening's Healing Service at St.Carthage's Cathedral, Lismore.
---
Wednesday Evening Reconciliation Service.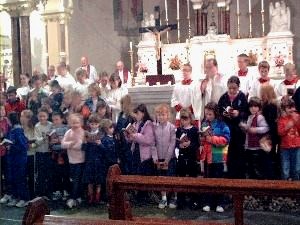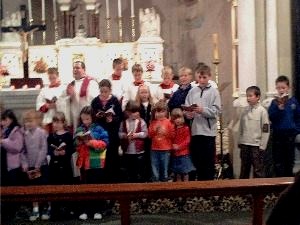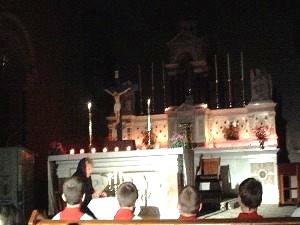 Wednesday evening's Service of Reconciliation( Confession) in Lismore was led by Fr. Bob McNamara and included a short scene from the Prodigal Son, as seen through the eyes of his imaginary mother(artistic licence!) played by Mrs Joan Bolger from Deerpark, Lismore. Later the sacrament of reconciliation was administered by several priests from around the area and the evening was well attended. (photo bottom right)
---
THURSDAY EVENING........For families!.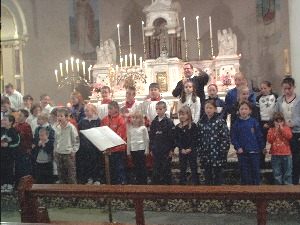 Another beautiful evening led by Fr.Bob!
---
Friday...... A Service of Rememebrance and prayer for our Deceased Relatives and Friends led by Fr.Dan.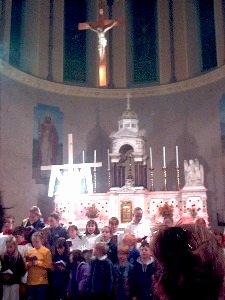 People attending were asked to write the names of their dead friends and relatives on a piece of paper and leave them in a basket at the foot of the cross for prayer...Another very moving ceremony...Only one day left of the Mission.
---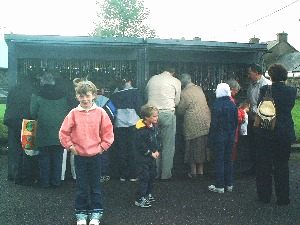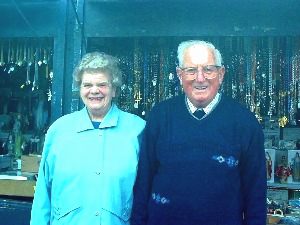 ---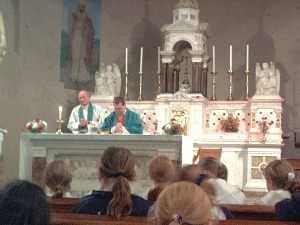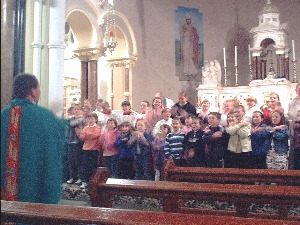 Pic on left. Saturday evening Mass.. Fr.Bob with Fr.Mulcahy P.P. .On right Fr.Bob gets the kids singing at the end of Mass.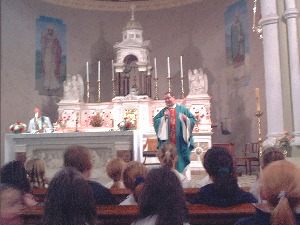 LAST NIGHT OF THE MISSION.......Fr.Bob gives a rendition of his favourite song ...The Fields of Athenry!
---
Hear a amn called Steve Roxton sing the Fields of Athenry @ the link below.
http://www.roxton.demon.co.uk/athenry.ram