My gift to you. Free Report: How To Write A Book in 14 Days or Less!
FREE REPORT: How to write your book FAST!!
Click here for more information
Patrick's Story. First published January 2000
Patrick Maddox, Orphan!
St Michael's Orphanage, Cappoquin, Co.Waterford, Ireland, Revisited.
Now that Christmas has gone, the fireworks are spent, the party hats are put away for another year, and the biggest countdown in history has passed into the record books for many, another countdown is about to begin, the countdown to the annual summer holiday.As we enter the season of the holiday brochure, many people will soon checking out which exotic destination they should head for in the summer to escape from the daily routine.
For those abroad or across the sea the thought of returning home may be their dream...and of course in the Ireland of one's dreams it never rains.
But how many people would consider booking a week or a fortnight's holiday to stay in their old orphanage?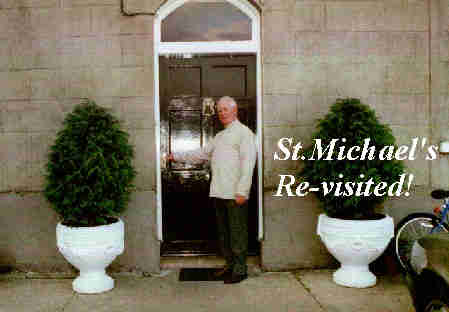 Well a few months back Kiely met one such man, Patrick Maddox, now living in Bromsgrove, England, who has done just that not once, but three times.
Many older folk have quite vivid memories of their first holiday, and especially their first train journey. Those old enough to remember the bygone age of the steam train, will recall the sooty smell, the enormous size of the engine, the gigantic large wheels, the overwhelming sense of power.
Patrick who was born in Dungarvan, can still clearly remember his first train ride 64 years ago, and here explains why he remembers it so vividly.
'One of my earliest memories I have from the age of three was helping my mother Anastasia's to pack a case with some of my things for my first train journey. I can still see her sad, worried face as we walked to the nearby Dungarvan train station, but soon forgot this when I saw the big steam locomotive and I remember being lifted up the steps into the carriage, and hearing the whistle blow just before we moved off, but the destination was not to be the seaside or a holiday town, but St. Michael's Orphanage, Cappoquin, where I was to spend the next six years.'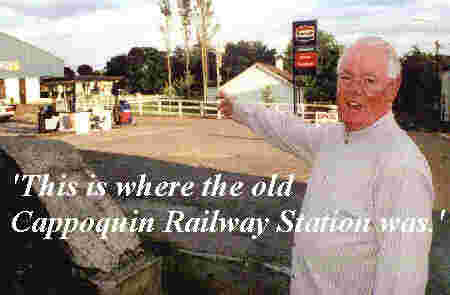 'When we arrived in Cappoquin I was handed over to a Garda,(Police officer)like a little criminal, my only crime being that I was the child of a woman who was not married.''As I was led the hundred or so yards to the door of the orphanage I cried and cried, and I will never forget my feeling of helplessness. '
'As my mother disappeared out of sight that day, she also disappeared out of most of my childhood years.'
'What happened during the next three years remains a blur,but I do remember my Mam arriving one Easter day out of the blue, to see me, when I was about six years old and bringing me an Easter egg and a present of a football, it was only then that I began to realise that I had a mother.e her again though until I was 12 years old and by then there seemed to be a barrier there between us.'
' You know, I can never remember being hugged or kissed as a child,' remarked Patrick, the glisten of a tear showing in his eyes as we chatted in the dining room (which was once the classroom) of the comfortable and tastefully refurbished and converted orphanage which is now the popular Riverview Guest House, where Patrick Maddox had been staying for a week with his lifelong friend from England, Harold Sivell whose wife died last year.'
'Odd little incidents stand out in my memory, about living in the orphanage, things like the Friday ritualwhere in this room where we are sitting now, you had a gallery in that corner and every month, the orphans had to stand in front of the Mother Superior and two other nuns who were seated on either side of her, behind a table.'
'They would check your behaviour record over the previous month. If you had obeyed all the rules, etc you were given an old penny and sometimes even more, as a reward, but if you had been naughty you might get a half penny or no money at all.'
'In the 1930's you could buy a lot off sweets with even a farthing, which was a quarter of the value of an old penny,so we had good reason to try and behave ourselves. so remember one year receiving a wooden spinning top as a Christmas present.'
'When I was about eight I used to help Sister Finbar wash the potatoes and she used to give melittle cakes and snacks as a reward which made me very happy.'
'I don't recall any real cruelty or anything like that from any of the teachers or nuns here in Cappoquin, but discipline was much harder in those days anyway, so you would expect to get a slap if you misbehaved. I only remember getting a slap once when I was wrongly accused of leaving the storeroom open.'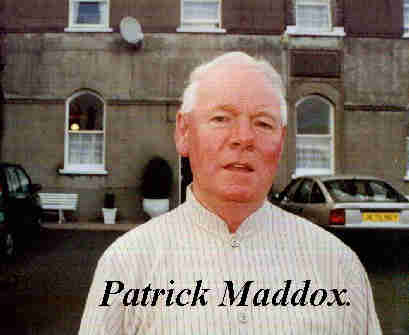 However when I was nine in 1942 I was moved to a reformatory school in Cork run by the Christian Brothers.'
'I did resent that, because they had no reason to send me there.'
'That was a very strict place where discipline was over-enforced. I felt great resentment for being sent to this place of punishment without due cause, because in the nearby orphanage where I should have been, they were allowed out to the cinema and had other treats.'
'I remember I joined the reformatory band, which allowed me more freedom than a lot of the boys there, as we used to visit other places to play our music.'
'Mind you, having said that about the strict discipline, I have never been in trouble with the law in all my life so they must have taught us something, even if they were too strict!'
'The first holiday I had was when I was thirteen. I went to stay with an aunt in who lived in Waterford, and the train fare was five shillings.'
'My aunt's house was overcrowded and I was overwhelmed. You know, I was actually glad to get back to Cork.'
'At fourteen my Mam called to see me to tell me that she was going to marry a disabled man called Mr Paddy Phelan who came from Dunmore East, and said she had come to take me out of the reformatory.'
'My step dad was a lovely kind man and I spent my final year at school in an ordinary school in the village.' After I finished school I answered an advertisement in the newspaper and went to England to work as a barman paying £5 pounds a week all found.'
'Later took lodgings with the Bissell family in Bromsgrove and got a job on the buildings. One day I saw my future wife Pauline who was a best friend of Jill Bissell, pass my window to visit a neighbour.'
'She was sixteen and I was nineteen it was love at first sight.'
'From then on my life changed, I decided to stay in Bromsgrove, and eventually got a job at Austin's Car Factory.'
'I retired last year after 39 years with the company. They gave me a clock and a choice of car at a reduced price at a leaving presentation.'
'My sweet wife who gave me so much love in my life, sadly died of cancer in 1996 after forty two years of happy marriage together, and I donated some electric bells to my local church where I have been a Sacristan for many years, in her memory.
'I have a half brother who lives in Birmingham,(England). I regret not having been able to get closer to my Mam before she died.'
'She was killed on a crossing last year at the age of 83 I also regret not being able to find out the identity of my dad, but she was always very secretive about him when I asked and there was so much disgrace back then if an unmarried woman got pregnant, that you would think it was the worst of the seven deadly sins.'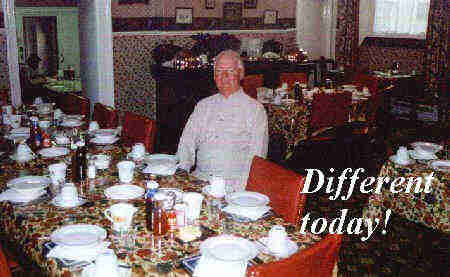 'And as for staying at the Riverview Guest House, when I visit Ireland on holiday, its like coming home.'
'The service and the food provided by Mrs Flynn theProprietor is certainly much better than I remember it as a child, when I stayed here as a different kind of guest all those years ago!'
---
COPYRIGHT 1999-2002 All written work and images are copyright Pat Kiely........Lismore...Ireland. email patkiely@eircom.net