Not Just A Web-Site....More a way of Life!

All the Items on this page were added a few years ago and some items may now be
a bit out of date but I am now in the process of updating them!
---

---
KEEP SCROLLIN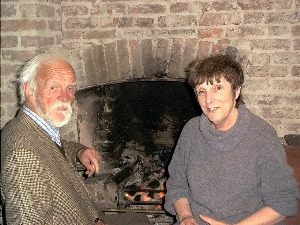 Tommy Parker -Murray from Lismore, with his sister Margaret and her
husband Ron who were home on holiday from England during the summer.
---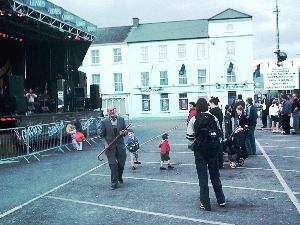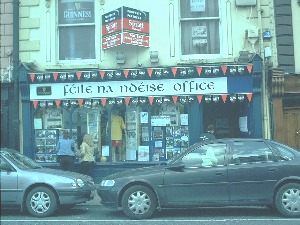 A MAY BANK HOLIDAY WEEKEND IN DUNGARVAN!
********************************************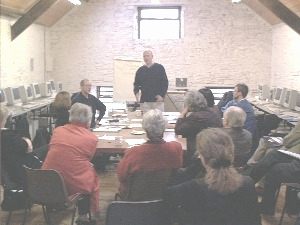 A writers workshop held in Tallow, Co.Waterford by
writer Anthony Healy which I recently
had the pleasure of attending.
********************************************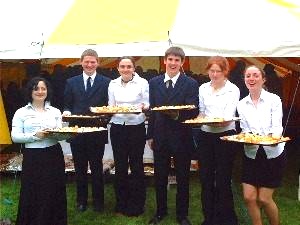 Young Caterers working at Lismore Castle.
***************************************************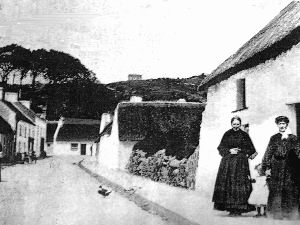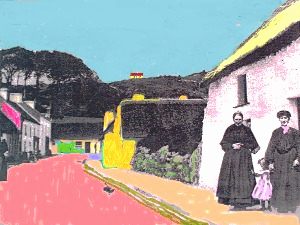 Ballyduff, Co.Waterford Circa 1890 ... L to Right.
Mrs O'Brien and her daughter Mrs Fahy (Schoolteacher) with her child.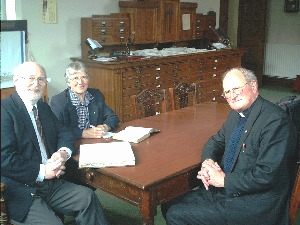 Hi, to Sr. Julie Lawrey a Sister of Mercy nun from Dunedin, New Zealand whose ancestors came from Ballyduff. She is pictured here this morning with Fr.Kevin Mulcahy P.P. and Bill Lane from Ballyduff, looking at the old parish records kept in St.Carthages's Catholic Church, Lismore. Both Julie and Bill have written to me by email before and it was nice meeting them in the flesh!
***********************************************
---
Sharon Hits the Headlines!
Sharon Murray Sliwa is seen here reading my 'Kielys's Comments,' column in the Dungarvan Observer
Irish newspaper which she has mailed to her Florida home each week.
Sharon says was 'thrilled to bits,' to find herself in the copy of the newspaper
she found waiting for her when she returned to the States after her holiday
Co.Waterford in Ireland.
---
KEEP SCROLLING DOWN.
---
Jo Lenane from Lismore.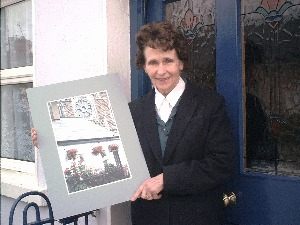 Jo Lenane was strolling through the famous Waterford Crystal Factory
on a tour recently when she saw a picture on display of
her own house in Chapel Street, Lismore.
Jo is seen here with a copy of the picture kindly sent to her
by The Waterford Crystal Company.
****************************************************************************
Sympathy to the Finlayson family in Canada on the loss of their mother Bertie,
who I met in Ireland 7 years ago, and also to her Irish cousin Kathleen Hogan in Lismore,
that Bertie only discovered 3 years ago after a lifelong search.
Read about that special reunion by clicking the link below..
http://kielyscomments.tripod.com/crowley.htm
********************************************************************************************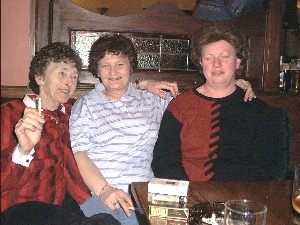 ....................................................................................................Lismore Hotel Bar Saturday Night.
Pic above left ,Pattie Keating, Mag Lonergan, Celine Walsh.
---
My gift to you. Free Report: How To Write A Book in 14 Days or Less!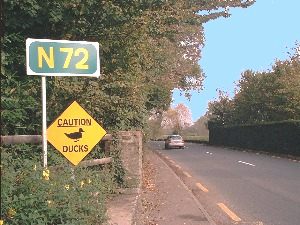 The 'busy' road outside Kiely's cottage in Ireland!
---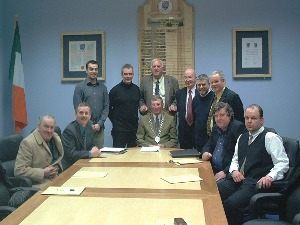 Lismore Town Councillors (Formerly called Town Commissioners)
move to their new premises in the refurbished CBS Building at the top of West Street,
formerly called Gallows Hill.
L to R. the late Cllr.Dick Canning,Town Clerk Eric Flynn,Cllr.Mark Khan, Cllr,John Campion,
Mayor Dave Whelan(Seated ) Cllr.Peter Ahearne,John O'FlynnWCC.Director of Services,
Cllr Bernard Leddy,Cllr Jimmy O'Gorman,Cllr.John Henergan and Cllr John Madden.
The new Lismore Council offices are now housed in the old Christian Brothers Building
at the top of West Street. Lismore on the spot where an old gallows once stood.
---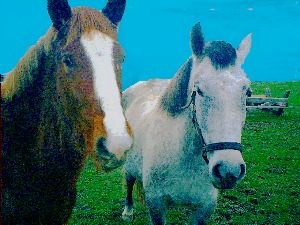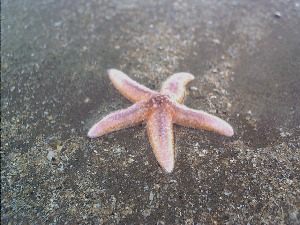 A star fish and horses on Clonea Beach,Co.Waterford...
---
You never know who will be caught next on Kiely's Camera... It might even be you!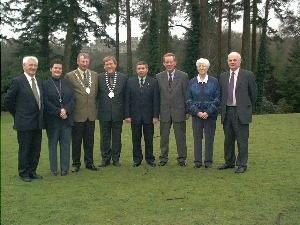 Executive Committee of the Credit Union, Chapter 10 at their AGM held in the Ballyrafter House Hotel, Lismore.
---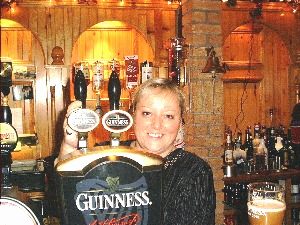 Hi to Marion Murphy seen here busily working in the Sweep Pub Nr. Waterford.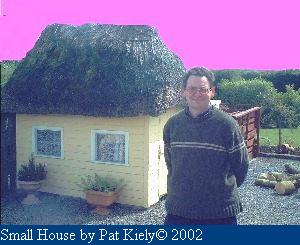 The proud owner of the smallest house in Ballysaggart, Co.Waterford is Micheal Bennett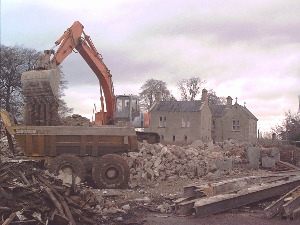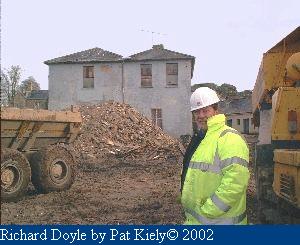 The old Christian Brothers' School, Lismore Co.Waterford watched
by McInerney's site foreman Richard Doyle from Waterford
above right before being demolished earlier this week (see pic above left ) (2002)
---
Kiely's other Car? Click pic to read more. (1999)
---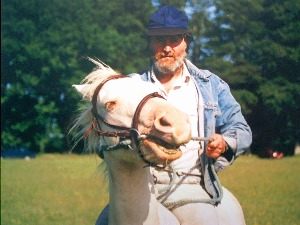 The late Johnny Coleman from Lismore ...
John spent many years in London before returning home to live in Ireland.
---
You never know who will be caught next on Kiely's Camera... It might even be you!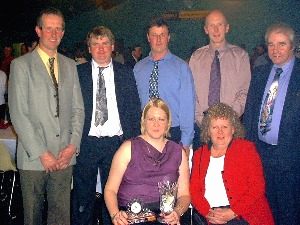 Hi to members of Lismore and Ballysaggart Autograss Club with hot rod racing driver Tom Casey (Left). Tom originally from Ballyduff tells me he races cars costing two million pounds in Tipperary and around the world and came second in the world championships held last summer.
---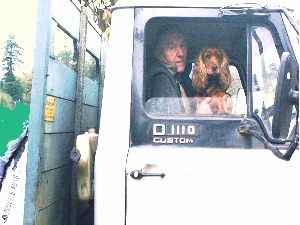 Hi to my coalman Dan Cashman (now retired) from Lismore,Co.Waterford and his pet dog Trix.
---
Thought for the Week!
Remember..When u point your finger at someone else...there are always three fingers pointing back at you!
---
NOW PLAYING:

. Do you have a midi request please let me know...Irish, classical, religious, pop, ancient, modern.... patkiely@eircom.net
---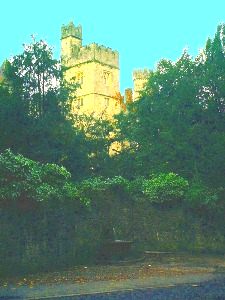 Lismore Castle.
..................Kennedy Link with Lismore and its castle..........
.John F. Kennedy's favourite sister Kathleen, a catholic was married to the brother of the present Duke of Devonshire, William, Marquess of Hartington (Billy)
a protestant in May 1944. whose family have owned the castle for generations.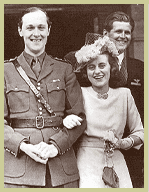 They had met in London when Kathleen's father, Joseph Kennedy,
was the American Ambassador to Britain. In September 1944
just a few months after the marriage which had caused annoyance to both families,
William was killed in action in Belgium while serving with his regiment,
the Coldstream Guards. Kathleen died in an aeroplane accident in 1948.
---
KEEP SCROLLING DOWN.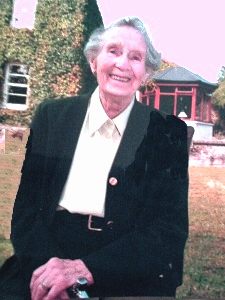 The late Mrs Barron aged 92 whose late husband and family ran (and still do )
the well known Cappoquin bakery business for many years.
Click to see all the family and if you have Real Player you can hear
them also as recorded on Joan's 89th.Birthday in August 2000.
KEEP SCROLLING DOWN.
---
By special request ... Sr.Kate's Story.
---

---
A few weeks ago Tommy Keating of Lismore returned from a tour of the USA by Greyhound Bus.
---
PLEASE DO NOT SIGN UP FOR MY NEWSLETTER OR EMAIL ME AT LOCAL IRELAND AS THEY HAVE CLOSED DOWN AND WILL NOT FORWARD YOUR MESSAGES TO ME
---
KEEP SCROLLING DOWN.
---
Myra Walsh of Kilmacthomas, would like to send greetings to her brother Leo (in London)
who has recently returned to live near her in Kilmacthomas!
Hello to ANN O'SULLIVAN over in the Bronz, New York from her brother Tom Veale and his wife Breda from Ballysaggart
who were caught on Kiely's camera on Tuesday evening filling their bottles with holy water from
St.Carthage's Well, Lismore. Saint Carthage founded the town back in 636ad.
---
KEEP SCROLLING DOWN.
---
Some previous issues 48 49 50.51.52.53.54.55.56.57.58. 59.60.61. 62 .63 64.65*66 67 68 69 70 71 72 73 (Some info on these newslwetters is now out of date)
Kiely's Comments which is also published weekly in the Dungarvan Observer Newspaper.
Local Ireland.com who used to publish my online Waterford newsletter have now ceased business,so please do not try to subscribe with them anymore but you can still email me on patkiely@eircom.net
---
.Sue
over in Western Australia
KEEP SCROLLING DOWN.
---
---
Mossie Hyland, 1915-2001

of Chapel Street, Lismore.
Click photo to read about Mossie's Life.
---
............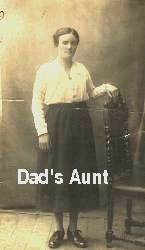 Keith Collins over in Wales wants to trace his wife's Mansfield family roots...They originally came from Lismore, County Waterford? Please click here or pics to read more. Can you Help?
---
---
What time is it now in Waterford or Winnepeg ?
Click below to check the time anywhere in the world right now!
---
An Irish Welcome and God bless ye all.
---
All material and photos on this site, unless otherwise stated are copywright (c) Pat Kiely 1999-2007
---
---
Mrs Barron....Sr.Kate's Story.. ...Tommy's Story! ...Battle Hymm ...Roots! ...Lismore_Moon! ... WLR FM Radio ...St.Lucia's local Radio
Hear the 2001 Christams lights turning on ceremony in Lismore Co.Waterford.