Not Just A Web-Site....More a way of Life!
Cheers

Caught on Kiely's Camera Back in 1999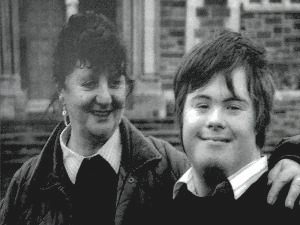 Margaret and Ian Fitzgerald outside St.Carthage's Cathedral, Lismore.
The article below was first published in my Co.Waterford newspaper column back in May 1999.
Special Love!
Ian Fitzgerald (20) who lives on the Vee Road near Lismore 'Is a very special young man,' his mother Margaret was telling Kiely recently, after the 9 30am Sunday morning mass at St. Carthage's Catholic Church, Lismore.
Margaret who lost her husband Michael in 1995, said, 'attending Sunday Mass is an important part of our lives. 'Ian has a natural sense of the spiritual and receives Holy Communion each week. He seems to understand the concept of God without me ever telling him,' she said.
Regular churchgoers can't fail to notice her son's deep respect for his religion, and how he never forgets to genuflect as he passes the tabernacle, on his way to light a few candles at Our lady's Altar when mass is over.
Although born with Down's Syndrome, Ian loves swimming, field and track events, and competing every year in the special Olympic games.
'He has won many medals, but for me it is the taking part rather than the winning which is important,' Margaret remarked.
Ian works everyday, in a crafts workshop. At home after work, he enjoys a game of billiards, on the table installed by his mum in one of the rooms.
'When he is not playing billiards, his other hobby is watching the soaps like Fair City or Coronation Street which he loves, and he never lets me forget to say the Angelus either!'said Margaret with a smile as they set off in her car for home.
Midi playing is called Again. by Lenny Krativitz.