---
---
Helen O'Dowd. 1971-2001
Deepest sympathy to Rose O'Dowd (West Street, Lismore, County Waterford) over the tragic loss of her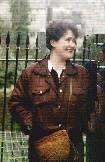 daughter Helen in a car accident and condolences also to Helen's brothers and sisters and relatives and also to her little daughter Clara.
Having worked with Helen at Lismore Heritage Centre for over a year in 1998 I was most shocked to hear the sad news of her recent death in a car accident last Friday 16th.February.
As someone remarked to me only yesterday, 'Helen was such a vibrant person, its hard to believe she's gone. ' I find it very hard to believe that also.
May she rest in peace, amen.