---

Not Just A Web-Site....More a way of Life!
LINK WITH THE PAST.
I recently received this nostalgic story and powerful photograph by email from
Sheila MacAvoy Block over in the USA whose ancestors came from the
Glencairn / Lismore area of County Waterford
Shelia's letter gives us some idea of the difficult struggle
for survival it must have been for her long gone relatives
and countless others who were forced toemigrate during the
1840s and 50s in order to survive the Great Famine.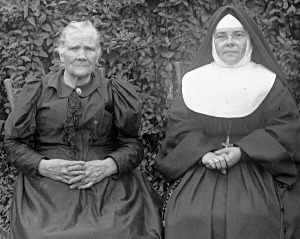 Dear Pat,

Here's a treasure of a photo, which we were only recently able to see
through the miracle of technology. The image was on a glass negative
covered in dust and retrieved from a shoebox in my brother's basement.

The picture was taken about 1900 by my grandfather, Thomas MacAvoy, an
amateur photographer. The image is of Mary English Coleman
and her daughter, Sister Elizabeth, a Sister of St. Joseph.
Mary English left her home in Glencairn, County Waterford,
at the end of the famine in 1851 at the age of 19.
She came to America alone and was met by her oldersister,
Ellen, who lived at 30 Broadway in Lower Manhattan.
Their parents, Michael English, then aged about 60, and his wife
Mary Sullivan English, aged 53, left Ireland in 1853 aboard the
ship "Marmion." Mary Sullivan English did not complete the trip to
re-join her 8 children all now in New York. She died of cholera on the
voyage and was buried at sea.

Young Mary English married John Coleman in New York and had 8 children
also, seven of them still living when this picture was taken in the back
garden of her grandson Thomas' home in Brooklyn.
She was widowed at age 48 when husband John
was killed in an accident on thewaterfront. In the photo,
and in all other pictures of her, she wore black in his memory.

The research into this family has been brought to life by
web pages and newspaper
columns such as yours and by the good help of Heritage Centres,
libraries and archives all around Waterford and
the Blackwater Valley.
I thought I would like share with your readers, this face
of one beautiful womanwho lived in Glencairn,
Co.Waterford so long ago,
Best wishes,
Sheila MacAvoy Block
---
You can now
through Pay-Pal.
Towards the costs of running this web-site by credit card or by post to
Pat Kiely,Ballyratfter Cottage, Lismore, Co.Waterford, Ireland. (no zip code required)
---
NOW PLAYING:

Time to say Goodbye! .............A.Bocelli
My gift to you. Free Report: 
How To Write A Book in 14 Days or Less! 
CLICK HERE