---
Kiely's Hall of Fame!
Please scroll down.

JUNE 2001
St.Therese of Liseaux died unknown in 1897 from TB at the age of only 24 years in a French convent. Recently her relics visited Ireland and between June 16th to 19th. 2001 visited Tallow in County Waterford only three miles from where I live. Her visit attracted many, many thousands of people to the open air services.
Shortly before she died she wrote a book called 'The Journey of a Soul,' which has sold more copies than any other Christian religious publication except the Bible. Therese must therefore be top of the list in Kiely's Hall of Fame.
---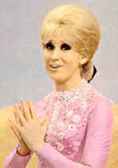 March 2nd 2001
Second anniversary of the death from breast cancer of 60/70s pop singer Dusty Springfield (real name O'Brien) who died March 2nd 1999.
Dusty's ashes were scattered somewhere in Ireland.
---
March 3rd 2001. Happy Birthday

.......Ronan Keating
Ronan Keating, christened Ronan Patrick John Keating was born in Dublin on March 3rd. 1977.
Ronan founded Boyzone one of the first boy bands and is manager of a clone boy band called Westlife!..............Happy Birthday....Ronan's Official website.
---------------------------------------------------------------------------------
March 4th, 2001 ,,,,,,,,,,,,,,,,,,,,,,,Shakin' Stevens.
Happy Birthday!
Shakin'
Stevens.
Rock n Roll singer Shakin Stevens real name Michael Barratt was born on March 4th, 1948 , in the Cardiff , Wales, suburb of Ely, the youngest of eleven kids. As a youngster he was introduced to rock 'n' roll by his brother Roy and it was also during this time that he first heard a friend use the name Shakin' Stevens.
There was a rocker band in Cardiff, managed by entrepeneur Paul Barrett (no relation) called the Backbeats whose lead singer Rockin' Louie became Shaky's idol, with the young Shaky sometimes getting up on stage to sing with the band. More.....
Happy 53rd.Birthday.....
---
Stanley Kubrick.
March 7th. 2001.
Today March 7th, is the second anniversary of the death of film director Stanley Kubrick who was born on July 26, 1928.in New York, married three times and died on March 7th, 1999.

Kubrick directed many well known films in his life including 2001 a Space Odysey and Clockwork Orange. He began filming his last one, Eyes Wide Shut with Tom Cruise and Nicole Kidman eighteen months before his death.
Kubrick died 666 days before reaching the year 2001 the year he used as the title for one of his best known films, which was made in collaboration with sci-fi author Arthur C. Clarke, an instant cult favorite, it has set the standard and tone for many science fiction films that followed.
Kubrick followed this film with Clockwork Orange, but after reports that "A Clockwork Orange" had inspired real-life gangs of "droogs" in England, and fearing for his safety, Kubrick personally withdrew the film from distribution in the UK, with a proviso that the film was never to be shown in the UK (his adopted homeland) during his lifetime. The film has been shown in Britain and Ireland since his death.
In 1975 he made a film called Barry Lyndon which would prove a turning point in both his professional and private life.
Filming a story in Ireland involving military, Kubrick received reports that the IRA had declared him a possible target. Production was promptly moved out of the country, after which Kubrick's desire for privacy and security resulted in him being considered a recluse up until his death in 1999.
---
March 8th 2001.
March 8th 1971 Joe Frazier beats Muhammad Ali at Madison Square Garden (New York NY) in 15, retains heavyweight boxing title .
Ali did not lose a fight until his 11th year of boxing, when he met Joe Frazier in his first attempt to regain the heavyweight crown. In 1975, after Frazier had taunted him in print.
It would take 15 more fights and knocking George Foreman out in the eighth in 1974 before he would take the title back.
......................................................................................................Photo copyright 2001 The Courier-Journal.
---
March 10th. 2001 .....Kiely's???????? birthday....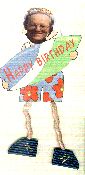 March 10th 1748 Captain John Newton, arthor of the hymm Amazing Grace converted.
---