---
Our Blessed Lady's Message to the Irish People & to the world.
In late of 1985, in the small village of Melleray, Co.Waterford, Ireland Our Blessed Lady appeared to some of the locals for a period of 9 days. During those 9 days she gave the visionaries a message for the Irish people & the whole world. During the course of these days the visionaries were are given visions of many extraordinary supernatural events.Our Lady spoke of how God was angry with the world & how we must change, if we don't then she said, "that the Devil would take over God's church in ten years".
The part of Our Lady's message which is consistent through out those nine days was Prayer. In her own words
"My Message is Peace and Prayer and no more fighting in the world"
Our Lady also said
"I want the Irish people to spread my message to the world"
Music playing now::'Peace is Flowing like a River,' is the hymn the children said was requested by Our Lady during one of her apparitions.
---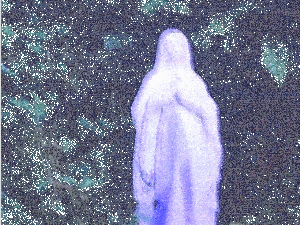 Melleray Grotto, County Waterford, Ireland. ......Friday July 13th. 2001
Three local children in August 1985 claim to have seen the Blessed Virgin at Melleray Grotto and to have received messages from her asking the Irish people for more prayer and conversion. Many visitors to the grotto even today claim to see the statue high above the grotto change from Mary into Jesus, or into one of the saints like St Therese, or even the Italian stigmatist Padro Pio and to see the leafy background change from dark to light and pulsate. The enhanced image above is similar to how I experienced it myself on Friday 13th at 9.30pm.
Melleray Abbey ...........Melleray Grotto
More stories to follow.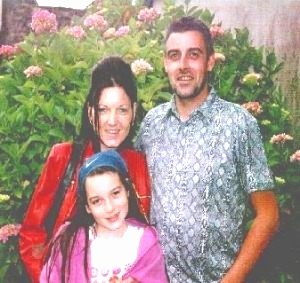 Hi to Claire and Paul Barron from Derry in Northern Ireland with their lovely daughter Charmaine aged ten. The couple decided to come down to County Waterford on the spur of the moment recently to visit the Melleray Grotto Website and the nearby Monastery which has been Claire's wish for some years.
---
Music now playing.....
PEACE IS FLOWING LIKE A RIVER.
PEACE IS FLOWING LIKE A RIVER
FLOWING OUT OF YOU AND ME
FLOWING OUT INTO THE DESERT
SETTING OFF THE CAPTIVES FREE
HIS LOVE IS FLOWING LIKE A RIVER
FLOWING OUT OF YOU AND ME
FLOWING OUT INTO THE DESERT
SETTING OFF THE CAPTIVES FREE
HIS HEALING'S FLOWING LIKE A RIVER
FLOWING OUT OF YOU AND ME
FLOWING OUT INTO THE DESERT
SETTING OFF THE CAPTIVES FREE
ALLELUIA, ALLELUIA
FLOWING OUT OF YOU AND ME
FLOWING OUT INTO THE DESERT
SETTING OFF THE CAPTIVES FREE
HIS PEACE IS FLOWING LIKE A RIVER
FLOWING OUT OF YOU AND ME
FLOWING OUT INTO THE DESERT
SETTING OFF THE CAPTIVES FREE
---
http://www.geocities.com/Heartland/Flats/6616/music.htm for more religious midis