Liturgical Prayer.
The community meets seven times a day in the church, to sing the divine office,
which consists of psalms, readings from Scripture, and prayers.
Prayer is offered in the name of the whole church, offering to God a sacrifice of praise,
and interceding for the needs of the world.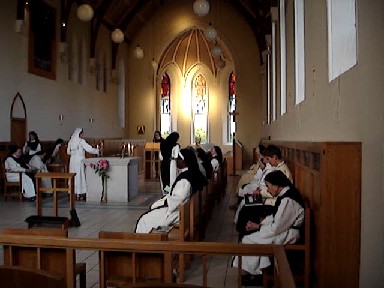 The Eucharist is celebrated daily; it is the sisters source of communion with Jesus Christ
and with one another.
The liturgy also plays an important role in the Holy Spirit's work of sanctification,
for the re-forming of each into the image of Christ.
http://www.glencairnabbey.org/