---
WELCOME TO LISMORE .... COUNTY WATERFORD... IRELAND. June 2001
Please scroll Down!
Demolition of Lismore Ball Alley?
Rumours are running rife in Lismore that the Ball Alley, is under the threat of demolition to make way for housing development. Owners of the Ball Alley, Waterford County Council claim the Alley, (a place where ball games have been played for over a hundred years) is unsafe and should be demolished because of the danger of falling stones.
Three men, Town Commissioner Dick Canning, who almost single-handedly brought about the building of modern public toilets in the town, Ca Healy of Parks Road, a true local heritage lover along with ex Lismore native and editor of the famed Journal, The Lismoreian, writer Eugene Dennis, now residing in Cork, do not agree, and are adamant that restoration, modernisation and landscaping, not demolition are required.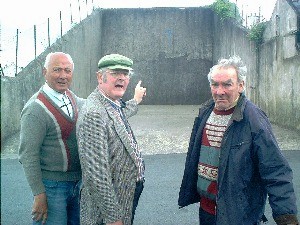 Cmmr.Canning believes that the most urgent need is to get the council to cordon off the Ball Alley pending remedial attention and feels that the damage on one exterior sidewall of the structure is only slight and is easily repairable. The interior walls are smooth and still in good condition, ' he added.
The three men feel so strongly about the issue, they have formed an Ad Hoc Committee and had petition forms printed to gauge public opinion.
'So far we have had a good response claimed the group, and we have also just issued a public statement. We intend to issue further statements in the near future dealing with the specific history and lore of the alley.
'As they looked around the Ball Alley a place where they all had often played as youngsters, Eugene Dennis remarked, the response to the petition proves how deep the general emotional attachment to the alley is. People don't just sign the petition they become rhapsodic and desire that there be continuity.'
'Clearly safety and of access and egress is very important in this motorised age. As for funding as the group says in their publicity release to the town commissioners and interested others, channels will open up if the will is there. '
'Overall the group is of the profound belief that to jeopardise the antiquity just to free up land for building sites as is rumoured is nothing short of pernicious and short-sited, any hostility in locals will be reduced or disappear when their kids have a totally safe and unique playground,' concluded Mr. Dennis.
---
Copyright 2001 Pat Kiely (Lismore) patkiely@eircom.net