---
Oh 'Benny' Boy!
This story was first published last year but newer readers might like to read it.
Fred E.Weatherley,1848-1929 was an English High Court Judge , Poet and Lawyer,who wrote the original song Danny Boy,' said thirty one year old Ben Phillips,Fred's great-Grandson, who was here in Ireland on honeymoon with his wife Debbie. (30)
The newly- weds had been touring The Magillicuddy Reeks, in Kerry and on their way back to Rosslaire Car Ferry, stopped off in Lismore, where Ben was telling Kiely about some of his unusual Irish connections.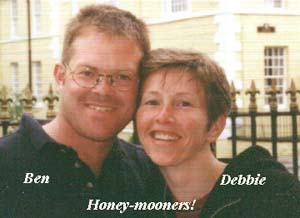 'I read somewhere, that in 1910 my great Grandfather wrote the words and music for an unsuccessful song he called Danny Boy , and that in 1912 his sister-in-law in America sent him a tune called the Londonderry Air,which he had never heard before. He immediately noticed that the melody was perfectly fitted to his Danny Boy lyrics, and published a revised version of the song in 1913.'
'This version became very popular in the United States where years later it was recorded by Bing Crosby. Many people, especially Americans are very shocked to discover that the words of this very popular song were written by an Englishman,' Ben said..
The first appearance of the tune in print which Fred E Weatherley later used with his words, occurred in 1855,in Ancient Music of Ireland, which was published by the early collector George Petrie (1789-1866). The untitled melody, was supplied to Petrie by Miss Jane Ross of Limavady, County Londonderry.
She claimed to have written down the music after hearing it being played by an itinerant piper. This is the origin of the Londonderry Air, the name, the English preferred to call the song.
Debbie said her only claim to fame was that her great-Grandfather, Sir Edmund Barton was a Prime Minister of Australia, and although she had no Irish connections she had loved her visit here.
Ben then piped up with the information that his dad, Jeffrey was taught the flute by the same teacher who taught James Galway, 'Although dad did not take up music as a career afterwards,' he said..
Here are the words of the famous song his G.G.F. Fred E. Weatherley wrote.....
Danny Boy .......The words!.......
Oh Danny boy, the pipes, the pipes are calling From glen to glen, and down the mountain side The summer's gone, and all the flowers are dying 'Tis you, 'tis you must go and I must bide.
But come ye back when summer's in the meadow Or when the valley's hushed and white with snow 'Tis I'll be here in sunshine or in shadow Oh Danny boy, Oh Danny boy, I love you so.
And if you come when all the flowers are dying And I am gone, as gone I well may be You'll come and find the place where I am lying And kneel and say an "Ave" there for me.
And I shall hear, tho' soft you tread above me And all my dreams will warm and sweeter be If you'll not fail to tell me that you love me I'll simply sleep in peace until you come to me.
Oh Danny boy, Oh Danny boy, I love you so.
---