---
St.Carthage's Church of Ireland Cathedral,
Lismore, County Waterford.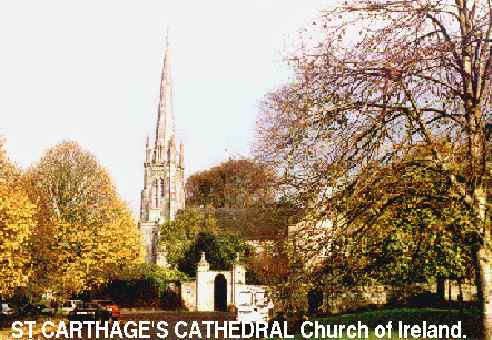 There are two Cathedrals dedicated to St Carthage in Lismore. One Catholic and one Church of Ireland or Protestant.
This is the Church of Ireland Cathedral and stands on the site of one of St Carthage's earliest churches built in the year 636 ad. Over the centuries this church has been destroyed and re-built several times.
Inside there is a Norman arch which has survived from the 12 Century, and a 16 Century pre reformation altar tomb dedicated to the McGrath family, which was built around 1536.
Old tomb stones imbedded in the West Wall date from the time of the early monks who lived there in the eighth and ninth centuries.
---
Start Page.....Guestbook.. . . The RC St Carthage's Cathedral.