---
Brosna Kids!
The Coughlans.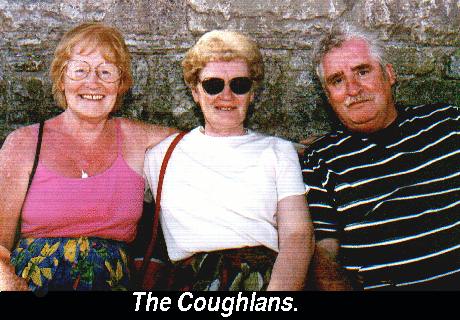 ---
Brosna Kids!
Back home on holiday from England and sitting on a seat in the sunshine watching the recent Fleadh go by, seemed a long way from the childhood life of Jimmy Coughlan and two of his seven sisters, Margaret, now living in Coventry and Bridie still living in the town of Lismore. where they were all born.
They are three of the seven surviving children of a courageous Lismore lady called Kathleen 'Cathy' Coughlan nee OHara, of Church Street, a lady who earned the title of Brosna Queen' before she died in 1984.
'Their mother was widowed in 1942 with a large young family to raise, at a time in Ireland when money was very scarce and social conditions difficult.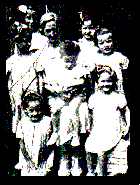 Misfortune when it came, could be overwhelming, where solace came only from the kindness of good neighbours and friends, but rarely from the State.
Where survival was squarely laid on the shoulder of the survivor and in Cathy Coughlan's case her shoulders carried a heavier weight than most.
In Eugene Dennis's, Millennium Journal,' The Lismoreian,' now sold out, he describes the State's care for people such as the Coughlan's as 'munificently parsimonious,'
'They bestowed as much help as they could by neglect,' he suggests.
But life has always had its fighters in adversity, and Cathy Coughlan definitely belonged to this category. Out at dawn and sometimes out at dusk as well gathering 'Brosna,' sticks and logs and firewood by the bundle to keep her own and many other home fires burning.
An empty tummy is always somehow more unbearable in a cold house, and at least in the Coughlan's home something could be done about the cold.
'In WW2 the deprivations in Ireland for the better off were slight, they could endure life without tea or coal, but these were major deprivations for Mrs Coughlan and her family,' writes Eugene Dennis , who describes how obtaining these items were part of her own private war. Her armaments, an old pram, or bike, and a saw or borrowed axe.'
Looking away from the Fleadh activities for a moment, Jimmy remarked,
'Mam's ability to find and then gather 'Brosna.' when we were kids eventually earned her the title of Brosna Queen. I remember when I came back home from Worcester in 1997,
l decided to lay a special symbolic Brosna wreath on our Mam's grave, which is in the Catholic section of St Carthage's Church of Ireland Cathedral.
'My Mam and the rest of us must have looked like characters in a Walt Disney film, as myself and my sisters would be making our way to the woods to gather the Brosna, said Jimmy with a smile...We must have looked like a scene from the film 'Snow White.'
I would usually be the one that would pick up the heavier wood, like the rear of a wind fallen beech. Times were tough, some of my older sisters grew up and were able to help out, but even so life still had its funny moments.
still remember my Mam one Sunday scraping the knife off a stone and shouting out to us children to,' come inside for your meat,' when in reality we might be just having vegetables. Keeping up appearances I suppose!
Times may have been hard in the 1940s for the Coughlan children all but one still living, and others in similar circumstances in those far off days, and hard to comprehend for the children of 'the tiger,' but even then as now, a good mother is a gift from God, and a blessing too many often take for granted.
'Mould breaker, early feminist, was Cathy,' writes Eugene Dennis , not so much as by what she said, as by what she did.
---