Not Just A Web-Site....More a way of Life!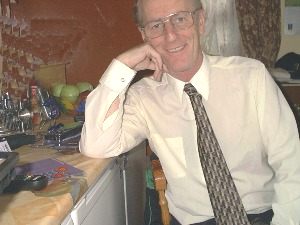 On the Buses! by Pat Kiely.
MY BIRMINGHAM CITY TRANSPORT PAGE.
Hundreds if not thousands of Irish men and women worked for Birmingham City Transport in England during the 1950s and 60s and here are some photographs of some of them taken around 1967-68-69 who worked at Wellhead Lane, Bus Garage, Perry Barr, Birmingham, during that time.
If you or a relative worked there, or have any funny stories to tell, or, if you have any photos I could use on this page, I would be very pleased to hear from you (and you don't have to be Irish!) ............. EMAIL
Do you know any of the names? This photo was taken in 1967 of some of the conductors and drivers who worked at Wellhead Lane Bus Garage in Birmingham England in the 1960s and early 70s. My brother Brian who sent me this photo and also the one of the football team at the bottom of this page, is pictured second from the right (with the beard) above.
---
On the Buses .... Circa 1968.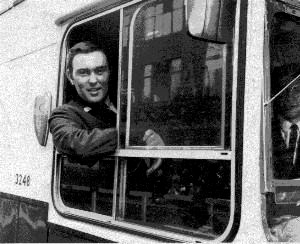 Hi to Birmingham City Transport Inspector, Richard 'Rick' Scott, ( later after a change of career to become Detective Chief Inspector Scott in the West Midlands Police force ) was stationed at Washwood Heath and then Wellhead Lane Bus Garage, Perry Barr, Birmingham, England, and recently emailed me me this photo and the one below, of his time, 'on the buses' in the late 1960s. Rick is seen here at the wheel of a Birmingham bus.
If you remember him EMAIL me(even if he booked you for running early! )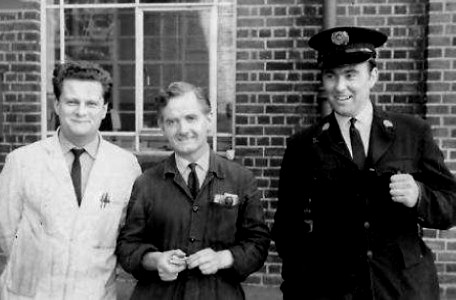 Left: Inspector Scott with two men who worked in the bus sheds looking after the bus maintenance and bus cleaning. names?
---
Perry Barr Bus Garage Football Team 1967.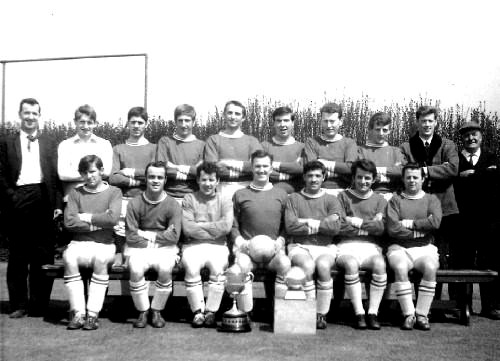 L. to R. back row
Des Hopkins, Campbell Wiseman, John? (Shed) Tony Davis, Con Fields, M.Kenny, Tony Wilson, Tony Beeston, Jack Lock (Pavilion Keeper)
Front Row L. to R.
Paddy Clohessy (deceased) Trevor Porter, Jim Black, Stephen MacKay, Roy Williams, Pat Cremins, Mickey Croke.

MIDI PLYING NOW: BOB MARLEY: Three Little Birds.
FREE REPORT: How to write your book about Bob Marley or Birmingham FAST!!
Click here for more information
---
Copyright photos/text : Pat Kiely Lismore,Co.Waterford. 1998-2003

(Click link above for more Birmingham Black and White photos.)