---
..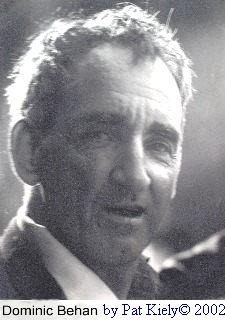 Caught on Kiely's Camera back in 1979.
MIDI NOW PLAYING...

Liverpool Lou by Dominic Behan 1929-1989
When I go a-walking, I hear people talking
Schoolchildren playing, I know what they're saying
They're saying you'll grieve me, that you will deceive me
Some morning you'll leave me all packed up and gone

Oh Liverpool Lou, lovely Liverpool Lou
Why don't you behave, love, like the other girls do?
Why must my poor heart be following you
Stay home and love me, my Liverpool Lou

The sound from the river keep telling me ever
That I should forget you like I'd never met you
Tell me their song, love, was never more wrong love
Say I belong love to my Liverpool Lou
*******************
Dominic Beehan who composed the above tune, was the brother of the famous playright Brendan. I photographed Dominic at the CRAIC '79 Irish music and poetry festival held in Finch Road, Lozells, Birmingham. If U were there let me know.
Below is a link where u can hear sound clips of his brother Brendan Behan speaking.
http://www3.sk.sympatico.ca/frasm/sounds.htm
another Behan link below
http://www3.sk.sympatico.ca/frasm/behan.htm
FREE REPORT: How to write your book about Brendan Behan or anyone else FAST!!
Click here for more information